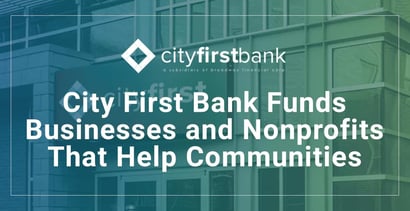 Experts share their tips and advice on BadCredit.org, with the goal of helping subprime consumers. Our articles follow strict
editorial guidelines
.
In a Nutshell: City First Bank is a Community Development Financial Institution (CDFI) committed to creating opportunities for those who may not find financial help elsewhere. Community-focused small businesses, startups, and nonprofits can receive funding for their organizations even if they are denied funding by banks. One of City First Bank's missions is to use its platform and connections with the local government in Washington, D.C., to create more affordable housing and stop unreasonable rent increases.
City First Bank had a clear mission as soon as it opened its doors in 1998. Its founders and investors opened the bank to serve as a Community Development Financial Institution. The bank is headquartered in Washington, D.C., and operates out of three branches in Los Angeles and in the district.
City First Bank's initial focus was on organizations in underserved neighborhoods. The bank provides basic banking services to underbanked families who need financing for a house, and to businesses and nonprofits who need capital to grow.
"Our core effort was to try to work with all of these different types of organizations to provide real estate financing," said Tom Nida, City First Bank Executive Vice President/Market Executive. "We realized, not only is there a wealth gap with consumers, but there's also a wealth gap with small businesses."


That's where City First Bank's nonprofit arm jumps in to help. City First Enterprises is a 501(c)3 organization that allows startups and young businesses to put up the initial capital needed to secure more loans.
City First Bank has also been an invaluable resource throughout the COVID-19 pandemic. The bank helped distribute funds from the government's COVID-19 relief fund. The bank leverages its connections to give city leaders an idea of what the community needs and how they can help.
"We're having these 'aha' moments," Nida said. "We see what we're here for. We need to really have an impact in the markets we serve."
Providing Guidance On Securing Financing
City First Bank aims to be a resource for those traditionally turned away from banks and other financial services. Just because one bank denied a loan to someone does not mean they are not eligible to receive that loan.
City First Bank provides as many tools as possible for small businesses so they have a fair chance at competing. The bank will help them get funding and connect them with helpful government programs that provide support.
Many small businesses are unsure of what banks look for when applying for a loan. One mistake can mean the difference between receiving a loan or rejection. 
City First Bank helps those businesses understand what it and other banks look for on loan applications. The PowerPoint presentation it provides shows how to improve financing opportunities, lower the risk posed to banks, and earn a lower interest rate.
Watch on
Once approved, City First Bank works with startup businesses to help get them off the ground and support them to bankability. Part of that process is telling businesses that they need more than just an entrance strategy; they also need a planned exit strategy to be viable.
"Even if an exit strategy is far out, it will guide and impact the decision-making today," Nida said. "You know where you start. There has to be a path, and God help you if you don't have a focus on where you want to go."
City First Bank merged with Broadway Federal Bank in 2021 to better reach and help more people in need. That merger helped City First Bank become the largest Black-led Minority Depository Institution in the nation.
City First Bank Bank has more than $1 billion in total assets and more than $700 million in total deposits. That funding extends the bank's reach, deepens its lending impact, and puts money where it's needed most.
Creating Partnerships With Government and Businesses
One of City First Bank's most vital assets is its strong relationships with businesses and local governments. The bank often works with different agencies in Washington, D.C., to link them with other partners in private-public partnerships.
During the pandemic, Washington, D.C., created its own small business support in addition to the support the federal government provided small businesses. But the city could not distribute the funds. City First Enterprises joined in to help the government distribute those funds to businesses.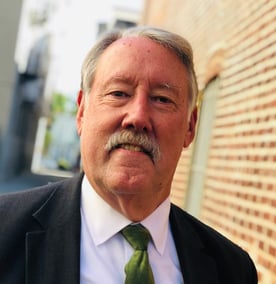 The bank also works toward creating more affordable housing in the areas it serves. Washington, D.C., and Los Angeles have one of the country's highest priced and fastest appreciating real estate.
"Here in Washington, DC, it's at the point where it's really tough for most people to reasonably expect to live here unless they've owned property for a long time," Nida said.
The challenge City First runs into is keeping affordable housing affordable and not raising the rent to the point that families have to leave their homes. City First Bank works with Washington, D.C., to issue housing choice vouchers for rentals and to institute ownership programs.
"At the end of the day, these programs end up having the opportunity to actually create some housing that, relatively speaking, is affordable," Nida said.
City First Bank Helps Nonprofits Serve Communities
Helping communities and providing services to those who need them most is what City First Bank strives to deliver. It wants to fund organizations that can use the capital to impact communities directly. 
The bank does its due diligence when deciding to fund nonprofits it works with. City First Bank wants to see that a large population will see an improvement in their lives, and it wants to know how the funding will help nonprofits serve more people.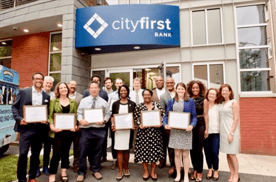 "We look into schools to see how many children graduated and went on to college," Nida said. "If you have a medical facility, we want to see how many people completed their treatment regimen and if doctors can monitor patients with just a little bit of help."
City First Bank helps clients get in touch with City First Enterprises. Grants and other loans fund the nonprofit. It works with the bank arm to combine resources and turn an application denial into capital.
The process creates a more even playing field with businesses already eligible for up to 90% funding through an SBA 504 loan. City First Enterprises joins in to help nonprofits ineligible for an SBA 504 loan.
"For a nonprofit who wants to sign for facility financing, under the bank's guidelines, City First Bank can do maybe 80% loan to value for the project," Nida said. "But if the nonprofit needs a little bit more funding, City First Enterprises can come in and kick in up to a 90% loan in combination with us."