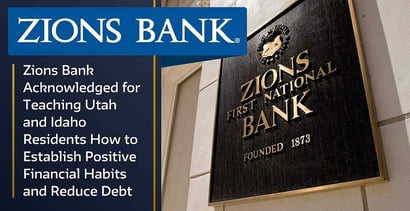 In a Nutshell: In 2003, Utah had the highest rate of personal bankruptcy in the U.S. Concerned for the welfare of the communities it serves, Zions Bank implemented an educational initiative aimed at helping adults and children develop positive financial habits. By supplementing public education and hosting a lecture series to cover additional personal finance topics, Zions has contributed to the state's overall financial health. Utah now ranks first in the nation for public financial literacy efforts, and the average student loan debt among state residents is the lowest in the nation. Acting on a concern for individual and community well-being, Zions Bank has helped tens of thousands of children and adults eliminate or avoid debt, increase savings, and establish foundations for healthy financial futures.
Staying financially solvent while balancing student loans and living expenses during college can be a challenge.
That's why a student at Utah State University enrolled in Dave Ramsey's Financial Peace University (FPU) lecture series hosted by Zions Bank. He learned from Ramsey that it was best to avoid debt when possible, and he took that advice seriously when his car broke down. Instead of taking out a loan to have it fixed, he spent four months riding his bike everywhere while saving money to pay for repairs.
This student not only avoided going into unnecessary debt but also lost 60 pounds; his improved financial health helped bolster his overall health. And he's not the only one who has experienced this connection — it's a well-documented phenomenon that greater financial health can boost physical and mental health.
The healthy outcomes of better financial decision-making led Zions Bank to start hosting Ramsey's classes in 2003. The bank tested the program with its own employees, who found it so informative and helpful they requested friends and family be able to take advantage of it as well. Thus, Zions opened the financial literacy courses to the public so everyone could benefit from them.
The bank participates by sending experts to answer participants' questions, distributing educational materials for students and adults, and providing kits that help people set up their own classes. In fact, the FPU classes have become so popular in Utah and Idaho that 90-95% of them are now presented by people in the community completely unaffiliated with Zions Bank.
"The program works whether Zions' employees are leading the class or not," said Don L. Milne, Vice President and Financial Literacy Manager at Zions Bank. "That's one of the reasons why we don't do as many of them, percentage-wise, because people in the general population are doing them."
From Ramsey's courses for adults seeking greater financial wellness to supplementary in-school lectures and materials for students, Zions has worked to ensure the public has greater access to educational materials. This commitment to helping people improve their lives through financial literacy is why BadCredit.org has chosen to recognize Zions Bank with our Editor's Choice™ Award.
"We just want to give people some better habits and tools so they make better choices," Milne said.
A Bankruptcy Crisis Helped Utah Improve Financial Literacy
In 2003, Utah experienced more bankruptcies per capita than any other state. Obviously, this was an important issue for a community-focused bank like Zions. At the time, Milne served as product manager for the deposits team. "The request came to our department to see what we could do to help people avoid bankruptcy," he said.
The team found a solution in Ramsey's FPU classes. Just three months after launching a pilot program for bank employees to eliminate their debt and develop positive saving habits, the average household saw a $10,000 turnaround in less debt and more savings.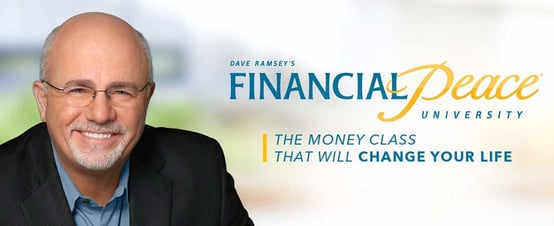 Milne continued working as the bank's financial education specialist for another eight years until his efforts led to the creation of an official financial literacy manager position at Zions Bank. Such roles are more common in credit unions than commercial banks, and having a dedicated education manager is one of the reasons Zions stands out among the crowd.
"You can credit our bank president, Scott Anderson, for doing that. He's always been very community-minded," Milne said. "In 2010, he said we should have someone full time who deals with financial literacy. Since I'd been doing that for quite a bit of time and it was one of the more enjoyable parts of my product management job, I said I'd like to do that."
In addition to acting as financial literacy manager at Zions, Milne is Chairman of the Utah Bankers Association's Financial Literacy Committee. He also sits on the Board of Directors for the Utah Jump$tart Coalition for Personal Financial Literacy. Through these various roles, Milne works to advance financial education across his home state and Idaho.
His efforts prove that a major crisis can actually teach us the most if we choose to learn the lesson it brings to the fore, as Zions did with the Utah bankruptcy epidemic. While in 2017 Utah ranked fifth in the nation for personal bankruptcy filings, which Milne acknowledged is still quite high, the programs Zions developed have made a difference for more than 70,000 people in the community.
Targeted Education Prepares Adults and Children for Success
Zions' adult education efforts consist primarily of Ramsey's FPU courses, a program that emphasizes behavioral change as a means of building savings and eliminating debt.
"It's shown some pretty good results over the long term for people who've gone through the class," Milne said. "Between adding to savings and paying off debt, it's an average of almost $40,000 per person. One thing we really like is that about half of the people were able to increase their 401k contributions by almost 4%. If someone in their early 30s or their 20s did that, it would help them add probably close to an extra $1 million to their retirement by the time they draw it because they're properly funding their 401k, which they weren't doing before the class."
Zions also puts great effort into reaching children and helping them establish positive financial habits while they're young. Working toward this goal, Milne coordinates Zions' participation in American Bank Association events, including Teach Children to Save Day during which bankers go to schools and educate students about the benefits of saving their money for Financial Literacy Month in April. For high schoolers, Zions participates in Get Smart About Credit.
"The main lesson we usually do is on identity theft. Most kids, when they turn 18 and get their first credit report check, and some are surprised to find that someone else has been using their credit for who knows how many years. We want to cut back on the incidence of that," Milne said.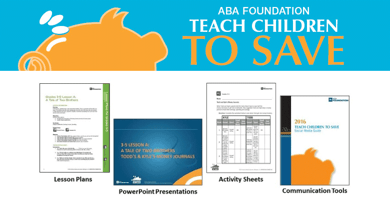 Utah features financial literacy prominently in public school curricula, providing Zions with a ready-made venue for its educational efforts. "Utah was one of the first states in the country that required financial literacy be taught in high school in a separate course required to graduate," Milne said. "It was actually implemented for the 2007-2008 school year, so this is the 10-year anniversary in Utah of schools teaching financial literacy. That means probably 400,000 students have completed that program."
Zions contributes to these public financial literacy efforts by sending employees to visit classrooms. It also supports teachers by providing training, sharing educational materials, and publicly recognizing financial educators for their efforts. "They are doing this full time every day for their students, and we think it's made a difference," Milne said.
Measuring the Effectiveness of Efforts in Utah and Idaho
Zions Bank recently conducted an internal study on the average dollar value of savings accounts held by 18- to 20-year-olds. It looked at account sizes back in 2007, just before state-mandated public financial education was implemented, and compared the numbers to those from 2017 for those who had undergone the public program.
"Based on the consumer price index for inflation, we guessed what we thought the growth would have been in the account size," Milne said. "If we said back in 2007 the average account size was $100, we would expect the average account size in 2017 to be about $125. Instead, it's like $450. It increased a lot compared to where it's been."
Another indicator of the program's success is the state of student loan debt. Milne said Utah has the lowest dollar amount owed in student loans, on average, at less than $20,000. And, of all 50 states, the percentage of students who took out a loan for college is also lowest. He credits early education in schools for students learning to save and spend their money more carefully, and understanding that loans must be paid back.
"Some studies say that by fifth grade, a lot of kids have already developed their habits and whether they're going to be savers or spenders," Milne said. "Everything we can do on that earlier side to encourage kids to be savers is going to have positive results. Most kids who have savings accounts are more likely to go to college than those who never have a savings account."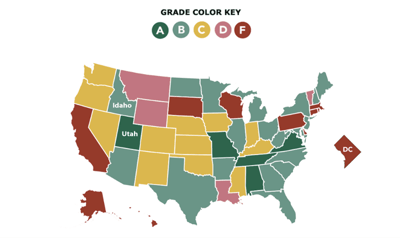 Champlain College releases an annual review of state efforts in financial literacy and education, and in 2017 only six states received a grade of A. Not only was Utah among those six, it was ranked first in the nation with the only A+.
"Zions Bank is making an effort to visit schools in different school districts to try to get some media attention for how well the schools are teaching financial literacy," Milne said. He found one school where the teacher for financial literacy was actually in the first graduating class that went through the required financial literacy course. "She enjoyed the subject so much that she focused on it in college and came back to the same school where she was a student to teach financial literacy there."
Zions Bank Supports Consumers at Every Step on the Journey to Financial Wellness
Zions Bank is committed to improving the lives of Utah and Idaho residents through financial education, but it's still a full-service bank offering a wide range of products.
"We're kind of like your friendly neighborhood grocery store," Milne said. "A grocery store does the best if it offers the most merchandise for people to pick from, and a grocery store never expects everyone to go down every aisle and pick from every single thing they sell. Some people only buy from one part of the store, and other people buy from different parts of the store. But they can both leave as happy customers."
Zions' goal is to make everyone a happy customer by helping people get out of debt, build savings, and acquire the financial education necessary to better manage their money. But people who aren't in debt or who successfully get out of debt need traditional financial products, too.
"If the average person who has no debt also has an emergency fund of $10,000 – $15,000, that makes for great core deposits. Those can help make loans to businesses that build the economy and hire more people and make for a better community for the cities and towns where Zions Bank does business," Milne said.
Zions Bank provides consumers with the financial education and skills they need to make intelligent choices about financial products. Through its product offering, Zions helps the community grow and lends a helping hand to everyone at every stage of the journey toward financial success.
Advertiser Disclosure
BadCredit.org is a free online resource that offers valuable content and comparison services to users. To keep this resource 100% free for users, we receive advertising compensation from the financial products listed on this page. Along with key review factors, this compensation may impact how and where products appear on the page (including, for example, the order in which they appear). BadCredit.org does not include listings for all financial products.
Our Editorial Review Policy
Our site is committed to publishing independent, accurate content guided by strict editorial guidelines. Before articles and reviews are published on our site, they undergo a thorough review process performed by a team of independent editors and subject-matter experts to ensure the content's accuracy, timeliness, and impartiality. Our editorial team is separate and independent of our site's advertisers, and the opinions they express on our site are their own. To read more about our team members and their editorial backgrounds, please visit our site's About page.