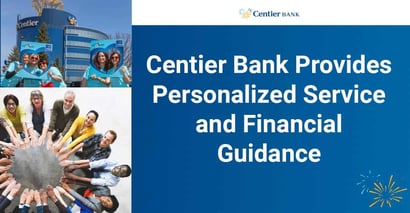 Experts share their tips and advice on BadCredit.org, with the goal of helping subprime consumers. Our articles follow strict
editorial guidelines
.
In a Nutshell: Talking the talk and walking the walk are two different things. At Indiana-based Centier Bank, a team of more than 1,000 and counting backs up its words with actions. It starts with products tailor-made to instill positive financial habits. Centier is also a values-driven workplace where all associates receive personal time off for community service projects they choose. Centier To You financial education resources provide every customer with personalized financial guidance. Centier's Servant Heart Culture makes the bank an essential community-building resource in more than 35 Indiana locales.
Every bank needs to make a profit, but not every bank does it the same way. Amid generations of change in the financial services industry, the economy, and society, Indiana-based Centier Bank has distinguished itself since 1895 as an institution folks want to stick with.
As other banks consolidate or rebrand, Centier stands as a community institution where a big-bank approach to products and services doesn't get in the way of a giving heart.

A servant's heart, rather — Centier describes itself as having a Servant Heart Culture. Every one of Centier's 1,000+ employees receives personal time to engage in volunteer activities. The bank also prides itself on being an impactful source of sponsorships, donations, and other community philanthropic outreach.
But it's Centier's approach to customers where it truly differentiates itself. Servant Heart Culture ultimately means every customer holds the same value and receives the same respect, regardless of their account size.
It also means Centier associates always go the extra mile to provide customers and community members with the personalized service they need, even if it doesn't directly benefit the bank. At Centier, customers and communities enable products and services, not the other way around.
Community Relations Manager Dakita L. Jones grew up in Gary, a quintessential rust-belt city near Chicago with more than its share of economic and social struggles. She served as a branch manager at one of Centier's Gary locations. In Gary and dozens of Indiana communities, Centier manifests its Servant Heart Culture in ways that may not appear as positives on a spreadsheet but make customers' struggles a little lighter each day.
"Servant Heart Culture means we're not just sending you off with your receipt," Jones said. "We could just print a bunch of things and say, here, go read this, but we really strive to gear what we do to the person and the need."
Financial Checkups and Products for Inclusion
That could be why there's such continuity at Centier, with successive generations of employees serving successive generations of customers, Jones said. The Centier Museum at the bank's flagship location in Whiting, Indiana, chronicles its rich history.
Award-winning Centier is the largest privately owned family bank in Indiana, with five generations of family ownership and a not-for-sale pledge to keep the bank independent forever. The great-grandchildren of customers who started with the bank in 1895 still bank at Centier. And generations of families have worked at the bank.

A product and service approach characterized by inclusion helps maintain that continuity and instill positive financial habits. For example, every Centier customer can use the bank's Financial Checkup service to take financial inventory, develop a budget, set goals, and monitor performance.
"We help them see with their own eyes exactly what's going on," Jones said.
Many entry-level customers choose no-interest Smart Choice Checking, an account with no overdraft charges and a minimum required balance of $25. All Centier checking accounts include a Centier Visa debit card, digital wallet access, mobile deposit, and bill pay.
On the savings side, Connect Savings rewards customers who meet transaction thresholds with a 5.00% Annual Percentage Yield (APY), one of the highest in the industry as of early 2023. Centier also gives customers access to Billinero, an app that enters users into a drawing for a $1,000 monthly prize every time they make a $25 deposit.
"We've heard so many people say they signed up because of the idea they could win money," Jones said. "But they're also watching their savings grow."
Last but not least, the Centier Personal Rewards Card rewards customers not when they make purchases but when they make payments.
"We're teaching better financial health and habits that way," Jones said.
Centier To You Highlights Community Commitment
Centier bolsters its inclusive product approach with a charitable commitment that begins with financial guidance. Free and open to the public, the Centier To You financial portal provides materials and advice to meet financial needs wherever consumers may be on their financial journey.
Tips, tutorials, e-courses, and other tools tackle weighty topics, including budgeting, credit, health savings, retirement, and identity theft. Links to expert resources outside the portal provide additional information and context. Centier To You also links to Centier YouTube videos on financial empowerment and Bank on Tippecanoe, a United Way nonprofit dedicated to offering universal financial access to people with previous financial problems.

In-person financial education makes Centier To You even more effective, Jones said.
"We have a group of community coordinators throughout our markets who present courses to anyone who wants them, client or not," Jones said. "Schools, private companies, organizations, libraries — anybody can request a Centier To You presentation and course."
Behind that commitment is an equally strong dedication to philanthropy. Through Centier Gives, the bank reaches out through sponsorships, donations, and volunteerism.
In 2022, Centier donated 20,679 volunteer hours to 560 organizations in every Indiana county with a bank branch. Likewise, the bank made monetary donations to 601 organizations in every county.
Centier associates choose the charities they prefer to support, and the majority of them volunteer. The bank's time, talent, and treasure go to local nonprofits serving the community by providing programs and services. Whether it's a food bank, the Boys and Girls Club, a domestic violence shelter, or a hospital, those resources stay at home to benefit Indianans.
"We're encouraged to serve," Jones said. "And when you serve on your own time, you get a donation match — the bank gives money to that organization to match the hours you've put in."
A Family-Owned Bank with a Tradition of Service
Linda Risch, Community Relations Officer at Centier, provides an example of Centier's dedication. Risch has presented once-a-week Centier To You courses to women fresh out of incarceration and rebuilding their lives.
"You should hear her stories," Jones said. "Many of the women don't think they can open a checking account without a man, or they don't know the difference between a debit or credit card. And that's not shameful — that's a challenge many people have."
Another Centier associate has worked with employees of a Medicare-funded health center for adults with mental incapacities. Financial reality meant the center could only pay employees poorly, to say the least, with many having a hard time even obtaining a car loan. Some had declared bankruptcy, and many had a jaded attitude toward life and work because of their financial struggles.
As those hard-working but struggling employees improved their finances, they also improved their outlooks on life and performed better in their jobs. It demonstrates the healing power and positive cascading effect of improved financial health.
That's the essence of Centier's Servant Heart Culture. The Tippecanoe connection in the Centier To You portal points to another feature of the commitment: service to customers and community members that includes products and providers outside the bank.
It might mean sending someone to the DMV to apply for a driver's license or to the health department to obtain a copy of their birth certificate. It might mean a referral to an outside credit counselor or provider like Tippecanoe. Whatever it takes, Centier is there to provide it or find someone who can.
Meanwhile, Centier thrives, adding branches and hiring new associates.
"We continue to grow and invest in our communities and create personal banking relationships and personalized service," Jones said. "It's all to enrich lives for a better future."