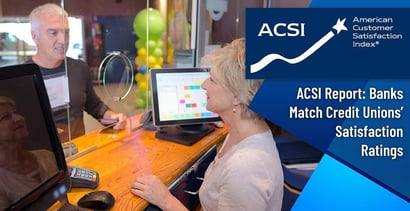 In a Nutshell: For the last decade, the Finance and Insurance Report issued by The American Customer Satisfaction Index (ACSI) has consistently shown greater customer satisfaction with credit unions than with banks. But in 2018, customer satisfaction ranked evenly between the two types of institutions for the first time. The change is attributed to banks developing convenient mobile banking options that consumers demand. Credit unions are expected to follow suit and bring the same digital tools to their members while maintaining the quality of the personal interactions that has set them apart.
I opened my first savings account before the age of smartphones. Back then, courtesy, friendly interactions, and promptness of transactions inspired my confidence in — and loyalty to — my financial institution. Easy access to ATMs was also a nice perk. But the pervasiveness of digital media has drastically changed that situation.
Today's financial consumers prefer self-service over service with a smile, and they want to attend to their finances without ever having to walk into a branch.
That's the conclusion of The American Customer Satisfaction Index (ACSI), the only national, cross-industry organization that measures satisfaction with the quality of products and services available to consumers. ACSI covers domestic and foreign offerings of household products and services across 10 economic sectors, 46 industries, more than 380 companies, and various government services.
"Our purpose, for companies, is to answer the question, 'How can they improve?'" said David VanAmburg, Managing Director at ACSI. "What should they focus on that would make their overall customer satisfaction score higher than it is now? And if they're not at the top, what does the top look like?"
For consumers, this translates to satisfaction with a brand's products and services, which means quality is crucial. And, for the first time in a decade, consumers found as much quality with banks as they did with credit unions. According to ACSI's 2018 Finance and Insurance Report, banks and credit unions are now tied at a consumer satisfaction rating of 81 out of 100.
This is the first time credit unions haven't outranked banks since they were incorporated into the report 10 years ago. At the time, consumer satisfaction with banks was low, and credit unions — as community-oriented co-ops — supplied an alternative that appealed to public financial sensibilities.
But ACSI's report shows that banks are now leveraging their financial resources to present a competitive but distinct customer experience based on self-service through digital channels.
Blind Surveys Encourage Consumers to Honestly Rate Their Brand Experiences
ACSI collects raw data through approximately 250,000 blind surveys it conducts each year. Consumers receive an email inviting them to take part in the survey, and, if they participate, they begin the screening process.
"You'd be screened for a variety of products and services. A survey may ask: 'Have you flown on an airline recently?' 'Have you bought a pair of athletic shoes?' or 'Do you have an account with a bank and not a credit union?' If the answer to any of those is 'yes,' then it will generate a list of brands," VanAmburg said. "It takes less than 10 minutes to take a survey on banks, for example. And the answers help us determine an index score."
Consumers rate recent brand experiences and satisfaction on a scale of 1 to 10. Their responses reflect the reliability of a product or service and how well it met their expectations. For example, a survey on call center service would ask customers to rate specific aspects like speed of resolution and overall satisfaction.
"After we gather the raw data, modeling and analysis turn those numbers into scores and weights them into a pretty sophisticated cause-and-effect system," VanAmburg said. "That is where that critical element with companies comes in — answering the question, 'How do we get better?'"
ACSI embeds customer responses in a cause-effect model to examine how specific aspects of a product or service affect customers' overall satisfaction with, and loyalty to, a particular brand. The result is a set of rankings — on a scale of 0 to 100 — of the companies holding the largest market share.
Over the past decade, banks have maintained scores in the mid- to high-70s, while credit unions have consistently ranked in the lower- to mid-80s. But in 2018, banks matched the ratings of credit unions through improved, competitive digital offerings.
Banks Leverage Technology to Rival the Customer Satisfaction of Credit Unions
According to ACSI's 2018 report, customer satisfaction with credit unions dipped 1.2 points while banks' satisfaction scores remained unchanged. Both are now tied at a rating of 81.
"For the first time, banks and credit unions tied. Ten years ago, when we added credit unions to the mix, I don't think we ever imagined that we would see this day," VanAmburg said. "What the data suggests is that digital services have played a big role, especially in bringing the bank ratings up. Credit unions have dipped a little, but this is really more a story of banks rising up."
Traditional wisdom holds that credit unions excel at direct customer service, and ACSI's data supports that notion. In terms of in-person service, credit unions score an 89 while banks score an 88; for speed of in-branch service, credit unions score an 88 compared to banks at 85; and credit unions receive a rating of 84 for call center service while banks sit at 81.
However, large banks have an advantage in sustaining more regional and national branches and ATMs, and they've expanded their reach by capitalizing on digital technology and implementing mobile banking apps. ACSI's report shows that banks outpace credit unions in both mobile app quality (86 to 85) and reliability (85 to 83).
"It's all about digital now. We've got mobile apps where you can snap a picture of a check and deposit it through your phone. That rapid development we've seen in recent years in financial services with digital has leveled the playing field," VanAmburg said. "Technology takes a big investment, and those big banks have a lot more resources to leverage technology in a way that smaller credit unions can't."
This ability to develop and implement easy self-service options for customers has allowed banks to pull even with credit unions in consumers' eyes. When customers can take care of financial matters at their convenience, the influence of direct service on overall satisfaction decreases. Person-to-person service is simply less important when customers have less need to visit a physical branch.
Individual Rankings Demonstrate Financial Sector Stability
Overall, national banks dropped 1.3 points to score 77 out of 100, remaining at the bottom of the banking sector. Among them, Chase's rating rose 1 point to 80 to earn the highest ranking of a national bank. Chase's standing is due to two main factors: the effectiveness of its mobile banking app and easy access to branches and ATMs.
Super regional banks ranked second in the category at a rating of 79 for the third year. Capital One and SunTrust each rose 1 point to 81, while TD Bank held steady at 80.
None of the rating changes were greater than three points, which VanAmburg said is the threshold for statistical significance. "One takeaway from this study — whether it's banking, investment, or insurance — is that the sector is very stable year after year. That's good for the finance sector," he said. "None of the four national banks or any of the super regional banks made a change of more than one or two points."
The finance and insurance sector is at its highest point in 24 years with a rating of 78.3. This high mark and banks' stable scores are positive signs for individual institutions and the economy. Companies with high satisfaction ratings typically have higher earnings, greater returns on investments, and better overall financial performance. Those are good indicators of the sector's overall health, as they are predictive of consumer spending and GDP growth, of which consumer spending accounts for 70%.
Digital Interactions Gaining Ground as a Major Differentiator
While banks have drawn even with credit unions in ACSI's ratings, and the financial sector is stable, there is still room for improvement. "If you can go up, you want to go up," VanAmburg said. "Obviously, you want to satisfy your customers."
As banks are showing, one way to do so is to leverage digital technology and mobile accessibility. For example, if an insurance company can implement a mobile app that allows customers to submit claims and get information on a phone or tablet, that move can provide the same benefit that self-service brought to banking.
The value of digital experiences indicates a shift from traditional aspects of customer satisfaction. "Our satisfaction in many services — whether it's banking or retail — was very much dependent on how satisfied we were with people," VanAmburg said. "Now, increasingly, our experience depends on how satisfied we are with technology."
Although banks can leverage larger budgets to develop technology, that ability doesn't represent a death knell for credit unions. The latter still offer a different business model that many consumers will continue to find appealing. VanAmburg said he doesn't expect banks to open an insurmountable lead.
"I think credit unions will catch up. I can't imagine banks going to 90. As convenient as these services are, I think we're plateauing here," he said. "It still could go up a little, but I think credit unions will catch up on the technology side."
Advertiser Disclosure
BadCredit.org is a free online resource that offers valuable content and comparison services to users. To keep this resource 100% free for users, we receive advertising compensation from the financial products listed on this page. Along with key review factors, this compensation may impact how and where products appear on the page (including, for example, the order in which they appear). BadCredit.org does not include listings for all financial products.
Our Editorial Review Policy
Our site is committed to publishing independent, accurate content guided by strict editorial guidelines. Before articles and reviews are published on our site, they undergo a thorough review process performed by a team of independent editors and subject-matter experts to ensure the content's accuracy, timeliness, and impartiality. Our editorial team is separate and independent of our site's advertisers, and the opinions they express on our site are their own. To read more about our team members and their editorial backgrounds, please visit our site's About page.