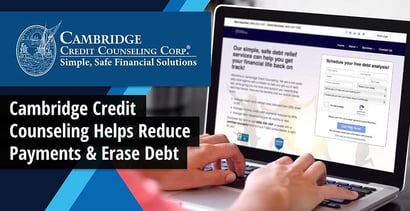 In a Nutshell: Too many Americans struggle with debt. The consequences of falling behind on payments can lead to very real life-changing events like losing homes. Cambridge Credit Counseling is a nonprofit that seeks to help people burdened with debt by providing a variety of services, including debt counseling for credit cards, housing, bankruptcy, and — one of the most pressing debt topics today — student loans. The organization also offers debt repayment programs whenever possible. On average, Cambridge helps clients reduce credit card interest rates from 22% to 8%, lower monthly payments by 25%, and get out of debt in 48 months. Not only does Cambridge hope to help eliminate debt, it strives to give people the tools to stay out of debt forever.
Perhaps the scariest thing for consumers slowly sinking into debt is the possibility that their lives could change drastically because of factors seemingly out of their control. The feeling of helplessness grows as they make the minimum credit card payments each month and never see the balance come down. In the meantime, if they also have outstanding student loan debt, those payments are further draining their account with what feels like nothing to show for it.
Eventually, the bills pile up a bit too high, and the person starts making late payments, then missing them altogether.
Gordon Oliver, Student Loan Counseling Manager with Cambridge Credit Counseling, recalled this exact scenario from a recent client.


The woman and her husband had just lost their house in a short sale, they owed $23,000 in credit card debt and $45,000 in student loans — an increasing area of debt for many Americans. The woman was also on disability. The couple's financial lives were in a downward spiral, and they were teetering on the brink of consequences that could impact their lives for years.
Oliver said the couple reached out to Cambridge, and he has been working with them over the last three years to help them recover from their debt issues. He said during that time he helped the woman secure a disability discharge for her student loan debt and, through enrollment in Cambridge's debt management plan, the couple's credit card debt is down to only $4,700. That reduction was possible due to generous concessions granted by their creditors because the couple was working with Cambridge. And, last but not least, they just bought a new house.
This is just one of many success stories from people who have turned to Cambridge for help with debt management.
Cambridge Credit Counseling is a 501(c)(3) nonprofit credit and housing counseling agency that was established in 1996. Its mission is to help individuals and families resolve their financial challenges through a comprehensive suite of solutions that can assist with unsecured debts, housing issues, and student loans.
Student Loan Debt is One of the Biggest Financial Issues Facing Consumers Today
Oliver said dealing with student loan debt, which stands at $1.5 trillion nationwide and is growing quickly, is a huge issue for many Americans these days. Contributing factors to this problem include the fact that the cost to attend universities is going up, and, people are borrowing more money to go to school. Add to that the trend that salaries haven't changed much in the past decade.
"Students get loans, and some of the funds don't necessarily need to be utilized, but they are encouraged to use them anyway to pay for various things like car insurance or rent, or whatever it may be," Oliver said.
For many college students, repaying student loans is an abstract issue to be dealt with in the future, ideally with the abundant salaries they hope they'll be earning. But upon graduation, many people find having to repay their student loans can seriously impact their ability to live a financially stable life.
And even when a person is ready to start paying on their student loans, it's not always as easy as just signing up for a monthly payment. Selecting the most appropriate repayment plan can be difficult and overwhelming, and according to the Cambridge website, choosing the wrong option can be as harmful as not choosing any option at all.
For those seeking student loan counseling, Cambridge can prepare a customized report to help determine the best course of action, based on the information the client provides.
"The thing we're excited about is being a leader in helping people in the student loan space, in an industry that's just a complete mess," Oliver said. "I do webinars and seminars to teach people the basics of how the student loan repayment world works."
He said while some companies charge clients a lot of money for false expectations surrounding their student loan situation, Cambridge is trying to get ahead of the curve by offering traditional credit counseling when it comes to student loan debt.
"The advantage you'll have in talking to a nonprofit counselor is that we're also prepared to look at your entire budget, to see if there are any other options that can help you manage your money better," according to the Cambridge website. "There's no reason to let student loan payments overwhelm your budget, especially when there may be options to bring your federal loans under control."
A Diverse Suite of Financial Counseling Services and Debt Repayment Plans
In addition to student loan counseling, Cambridge offers a host of different financial services for people struggling with debt, Oliver said. Once a client reaches out to the nonprofit, the initial step is to do a consultation with the person to establish what kind of debt problems they are having and how they can best be addressed.
The client is then paired up with one of Cambridge's services: Credit counseling, housing counseling, reverse mortgage counseling, student loan counseling, or bankruptcy counseling. All consumers receive appropriate financial education, which is one reason why the agency likes to work with the consumer's credit report in hand. The other reason is more revealing about consumers: many people have never seen their credit reports, so the chance to review them with a counselor's help is invaluable.
"As an example, bankruptcy counseling agencies are approved by the Executive Office for U.S. Trustees. A counseling session is required, prior to their filing, to determine the full range of options that might be available under that person's circumstances," Oliver said. "So, No. 1, the borrower knows what road they're going down and No. 2, they know the things to do in order to not get into the same trouble again."
Additionally, a two-hour debtor education course is required later on, prior to the discharge of the person's debt.
The counseling programs for housing issues, including foreclosure intervention and reverse mortgages are similar, Oliver said. They are intended to separate the borrower from the broker so people can have a clear understanding of the process they are potentially entering in the near future. Cambridge is not the lender and has no stake in the outcome of the homeowner's decision. The agency's role is to educate the consumer so they know how the loans work, if they commit to one.
He said credit counseling is Cambridge's mainstay service.
"When people are struggling with credit card and unsecured debt, we create a budget to see what income and expenses they have and make recommendations if there are things that we notice that might be causing some of their financial issues," Oliver said. "We aren't there to judge the consumer's spending priorities. For counseling to work, it has to be a judgment-free environment."
About 15% to 20% of those clients will qualify for, and be a good fit to enroll in, Cambridge's debt management plan. Oliver said that, in a typical debt management plan, the client's creditors often agree to grant interest rate reductions and fee waivers, in recognition of the counseling that the client will receive from the nonprofit. Those concessions, which can be very generous — from an average of 25% down to just 8%, help clients become debt-free in around four years. They make one simple monthly payment to Cambridge, which the agency then distributes to the client's various creditors.
"The rate reductions and fee waivers extended by creditors give Cambridge's clients the breathing room they need in their budget, allowing them to get back on track and start fresh," Oliver said.
Cambridge Provides Clients with the Tools and Knowledge to Stay Out of Debt
"The gap in financial education is a countrywide issue," he said. "People aren't taught to budget; most people learn on the fly. If the family doesn't teach and instill good money management principles as children are growing up, they will basically be figuring it out on their own."
In addition to helping people get out of debt, part of Cambridge's mission is to help fill this knowledge gap along the way and help its clients stay out of debt forever.
"The endgame for a person when they graduate from our program and have eliminated their debt — or they solve the problem on their own — is to have a plan for the money they have now freed up," Oliver said.
Cambridge encourages clients to track their finances over time to learn where they are spending money. Oliver said the analysis of where that money is going will help to make key decisions on where spending can be cut back.
He said it is also crucial for people to have an emergency fund.
"In the business we're in, most people don't come to us with three or six months worth of savings that could cover their bills in case of emergencies," he said. "We encourage them to start thinking along those lines because one of the keys to being financially stable and happy is to know that you're secure."
He said even for customers whose debt levels are extremely high, Cambridge advises them to try to save just $5 or $10 a month in the beginning, to gain some forward momentum and get in the habit of saving.
Continuing the Student Loan Conversation
Oliver said one of the big problems surrounding the student loan issue is that people — like the woman whose student loan debt was discharged because of her disability — are not aware of their options.
He said he also hears a consistent theme of people saying they feel like they have been taken advantage of when it comes to their student loans. That's because tuition rates continue to increase, loan interest rates are unreasonably high, and the repayment options and eligibility factors are difficult for the average borrower to understand.
In the future, Cambridge Credit Counseling hopes to make its voice heard in the political sphere to influence lawmakers to establish some real counseling guidelines around student loans, similar to housing foreclosure counseling or reverse mortgage counseling.
"The Department of Justice and HUD figured out that counseling agencies independent of the transaction should be helping consumers understand the pros and cons of the options available to them, at the very least, so they don't experience those problems again," Oliver said. "The student loan servicers don't do financial counseling, so it would be wise for the Department of Education to acknowledge that the credit counseling industry can play an instrumental role in helping student loan borrowers maintain some semblance of financial health, otherwise they will be unable to fully participate in our economy."
Advertiser Disclosure
BadCredit.org is a free online resource that offers valuable content and comparison services to users. To keep this resource 100% free for users, we receive advertising compensation from the financial products listed on this page. Along with key review factors, this compensation may impact how and where products appear on the page (including, for example, the order in which they appear). BadCredit.org does not include listings for all financial products.
Our Editorial Review Policy
Our site is committed to publishing independent, accurate content guided by strict editorial guidelines. Before articles and reviews are published on our site, they undergo a thorough review process performed by a team of independent editors and subject-matter experts to ensure the content's accuracy, timeliness, and impartiality. Our editorial team is separate and independent of our site's advertisers, and the opinions they express on our site are their own. To read more about our team members and their editorial backgrounds, please visit our site's About page.