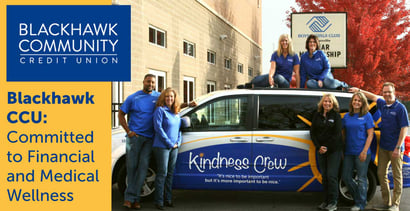 In a Nutshell: Blackhawk Community Credit Union helps Wisconsin members and residents understand the close connection between financial and physical health. Blackhawk CCU's Next Step Program helps members eliminate debt, which often causes stress that can lead to both mental and physical illness. And the credit union plans to promote more economic and physical wellness initiatives through its Healthy Living Center, opening in 2021. The credit union also sponsors various childhood literacy programs, which will help new generations avoid money-related issues and enable them to lead more prosperous lives.
In April 2018, dump trucks, excavators, and loaders rolled up Industrial Avenue in Janesville, Wisconsin, where they began demolishing the General Motors assembly plant. But more than taking down physical infrastructure, they were eliminating a long-standing fixture of the community.
As the Milwaukee Journal Sentinel reported, after nearly a century of serving as one of Janesville's main employers, the plant's closure in 2009 left 5,000 workers jobless.
It's a common situation shared by many communities: A major employer folds, leaving workers and their families in a financial lurch. And the effects are also felt in other areas of people's lives, including their physical health. And the compounding financial stress can more directly impact physical and mental health, as well.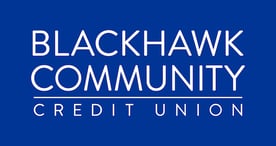 "If you have issues in your financial life, it causes a lot of stress," said Sherri Stumpf, President and CEO of Blackhawk Community Credit Union, which serves residents of Janesville and other areas through its 12 branches statewide. "And stress causes physical health to diminish."
Blackhawk CCU takes that correlation seriously and works hard to help people improve their financial well-being in tandem with their medical health by providing total wellness solutions for its members and communities. Through its Next Step Program, educational initiatives, and the Healthy Living Center, which opens in 2021, Blackhawk CCU delivers information and assistance to allow people to bring their financial and physical wellness into balance.
"We need to understand where our members are coming from, where they're at, and try to help them in all aspects of their lives," Stumpf said.
Healthy Living Center Puts Members on the Path to Wellness
In July 2018, the National Credit Union Foundation released a white paper titled, "Health and Financial Well-Being: Two Things That Go Better Together," which discusses ways personal and financial health are closely connected. Financial insecurity can cause stress, which often leads to physical and mental health issues.
According to the Mayo Clinic, those other issues can include high blood pressure, insomnia, physical pain, substance abuse, and depression.
Poor health brought on by those problems can also impact a person's ability to work and perform effectively on the job. If those issues become severe enough — including requiring hospitalization and major medical procedures — health problems may create even greater financial strain and stress.
That is why the National Credit Union Foundation (NCUF) calls on credit unions to take part in a revolutionary integration of medical and financial wellness programs in their own practices and use them to help the public.
"I always knew there was a correlation. In full support of NCUF we plan to establish a Healthy Living Center when we open our new headquarters building to serve our members and their families. This strategy combined with our HealthNet partnership serves the entire community," Stumpf said.
Blackhawk CCU's Healthy Living Center will be the first of its kind operated by a credit union with support from other health and wellness organizations. Through the center, which opens in 2021, Blackhawk CCU and its partners aim to provide a place where individuals can get the help they need in all areas of finance and health.
In the process, the credit union hopes to set a positive precedent for personal investment and holistic support for communities.
The Next Step Program Helps Alleviate Financial Stress
Blackhawk CCU's Next Step Program is already setting the foundation for the Healthy Living Center, and works with people on the financial causes of health issues. Over the past two years, the program has helped 881 members resolve a whopping $35 million worth of debt, drastically improving their financial — and often medical — situations.
"If you go after just the parts that are causing the illness, but you never fix the financial health part of it, that stress will continue, and their health problems aren't going to get better," Stumpf said.
Blackhawk CCU was founded in 1965 to serve employees of the General Motors Janesville assembly plant. In operation since 1919, the plant shut down in 2009 amid the Great Recession.
"The people of Janesville and surrounding towns were devastated," Stumpf said. "And they knew what caused their problems — they were out of a job."
But understanding the core problem didn't help people deal with the various repercussions the plant's closure brought to their lives and communities. Blackhawk CCU resolved to help members understand how financial events can affect the rest of their lives. The credit union also set out to help them find ways to move forward by providing the assistance they need to succeed.
That determination is evident in the Next Step Program, which offers hands-on assistance for the enduring financial struggles of members. At its core, the program is relationship-focused; credit union representatives listen to members' stories and experiences and help them understand their issues.
PsychCentral reports that the simple act of talking through personal problems is both satisfying and promotes mental health. For the member, it provides emotional relief, insight into the problem, and fosters a deeper connection with the credit union. For the representative, actively listening to members can build the rapport necessary to begin the recovery process.
Representatives walk members through that process and take care of the stressful legwork of contacting creditors and figuring out ways to quickly pay down debt. That saves members the additional stress of navigating the intimidating world of the credit industry and allows them to focus on addressing the other issues affecting their lives.
Literacy Programs Empower Children to Build Bright Futures
What children learn early in life becomes crucial to their academic and professional performance as adolescents and adults. Parents are a critical part of that early brain development. But, as the American Academy of Family Physicians points out, medical caregivers are uniquely positioned to facilitate childhood learning by educating parents on the benefits of literacy.
That's why Blackhawk CCU partners with local hospitals to help doctors and new parents provide a strong foundation for their children's mental development. The credit union supplements medical knowledge by providing information for parents to take home about brain development and the benefits of early literacy.
"We sponsor the package they take home with books and educational tools," Stumpf said. "In just the first six months, more than 1,500 families have been helped through that program."
Watch on
And Blackhawk CCU's work continues into childhood and adolescence. The credit union partners with the United Way and the Dolly Parton Imagination Library to provide books for children up to age 5. Participating families receive a book in the mail every month; each chosen by specialists based on the child's age to facilitate cognitive development. In total, Blackhawk CCU has helped provide 32,000 books to 2,300 children in five communities.
The credit union sponsors the I Love Literacy Program for students at the Boys and Girls Club to help close the achievement gap for at-risk children. It also provides funding for family reading centers in local libraries. That support for early childhood learning can lead to greater academic and financial knowledge later in life, helping promote a happier, healthier adulthood.
The Legacy Center Memorializes the Inspiration for Stronger, Healthier Communities
When it opens in 2021, Blackhawk CCU's Healthy Living Center will incorporate a Legacy Center that pays homage to the generations of GM employees who have called Janesville home. It will also document the challenges those workers and their families endured when GM closed the assembly plant for good. Just as importantly, it will testify to the community's perseverance and triumph in the face of overwhelming adversity.
"I think the bigger picture of the Legacy Center is about the resilience of the people that live here and their desire to rebuild and remake themselves," Stumpf said. "It's about community revitalization — how to make a community vibrant regardless of what's happening."
The economic and financial problems that began in Janesville in 2008 reverberated for the next decade. To this day, residents still live with the plant closure's social and personal repercussions. Blackhawk CCU's Healthy Living and Legacy Centers will serve both as a memorial of that past and a guide for personal and community prosperity in the future.
"We all had a responsibility to do something a little bit different," Strumpf said. "It took understanding that many people are still struggling with this so many years later for somebody to get involved in it — and it just happened to be us. I think credit unions are uniquely positioned to take on some of these community issues and provide the resources for them. It's exactly what credit unions were designed to do."
Advertiser Disclosure
BadCredit.org is a free online resource that offers valuable content and comparison services to users. To keep this resource 100% free for users, we receive advertising compensation from the financial products listed on this page. Along with key review factors, this compensation may impact how and where products appear on the page (including, for example, the order in which they appear). BadCredit.org does not include listings for all financial products.
Our Editorial Review Policy
Our site is committed to publishing independent, accurate content guided by strict editorial guidelines. Before articles and reviews are published on our site, they undergo a thorough review process performed by a team of independent editors and subject-matter experts to ensure the content's accuracy, timeliness, and impartiality. Our editorial team is separate and independent of our site's advertisers, and the opinions they express on our site are their own. To read more about our team members and their editorial backgrounds, please visit our site's About page.