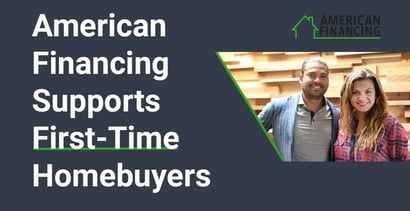 Experts share their tips and advice on BadCredit.org, with the goal of helping subprime consumers. Our articles follow strict
editorial guidelines
.
In a Nutshell: American Financing is one of the most supportive mortgage lenders in the industry for first-time homebuyers. Its consultants provide up to six months of credit improvement advice through its Mortgage Credit Care program and identify down payment assistance programs that can bridge the gap between a buyer's budget and current home prices. That commitment to working with homebuyers, and its personalized service, has earned American Financing a devoted following over nearly 25 years in business.
The majority of Americans responding to the Cato Institute's Housing Affordability National Survey say they are nervous about the price of housing. National home prices have risen more than 40% since 2020, and more than 76% of survey respondents said now was a bad time to buy property. 
But the majority of respondents still see owning a home as the gold standard, with 89% of Americans saying they want to live in single-family homes. 
Individuals and families with credit issues may be particularly concerned about the prospect of homeownership. Most mortgage lenders require buyers to have credit in the fair category — around 580 — to secure FHA loans, and conventional loans typically require a credit score of at least 620. 
But American Financing doesn't want to leave would-be buyers with credit challenges out of the equation. That's why the mortgage lender aims to help those individuals find pathways to homeownership. And if their credit isn't where it needs to be to qualify for a mortgage, the American Financing team works with them free of charge to find ways to improve their scores. 

This willingness to work with credit-challenged clients is what distinguishes American Financing in the industry. Many mortgage brokers simply turn down individuals with poor credit, rather than trying to work with them to improve their scores. American Financing sees its clients as lifelong customers, and overcoming a lower credit score is just one step in the journey — even if it doesn't end with a mortgage. 
"What has helped us as a business is doing what's right for the customers. Hopefully, we'll eventually get a mortgage out of it since that's what we're in business to do," said Jonathan Payne, American Financing's VP of Sales. "But even if we don't, we hope down the road, they'll come back and use us because they remember that we were there for them."
Supporting Clients Through the Credit Care Program 
American Financing was founded by Damien and Gabie Maldonado in 1999. This year, the lender is nearing its 25th anniversary in operation, a significant feat in an industry where many companies come and go.
The lender offers services that help customers purchase homes, refinance their properties, apply for home equity lines of credit and home equity loans, and find down payment assistance. Some of these assistance programs include FHA, VA loans, and HUD-insured loans.
"If you're looking for a mortgage, it's more than likely that we have it,and we love to offer excellent service to anybody out there looking. There's a need," said Jonathan. 
This personalized service is what sets American Financing's Mortgage Consultants apart from typical lenders: Their goal is to help would-be buyers improve their financial decision-making. Specifically, consultants refer individuals with poor credit to the company's Mortgage Credit Care program, which provides up to six months of credit improvement education and regular check-ins for free. Clients increase their credit scores by 40 points on average within 30 days of working with a consultant. 
One client shares her experience of getting approved for a mortgage after working with an American Financing consultant. 
"It was challenging when I started this process, and I appreciated the help of the credit card department to get me pre-approved. After that [my mortgage consultant and loan processor] handled everything perfectly from start to closing. This is my first mortgage, and I had lots of questions. And I never once was made to feel bad for asking them…I'm glad I went with someone local, we'll definitely use them again in the future," she writes. 
Downpayment Assistance Can Help First-Time Homebuyers
As mentioned in the review above, first-time homebuyers typically have lots of questions since they haven't been through the process before. American Financing consultants aim to make clients feel like there's nothing they can't ask.
For instance, many first-time buyers ask consultants how they can save enough money for a home down payment. Many would-be buyers say they don't see how they can save enough for the traditional 20% down payment with the current cost-of-living increases and salaries that aren't keeping pace. 
But 20% down certainly isn't a requirement anymore. 
For a client who can't save enough to put 20% down, Jonathan may recommend an FHA loan, which offers more flexibility in credit guidelines, debt-to-income ratio, and other qualifying prerequisites.
American Financing also partners with housing counseling organizations that provide home-buying and ownership education for first-time buyers. 

"Through these classes, they realize what they need to do to save each month or pay their bills on time. These organizations know what customers need. Our credit team will help them on the credit side, but our consultants are knowledgeable enough to walk them through in addition to the housing counseling," Jonathan told us. 
After completing education courses like these, clients are often able to save more toward their down payments than they ever thought possible. 
"We're able to save customers up to $1,000 a month, and to somebody who is struggling, that makes a big difference. Financial struggles are one of the biggest stressors out there, and if you can take that part away, at least for the time being, it's definitely a win," he said. 
A Standout in Mortgage Lending for Nearly 25 Years  
For years, the mortgage lender has targeted first-time homeowners so directly that the majority of the company's purchase transactions are first-time homebuyers. Still, Jonathan and his team said they are poised to grow the number of first-time buyers in the upcoming years by ensuring they have the financial profiles for mortgage approval. 
Many clients who have successfully bought their first homes through American Financing return to the mortgage consultants to refinance or buy their next homes. The average American makes seven mortgage transactions in their lifetimes — and American Financing wants to work with its clients through all of them.  
"Not every mortgage company takes that extra time to consult and provide guidance, even when there's nothing in it for us other than in a satisfied customer. We hope they will utilize us down the road, or refer their friends and family to us. That's really what we strive to do and pride ourselves on," said Jonathan. 
If a would-be homeowner wants to know how they can qualify for a home loan, Jonathan suggests giving American Financing a call. 
"We try to keep everything pretty quick. We'll review your credit situation so you have a sense for what you qualify for. If you're at a credit challenge stage, you can start making different financial decisions right away," he said. 
Even if a potential buyer needs six months or a year to boost their credit, the sooner they start, the sooner they'll be approved for a mortgage. 
"People are scared. Especially people that have credit challenges. Well, don't worry, we've seen all types of credit, and we're not judging anybody. We just want to help you get to a better situation," he said.