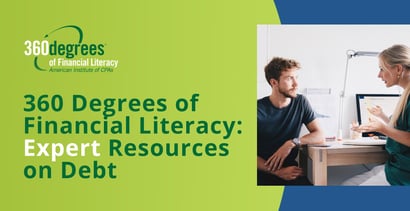 In a Nutshell: 360 Degrees of Financial Literacy is a program from the American Institute of Certified Public Accountants (AICPA) that provides education and advice directly from volunteer CPAs. The program's name comes from the comprehensive financial education — ranging from common life events to very specific, personal questions and concerns — it provides users. It also covers personal finance basics, which parents can use to educate their children thereby setting them up for financial fluency and successful money management later in life. This will also help young people know how to handle unexpected economic turmoil and downturns like those experienced in the wake of the COVID-19 pandemic. Overall, 360 Degrees of Financial Literacy's resources provide holistic coverage of money-related topics that will help consumers reduce debt, save money, and make wiser decisions with their finances.
Languages — or systems of communications — come in all shapes and sizes. Organic languages like English, Spanish, and Tagalog have developed over the course of human history. Machine languages like ADA, Python, and C++, all of which are extremely young, are much more formal by comparison.
And then there's personal finance. Perhaps it's not an official language, but the density and jargon in this body of knowledge remain challenging for many consumers to grasp. Unfortunately, you're not going to find a course on personal finance offered for credit in most high schools. Nonetheless, it is a language that affects everyday life and one we all must learn to understand and use.
Luckily, there are professionals who speak the language of finance on a daily basis. They have become fluent in its nuances, and they are willing to help others learn its verbiage, grammar, and syntax.

Sometimes we rely on these experts as translators who do the work so we don't have to. Other times, they serve as teachers who help us gain fluency so we can better manage our money, avoid debt, and master our own finances.
The latter is the task of 360 Degrees of Financial Literacy, a program that provides educational resources and support to the public. 360 Degrees of Financial Literacy is a program in which certified personal accountants volunteer their time to help others gain financial proficiency. It is overseen by the National CPA Financial Literacy Commission, part of the American Institute of CPAs.
"It's needed," said Gregory J. Anton, CPA, CGMA, Chairman of the AICPA's National CPA Financial Literacy Commission. "They have knowledge in the space, and they want to provide a resource."
As a non-profit, volunteer-driven program, 360 Degrees of Financial Literacy's single goal is improving consumer knowledge.
"What we think sets our program apart is that we're completely unbiased," Anton said. "Our materials are purely a public service. … There's no product, there's no advertisement, there's nothing that's sold. It's just financial education and financial information vetted by CPAs."
Through 360 Degrees of Financial Literacy, consumers can learn about the full breadth and scope of personal finance. The initiative and its volunteers are able to help demystify finance at every stage of life or situation, including youth education, saving for retirement, paying down credit card debt, and dealing with unforeseen hardship.
"Who better than CPAs to provide financial advice?" Anton said. "As a profession, we were looking at ways that we could give back to citizens and Americans, and we really pulled this together as our kind of bellwether program to share the knowledge that CPAs have with Americans."
Educational Resources Target Specific Needs
360 Degrees of Financial Literacy lives up to its name: It covers the entire range of financial issues and concerns. It is a holistic resource for consumers to understand every aspect of finance they'll face during their lifetime.
"We look at it as a 360-degree resource from cradle to grave — and I really mean from cradle to grave," Anton said. "There are resources and tools within the 360 Degrees website for … every life experience that you could possibly have from a financial standpoint: having a child, buying a car, getting married, buying a home, saving for college, saving for retirement, losing your job, all the way through if you have a loved one that passes."
That's a lot of information, but 360 Degrees of Financial Literacy doesn't expect anyone to absorb all of it at once — or ever, for that matter. Consumers are able to tailor their learning to their particular needs, whether those are immediate, like buying a car to get to work or budgeting to pay down credit card debt, or long-term, like saving for retirement or building emergency funds.
Beyond these more general categories, 360 Degrees of Financial Literacy also provides resources and information pertaining to more specific situations. One example is a game called Bank On It, which is designed to help high school students improve their financial skills by simulating real-world financial activities.
But what if you have a unique situation that doesn't fit into other categories? You can turn to Ask the Money Doctor on the 360 Degrees of Financial Literacy website. There, anyone can ask specific, personal financial questions and get targeted information directly from a professional.
"It's a tool that anyone can access and ask a very personal question and get a response," Anton said. "It's that personalized."
Preparing Children for Lifelong Financial Wellness
When we're young, our parents teach us how to brush our teeth, tie our shoes, look both ways before we cross streets, not to trust strangers with candy. This is all important information that we'll need in order to get through life successfully. And we learn it at a young age so it becomes second nature to us.
That is also the best time to begin teaching children about personal finance. Financial education can benefit not only ourselves but our children. And by passing that knowledge along, we can help them prepare for a stable, debt-free future.
Of course, young children don't need to know about interest rates and reverse mortgages. But they do need basic information to serve as a foundation for later learning.
"Individuals, as they get older, are more receptive to understanding and learning about financial literacy if it's something that they have exposure to early in life. We need to make sure that parents understand that teaching their children about financial literacy should happen at the same time as teaching their children to brush their teeth, really. And it can happen." — Gregory J. Anton, CPA, CGMA, Chairman of the AICPA's National CPA Financial Literacy Commission
Parents who understand finance can easily turn everyday experiences into learning moments for their children. One prime example that occurs on a regular basis is going to the grocery store.
"It's okay to share with your young child," Anton said. "We're going to the grocery store, we have $100 to spend, and this is what we're here to shop for."
As your child gets older, increase the financial information you share, he said. When shopping for back-to-school clothes, have the same discussion about budgeting and look for items on sale so you can stretch that budget further.
"The kids like that," Anton said. "And if they have that brought to their attention early in their life, they're going to be way more understanding of financial literacy and what to do when they get their first paycheck."
The key here is to share financial knowledge and activities with children. And one of the most important components of finance is credit cards. Getting young people acquainted with credit and debt early can mean the difference between financial independence and bankruptcy later in life.
"(Parents) can start teaching children that the credit card is used for transactions rather than as a revolving line of credit." Anton said. "And if you can teach kids that earlier than later, that becomes part of their habit that's formed. And they will know that it's challenging to use a credit card as a revolver and that as soon as you start paying interest, you're paying significant interest rates."
Managing Money in the Midst of COVID-19
Understanding credit and being able to use it responsibly later in life is a huge boon for consumers. But the inverse is also true: Not being proficient in credit, and subsequently racking up significant consumer debt, can be an enormous financial burden and stressor.
"Stress is generally caused when you don't have past experience," Anton said.
But there are some events that are entirely beyond our control and for which we have no precedent. The economic and financial fallout that began in 2020 during the COVID-19 pandemic is one such example.
"Young individuals that may have worked at a restaurant or may have worked in hospitality likely lost their job and went on unemployment," Anton said. "That hasn't happened to them in their lifetime. This is the first time. That creates a significant stress and a significant potential economic burden."
Watch on
Events like these prove the rule that financial literacy is crucial to personal stability and well-being. No one can predict a pandemic, but having an emergency fund to deal with unexpected occurrences can help to mitigate the financial trauma of disasters like this one.
Coupled with unemployment benefits and government stimulus funds, some people have been able to weather the economic turmoil fairly well. Others have remained employed and received stimulus. For them, this is an ideal time to consolidate their personal finances and prepare for the economic upswing.
"What I would say is, if you've got bad credit — any interest-bearing credit, for a non-appreciating asset, like a credit card debt — pay it off," Anton said. "First, you get all of your credit card debt paid off. Then we've got other high interest debt that you may have — a car loan, as an example — pay that down. And if you have all of the interest-bearing debt paid down, then look at putting that money into a savings account for the future."
By taking these steps, the pandemic can serve not only as a learning moment but a practical opportunity for preparing for future disasters and downturns. And 360 Degrees of Financial Literacy provides information and guidance on doing precisely that.
"We have tools specifically that give you guidance on the dos and don'ts of getting in a cash pinch, the five steps to manage sudden unemployment, and then making use of your economic impact payment," Anton said. "There's a whole section right now for COVID-19 on the site. That's very timely for individuals."
Expert Instruction in the Language of Money
"You think English is the language that we're speaking, but the reality is numbers and financial information," Anton said.
CPAs are fluent in this language because they deal with it every day. They audit and balance accounts. They prepare tax filings and help develop proactive financial plans. Their constant practice makes them highly proficient.
"There isn't a day that goes by that we're not looking at financial information," Anton said. "Evaluating whether or not it makes sense to rent a car or lease a car or buy a car. Does it make sense to rent a home or buy a home? Does it make sense to consolidate debt and get a home equity loan and pay off your higher interest debt?"
If these questions seem intimidating to you, you're not alone. And that's why 360 Degrees of Financial Literacy exists: for CPAs who are proficient in this knowledge to convey it to others and empower them to build their financial literacy.
"Most individuals aren't professionally trained in dollars, the language of money," Anton said. "Accountants are professionally trained in the language of money. And I think that's what allows us to be such a great resource for citizens."
Advertiser Disclosure
BadCredit.org is a free online resource that offers valuable content and comparison services to users. To keep this resource 100% free for users, we receive advertising compensation from the financial products listed on this page. Along with key review factors, this compensation may impact how and where products appear on the page (including, for example, the order in which they appear). BadCredit.org does not include listings for all financial products.
Our Editorial Review Policy
Our site is committed to publishing independent, accurate content guided by strict editorial guidelines. Before articles and reviews are published on our site, they undergo a thorough review process performed by a team of independent editors and subject-matter experts to ensure the content's accuracy, timeliness, and impartiality. Our editorial team is separate and independent of our site's advertisers, and the opinions they express on our site are their own. To read more about our team members and their editorial backgrounds, please visit our site's About page.