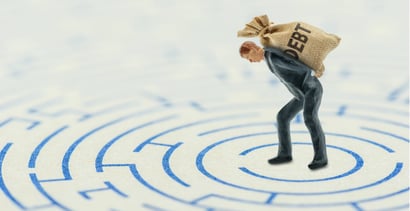 Debt in the U.S. has ballooned over the last couple of decades thanks to increased pricing on housing, education, consumer goods, and cars. Debt is a leading cause of stress in America and holds many people back from reaching life goals.
Understanding how and why we take on this financial burden in the first place is important if we want to avoid it in the future. Here's a look at 18 of the most alarming consumer debt studies across lending categories.
1. More Than Half of Americans Feel Weighed Down by Debt
Debt is the leading financial burden Americans carry, with nearly 60% of U.S. consumers saying they feel weighed down by debt, according to a study by LendingTree.
Among the most burdensome debt, credit card balances weigh on consumers the most, followed by student loan debt, which disproportionately affects younger generations, this study also found. Even more interesting, however, is that the women surveyed feel less confident than men about managing this debt load.
Specifically, this same study found that nearly 62% of men think they'll get ahead financially in the next decade, while only 44% of women say they think the same way. In general, women have less financial confidence than their male counterparts and feel less satisfied with their current financial situations.
2. Credit Card Use Came to a Screeching Halt During the Pandemic
As the COVID-19 pandemic began taking hold of people's health, our personal finances and the economy were simultaneously affected. Credit card usage came to a screeching halt when local governments placed mandatory stay-at-home and social distancing orders.
According to The Federal Reserve Bank of New York's Center for Microeconomic Data, credit card balances fell sharply by $76 billion in the second quarter of 2020, the steepest decline in card balances on record.
Although this seems like good news to consumers, many also lost income, and some are still struggling to regain their financial footing.
3. Baby Boomers Carry the Highest Credit Card Balances
Millennials are often touted as reckless spenders with poor money management habits, but a recent report points to their older cohorts as the ones to exhibit less-than-stellar financial habits.
Baby boomers were carrying an average of just under $7,000 in credit card debt, compared with $4,889 in average total debt millennials, according to data analyzed by Experian.
One contributing factor may be that baby boomers also carry an average of 4.8 cards in their wallets, while millennials have an average of 3.2 credit cards in their wallets.
4. Nearly Half of Americans Polled Lose Sleep Over Money Woes
A whopping 48% of Americans aren't getting the required shut-eye needed for optimal health and productivity, citing money woes as the main reason for their insomnia, as reported by a recent study from Bankrate.
The data also revealed that 17% of respondents blame healthcare and insurance bills for keeping them up at night while another 13% say the inability to pay credit card debt is the main reason they can't sleep at night.
When you start losing sleep, however, it's not just your finances that suffer — your physical and mental health are affected too, so it's important to manage debt and alleviate this additional stress.
5. Over Half of Credit Card Users Carry a Balance
Credit cards are often viewed as a debt trap, but when managed wisely, this payment option can bring you some sweet benefits, including cash back, travel rewards, and added layers of purchase or fraud protection.
Unfortunately, most credit card users are not practicing positive swiping habits. In fact, according to data from CreditDonkey, 55% of consumers who carry a credit card don't regularly pay it off in full. This means a lot of money is getting wasted on interest fees, which negates any of the rewards earned on those purchases.
Considering that the average American carries $6,194 in credit card debt at an average interest rate of 16.46%, as reported by Experian, those who don't pay off their balances will rack up hefty interest fees.
6. Credit Card Debt Increases with Income
A common misconception about high-earning workers is that they have endless wealth. The reality is you can just as easily spend all your money and go into debt no matter your income. If you aren't watching how much you're spending, it's easy to live beyond your means and go into debt.
A report found that your income has little to do with how much credit card debt you have at any given time. In fact, the more people make, the more they spend and the higher their debt balance grows.
A study conducted on income distribution and household debt from the Department of Economics at John Jay College and The Roosevelt Institute found that most household debt is found among higher-income households. Specifically, over 50% of household debt is owed by the top income earners, and less than 5% is owed by the bottom earners.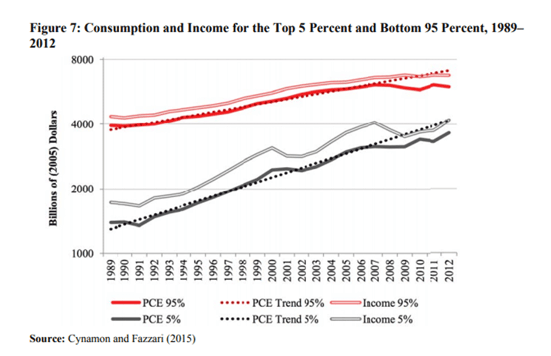 High earners often spend more on living costs, including housing and even education, all of which contribute to their ballooning debt. This is why it's important to remember the path to financial freedom isn't necessarily in the amount you earn, but the way you spend that makes the biggest difference.
7. More than Half of Parents with Young Kids are in Debt Due to Coronavirus
The pandemic has disproportionately affected families with young children, who are now taking on more debt thanks to increased virtual learning costs and lost wages for parents who have had to stay home and care for their kids.
In fact, a recent study from LendingTree found that 56% of parents with young kids are in debt due to the added financial strain of the coronavirus outbreak. Meanwhile, single parents are faring worse with nearly 1 in 5 of those who are single, divorced, or separated saying they couldn't pay their credit card bill last month.
The added costs of distance learning have affected all families, with 6 in 10 parents spending a little over $1,000 on supplies for everything from iPads and laptops to office furniture.
8. Most Parents Take on Debt to Raise Kids
Raising kids comes with a huge financial responsibility and one that causes many families to take on debt. A NerdWallet survey conducted by The Harris Poll found that parents of adolescent children are more likely to carry credit card balances than Americans with adult children or those with no children at all.
Specifically, 80% of parents of children under 18 said they have credit card debt, compared with 58% of survey respondents who aren't parents of children under 18. Meanwhile, 11% of parents carrying credit card debt said they believe it will take them more than 10 years to become debt-free.
The same report found that many families would have a hard time avoiding debt if they became first-time parents in today's economy, which would explain why a whopping 48% of couples without kids say the overall costs associated with child-rearing would deter them from having any children.
However, this shouldn't scare couples from parenthood. It just requires extra financial planning and learning how to keep unnecessary costs at bay.
9. Major Medical Debt Contributes to Bankruptcy Filings
Bankruptcy is often the last resort for consumers who are deep in debt. One of the leading causes of unmanageable debt is related to high healthcare costs.
Medical debt represents 58.5% of consumer bankruptcy filings, according to Personal Bankruptcy Statistics compiled by The Ascent. Bills from healthcare providers, hospitals, and prescriptions not only contribute to debt, they also affect a person's ability to work and earn income.
10. Majority of Couples Go into Debt to Tie the Knot
Getting married is an exciting time for couples but it can also be stressful as more brides and grooms overspend on their big day. A study from Student Loan Hero found that 74% of couples take on debt to get married.
A striking 61% of respondents said they planned to use credit cards to help cover costs, and 21% of respondents said they would use personal loans to cover various wedding-related bills. The report also found that debt may be a result of social influences placed on brides and grooms, as respondents said they feel pressure from family, friends, and even society to throw a lavish wedding.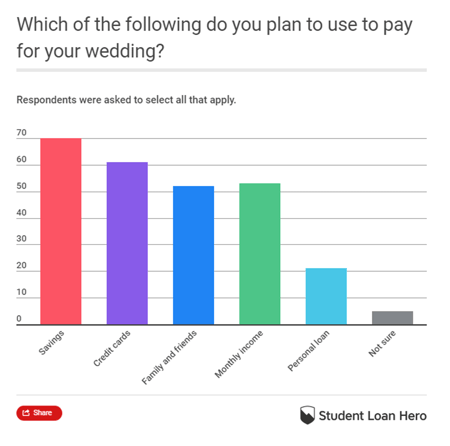 Among those who said they plan to use a credit card, 35% of newlyweds expect to take at least six months to pay off that debt, while 10% said they'll be paying down credit card debt as a result of their nuptials for more than a year.
11. Total Student Loan Debt Reaches $1.50 Trillion
Obtaining a college degree is considered a necessary step toward securing a well-paying job, career stability, and future financial independence, but it comes with a major upfront cost that can cause years of financial hardship.
Close to 62% of college seniors who graduated from public and private nonprofit colleges in 2019 owed an average of $28,950 in student loan debt, according to the Student Debt and The Class of 2019 report from The Institute for College Access and Success.
Meanwhile, total student loan debt in the U.S. has reached $1.5 trillion, up $20 billion from the second quarter of 2019, according to The New York Credit Consumer Panel. Student loan debt is the second-highest consumer debt category behind only mortgage debt, higher than both credit cards and auto loans.
12. The Federal Reserve Reports that 2 in 10 Student Loan Borrowers are Behind on Payments
Taking out student loans to attend college is inevitable for most Americans. The Federal Reserve estimates that 54% of young adults who went to college took on debt, including student loans.
The same survey also found that repayment of this debt can be challenging, with 2 in 10 student loan borrowers reportedly being behind on payments. Struggling to keep up with student loans is often tied to difficulty finding adequate paying jobs post-graduation, limited family support, or dropping out before obtaining a degree.
Missed student loan payments will have a seriously negative impact on a credit score. It's recommended that student loan borrowers inquire about payment deferment options or negotiate a repayment plan to avoid a detrimental hit on their credit report.
13. Parents Go into Debt to Help Adult Children Through College
Today's college students and recent grads are burdened with more debt than ever, but it's not just young adults affected by the growing costs of higher education.
More parents are taking out Federal Parent PLUS loans to help cover their adult children's education, according to the National Postsecondary Student Aid Study conducted by the National Center for Education Statistics at the U.S. Department of Education. This debt has grown by more than 19% from $27,352 in 2011-12 to $32,596 in 2015-16.
Considering the interest rates on these loans are 2.55 percentage points higher than federal student loans for undergraduate students, have higher fees, higher borrowing caps, and narrower repayment options, parents are risking serious financial hardship to take some of the burden off their kids.
14. Average Mortgage Debt Tops $203,000
The average mortgage balance for Americans reached $203,296 in 2019, a 2%, or $4,919, increase from 2018, according to Experian data. Even more compelling is a look at which generations carry the biggest mortgage balance.
The same study found that 41% of baby boomers and 32% of Generation Xers carry a mortgage, accounting for 73% of total mortgages held in the U.S.
Meanwhile, millennials represent just 15% of mortgage holders but that group has seen the biggest growth, with a rise of 76% in the past five years alone.
15. Debt Holds People Back from Donating
Although Americans are dedicated to charitable giving with two-thirds of Americans having donated to a nonprofit in 2019, financial struggles often get in the way of giving back, as reported in a recent survey from LendingTree.
In fact, 71% of consumers surveyed claimed debt was keeping them from donating more than they could afford while 56% cited a lack of cash as a primary barrier to giving back. Another interesting point to highlight is the impact debt has on giving behaviors by generation.
For instance, though baby boomers have enjoyed a reduction in overall debt recently, as reported by another LendingTree study, this did not result in a higher occurrence of recurring donations among this age group. Their younger cohorts donated more, with Gen Z having the highest incidences of regular donations at 78%, followed by millennials at 62%.
16. Gen X is the Most Indebted Generation
It's not just preference in music or fashion trends that set generations apart, even personal financial issues seem to timestamp each age group.
Another 2019 study from LendingTree found that members of Gen X have the highest average debt by generation with a whopping $136,869 as of 2019. This is an increase across all spending categories of nearly $12,000 from 2016 to 2019.
Although Gen X carries the highest debt load overall, millennials saw their overall average debt increase by almost $17,000 in the same time frame. Considering each generation experiences a series of life events at different times that contribute to these growing debt balances, expect to see millennials taking on more debt as more of them buy homes and have children. Meanwhile, Gen Xers can expect to wind down paying for college and see their adult children become financially independent.
17. Average Auto Loans and Terms Continue to Rise
U.S. consumers hold a record $1.2 trillion of debt tied to their cars as of June 2020, according to the Federal Reserve. The average amount of a new car loan has increased by 33% over the past five years, rising from $27,472 in 2015 to $36,675 in June 2020.
To keep payments manageable, the car industry has taken to adding more time to pay off the loan. Loan terms are being extended to keep monthly payments manageable, even though this comes with more interest paid over the live of the loan.
18. Consumers Take on Debt to Care for Pets
Any pet owner will tell you that a dog or cat is more than an animal, they're family. So, it should come as no surprise that pet parents want to give their dogs and cats the best quality care available.
However, considering that the American Pet Products Association estimates that U.S. pet owners spent $75 billion on veterinary care in 2019, it's no surprise many pet owners are taking on debt to care for their fur child.
A 2019 LendingTree survey found that approximately 42% of millennials were in pet-related debt at some point, and more than 1 in 3 said they were willing to turn to high-interest debt to cover a pet emergency.
More startling, however, is that three-quarters of pet owners lack pet insurance, with 39% saying they regret not having a policy to help cover veterinary bills to avoid taking on debt.
Despite the financial burden that comes with unexpected veterinary bills and subsequent debt, however, 77% of those who have had pet debt would still consider getting another animal.
Advertiser Disclosure
BadCredit.org is a free online resource that offers valuable content and comparison services to users. To keep this resource 100% free for users, we receive advertising compensation from the financial products listed on this page. Along with key review factors, this compensation may impact how and where products appear on the page (including, for example, the order in which they appear). BadCredit.org does not include listings for all financial products.
Our Editorial Review Policy
Our site is committed to publishing independent, accurate content guided by strict editorial guidelines. Before articles and reviews are published on our site, they undergo a thorough review process performed by a team of independent editors and subject-matter experts to ensure the content's accuracy, timeliness, and impartiality. Our editorial team is separate and independent of our site's advertisers, and the opinions they express on our site are their own. To read more about our team members and their editorial backgrounds, please visit our site's About page.