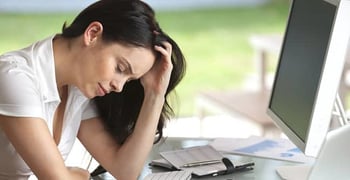 Experts share their tips and advice on BadCredit.org, with the goal of helping subprime consumers. Our articles follow strict
editorial guidelines
.
While most people know a bad credit score is a problem, they don't realize just how big a problem it actually is.
A bad credit score can hold you back in nearly every aspect of your life. This is why it's so important to get your score back in shape.
1. Higher costs.
When you have a bad credit score, life becomes more expensive.
If you take out a loan or a credit card, you'll pay a higher interest rate than someone with good credit. Lenders are worried you might miss payments, so they charge more to make up for the risk.
You'll also need to pay more money for your insurance and your utilities. Car and home insurance policies cost more for people with bad credit scores because insurers found these applicants are more likely to have accidents.
When you apply for utilities, you need to make a deposit to back up your bills. While your monthly payments won't go up because of your score, you'll need to come up with extra cash beforehand to set up your utilities.
2. Housing problems.
Your bad credit score will also make it harder to find a good home.
If you're looking to buy a house, it's going to be difficult to qualify for a mortgage loan. If you manage to qualify for a loan, you'll likely need to pay more in interest because of your poor score.
A bad credit score is also a problem for renting. Landlords often check your credit history before allowing you to rent a property.
When a landlord sees your bad score, he may ask for a larger deposit or a prepaid rent. In some cases, he simply won't rent to you.
"A bad credit score makes life more

frustrating than it needs to be."
3. Hurts your career.
Employers also might look at your credit report. If you have a bad credit score, they may worry about your ability to act responsibly, especially if you are applying for a job related to finance.
In addition, they may be concerned your financial problems could affect your ability to focus at work.
If you want to start your own business, your credit score will also get in the way. It's going to be very difficult for you to find financing to get your business of the ground.
4. Limits car and phone options.
Your credit score will also reduce your options for both cars and cell phone plans.
When you have a bad score, it's more difficult to qualify for a car loan or lease. As a result, you may need to settle for a less expensive car than the one you wanted.
Cell phone companies also consider your credit score before offering a plan. When your score is bad, you may not be able to get a contract and would have to use a prepaid plan instead.
A bad credit score makes life much more expensive and frustrating than it needs to be. Stop letting your bad credit hold you back. Take action today to improve your score.
Photo source: carcreditcleavland.com.