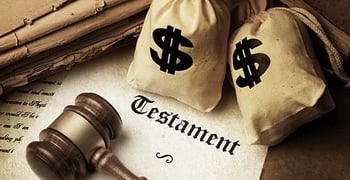 Our popular "How-To" series is for those who seek to improve their subprime credit rating. Our articles follow strict
editorial guidelines
.
When you are left a sizable amount of money, it can be tough to keep a clear head. Between the grief from your loss, the excitement of receiving money, and the stress of planning a funeral, you can feel like you are being jerked around in all kinds of directions.
This can lead to poor financial decisions. To properly deal with this situation while making the most of your windfall, be sure to follow this advice.
1. Take some time to grieve.
Before you can start planning how to manage your money, you need to deal with your emotions first, especially if the person who left you the money was a close family member or friend.
For the first few weeks after the person died, it is easy to feel upset. That means your judgment may be a little off with managing your money.
Don't try to make any decisions regarding the inheritance at this time. Wait until you're back to your old self to make those decisions.
2. Avoid making rash promises or decisions.
When you have a lot of money coming in, it is an exciting opportunity.
It can be tempting to start making big plans and promises. These include quitting your job or giving all of your family members large cash gifts.
Wait until you have actually looked at the numbers and decide what you can afford before you start making any major plans.
"Inheritances can be

spent faster than you think."
3. Review your current financial goals.
Once your life gets back to normal, you can start thinking about how to use your inheritance. One way to plan is to make a list of all of your financial goals and rank them in order of priority.
Some goals that could be worth considering are paying off all of your debt, building an emergency fund, putting more money aside for retirement or setting up a college fund for your children.
Try to estimate how much you will need for each goal and see how much can be covered by your inheritance.
4. Use some money for fun and charity.
While you should use most of your money for long-term financial goals, plan to have a little fun as well.
Put aside a part of your inheritance for a family vacation or a new car. This will make you feel a bit better and keep you more committed to staying disciplined with the rest of the funds.
You'll be less likely to cheat on your financial goals.
You may also want to give some of the money to charity so others can also benefit from your financial windfall.
5. Consider meeting with a financial planner.
Managing large amounts of money can be tricky, especially if you have never done it before.
At this time, it might be a good idea to meet with a financial planner to discuss your long-term goals.
This professional would make sure you understand all of your tax obligations, teach you how to properly invest your money and give you a better idea what you can realistically do with your inheritance.