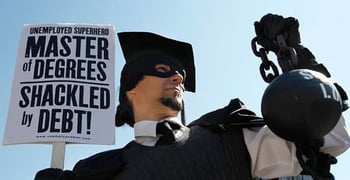 BadCredit.org publishes personal finance studies on the latest trends in the subprime marketplace. Our articles follow strict
editorial guidelines
.
It looks like college students still need help learning to manage their finances.
A new study found many students were already picking up some costly bad habits, including not being too concerned about overdraft fees.
For this study, researchers surveyed 40,000 college students around the U.S. Most of the respondents were college freshmen. The survey asked questions on a range of subjects covering banking, credit cards, savings and student loans.
The survey showed college students are concerned about debt. According to the survey, 79 percent of respondents said they worry frequently about debt.
"College students are aware of

the problems of taking on debt."
However, what was troubling was the majority of respondents said overdraft fees were not a problem if a person has enough money to cover the fee.
This is an expensive bad habit, as each overdraft can lead to an extra $10 to $40 in fees that could easily have been avoided with a little planning.
Some students also had trouble managing their credit cards. Of the students with credit cards, 24 percent reported having a balance of $1,000 or more.
In the survey, 35 percent of students with credit cards reported only making the minimum payment while 7.5 percent said they were late on at least one payment in the past year.
While it is good news that students are showing more concern about debt, this study shows many students are still making some costly mistakes.
Schools should make even more of an effort to teach students about personal finances so young Americans can get better at managing money.
Source: moneytalknews.com. Photo source: abcnews.com.