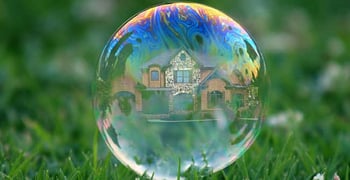 BadCredit.org publishes personal finance studies on the latest trends in the subprime marketplace. Our articles follow strict
editorial guidelines
.
Despite the continued rise in home prices over the past two years, many believe the gains will not last.
According to a survey of Americans conducted for the Country Financial Security Index, 48 percent said they believed the country could be heading for a housing crash in the next two years.
However, the pessimism does not seem to be affecting most Americans and is not among the top concerns for the nation.
When asked to rank their level of worry, 48 percent of respondents said a housing bubble was not among their top concerns. Only 25 percent said it ranked in the top three, and just six percent said it was their primary concern.
"Other concerns seem to be

 more pressing for most respondents."
With home prices up 12.4 percent on average over the past year, the 65 percent of Americans who own homes are benefiting from the advance.
On a worrisome note, only 41 percent think home ownership is possible for the average middle income family. This is a 5 percent decrease from the prior year's survey.
The biggest barriers to home ownership are lack of a down payment and carrying too much debt. By creating a budget and prioritizing saving and debt repayment, home ownership is possible for many more Americans.
With interest rates still near their all-time lows, it is not too late to make the move.
Source: countryfinancialsecurityblog.com. Photo source: cameronburke.co.