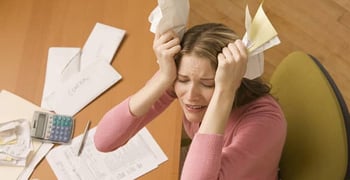 BadCredit.org publishes personal finance studies on the latest trends in the subprime marketplace. Our articles follow strict
editorial guidelines
.
While 92 percent of Americans say they are concerned with checking account fees, only 44 percent have free checking accounts.
In addition, a new study reports that 15 percent said they have never verified whether their primary checking account imposes fees.
The Consumer Banking Insight Study, which was commissioned by Kasasa, a national brand of free rewards checking and saving accounts, looked at more than 1,000 U.S. adults and more than 200 banks and credit unions. The study was conducted online by Harris Poll.
It also was found only one in three Americans actually looked at their accounts on an annual basis to check for fees.
"Checking accounts are some of the most widely used financial products out there – 92 percent of Americans have at least one," said Kasasa CEO Gabe Krajicek. "It's surprising how little attention consumers are paying to their banking account at a time when we're being hit with an endless barrage of fees."
This negligence could help to explain why nearly 30 percent of Americans said they feel taken advantage of by their primary banking institution. That figure rises to more than 40 percent when only the big banks are considered.
The study implies Americans are not actually as concerned as they say they are when it comes to paying service fees for checking accounts.
"When consumers become fed up enough with fees to take action and want to switch accounts, many are looking online, where it takes just a few minutes to locate unconditionally free checking accounts," Krajicek said.
Finally, the study shows satisfaction with community banks and credit unions is a lot higher than it is with the mega-banks. It also shows fees at these smaller institutions tend to be lower. Go figure.
Source: marketwired.com. Photo source: woot.com