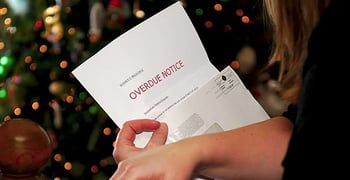 Experts share their tips and advice on BadCredit.org, with the goal of helping subprime consumers. Our articles follow strict
editorial guidelines
.
A very common problem Americans have is entering the new year rife with debt. We were tempted to spend more than we really could for the holidays. After all, we didn't want to look like a Scrooge.
Now we're stuck with credit card debt that may take months to pay off. How can you get rid of this holiday debt hangover? It takes patience, determination and a little sacrifice.
Use these tips to set yourself free.
1. Cut down on spending.
This is the most painful but the easiest way to get rid of your holiday debt.
It is a simple equation: You need to spend less money on day-to-day expenses so you can put more money toward your holiday debt.
No, this will not be fun. Yes, this is necessary if you ever want to pay off that balance.
To make it easier, create a short-term budget to outline income and expenses and see where you can cut back.
Divert as much disposable income as possible to paying off this debt. While it may be painful to make this sacrifice for a few months, you will thank yourself later.
2. Become more frugal.
If you are going to cut down on spending, the easiest way to do this is to become more frugal.
Of course, you have the option of maintaining your current lifestyle and just setting aside some disposable income toward debt. Adopting a frugal lifestyle is most effective and will allow you to put even more money toward debt.
This may mean no more going to the movies. Rent a RedBox instead.
You may need to take a break from shopping for new clothes, going out to eat or going out for drinks. If you are worried you will never have fun again, just invite friends over for a rented movie, potluck dinner or drinks.
They may be in the same boat and be appreciative for not having to cough up money on expensive food or drinks, too.
3. Transfer your balance.
If your credit card balance is sitting on a high-interest credit card, the longer you don't pay it off, the more interest you will accumulate.
If you have $1,000 in holiday purchases and a 25 percent APR, and you continue to carry that balance, you will end up paying $250 in interest.
"We call that throwing

away money." 
If your balance and credit card interest are high, consider transferring your balance to a low-interest card or a credit card that has a zero percent introductory APR offer.
While this doesn't get rid of your holiday debt, it temporarily stops interest from accruing, thus keeping your balance where it is and helping you make headway on your debt.
4. Set yourself up for success next year.
If you are reading this, you know it's not fun having a holiday debt hangover.
To prevent this from happening again next year, once last year's holiday debt is repaid, start setting aside money every month just for the holidays.
Whether you can afford to save $20 or $200 each month, by the time the holidays roll around, you will feel prepared and hopefully be able to start off the next year without holiday debt.
Photo: newswire.ca