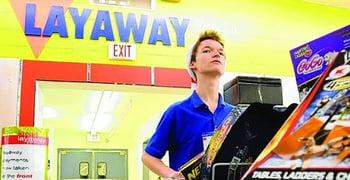 Experts share their tips and advice on BadCredit.org, with the goal of helping subprime consumers. Our articles follow strict
editorial guidelines
.
If you are looking to make a retail purchase but do not have enough cash to pay everything in full, the store may be willing to set up a layaway plan.
In a layaway plan, the store sets aside the merchandise for you and sets up a payment schedule of several weeks or months. After you have made all the payments, you will get your merchandise.
Before setting up a layaway plan, it is important to understand how this move will affect your credit.
1. Layaway doesn't hurt your credit as a new inquiry.
A layaway is not a credit account. The store is not lending you anything because you do not get your merchandise until you have paid for everything in full.
As a result, you do not need to fill out a credit application to qualify for a layaway plan and the retailer will not pull up a copy of your credit score. This is an advantage of a layaway plan because it does not create a new inquiry into your credit.
Each new inquiry drags down your score by a few points, so it is nice that a layaway plan avoids this.
2. Payments don't build your credit score.
If you are looking to build up a credit score, it will not happen with a layaway plan. Since this account is not a credit account, retailers will not report your payment history to the rating bureaus.
As a result, layaway payments made on time do not help build your score like payments made on time on a credit card.
"With a layaway plan,

you do not have this stress."
3. Missed payments don't hurt your score.
On the other hand, missing payments on your layaway plan will not hurt your credit score.
Missing the minimum payments on your credit accounts will damage your credit score. Missing just one payment can drag down your score by up to 100 payments.
You still should try to make all your payments on time because the retailer could charge extra penalties on your account if you don't. Missing payments will not damage your credit score.
4. It may show up on your credit report as noncredit data.
While a layaway plan has little to do with your credit report, this information could still show up as noncredit data. The rating agencies are trying to expand their databases to collect financial information beyond just credit data.
This helps lenders get a more complete view of a new applicant's situation. The terms of your layaway plan could show up in this section.
In the end, a layaway plan will not have too much of an impact on your credit score. Keep these four small credit effects in mind so you know what you are getting into when you buy something on layaway.
Photo source: mynorthwest.com