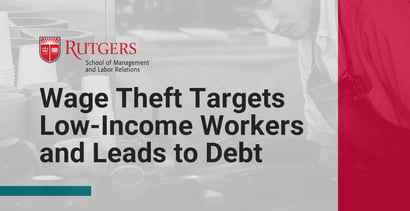 In a Nutshell: Wage theft is surprisingly common among low-income workers despite laws and oversight tools designed to prevent it. Although it's a national problem, it is often concentrated in certain geographical regions and specific industries. The Rutgers University School of Management and Labor Relations has been studying the issue through its Strengthening Labor Standards Enforcement Program at the Education and Employment Research Center. The department aims to identify the problems that lead to wage theft and develop new methods to ensure robust enforcement and compliance.
Many established businesses employ subcontractors — whether it's a retail shop, restaurant, or corporate firm — to complete essential tasks.
Subcontractors often take care of maintenance and janitorial duties, and some businesses find they can save money by using the system while also shielding themselves from liability.
But the practice typically ends up costing workers and violating minimum wage laws, which can make it a form of wage theft.
In 2018, for example, the Cheesecake Factory was found partially liable in a wage theft dispute with its janitorial staff members, who were being paid significantly less than minimum wage. Some may wonder how such an unfair practice could go unnoticed with laws and regulations in place to ensure fair compensation for work.
"The Cheesecake Factory subcontracted with a janitorial subcontractor who subcontracted with another janitorial subcontractor, and the subcontracts just keep going," said Jenn Round, Senior Fellow with the Strengthening Labor Standards Enforcement Program at the Education and Employment Research Center at the Rutgers University School of Management and Labor Relations. "And the reason for the subcontracting is that the Cheesecake Factory doesn't want to have the liability for any violations, and they also want to get janitors at the cheapest price possible."

This problem isn't limited to maintenance and janitorial staff, and it's just one way that employers can avoid paying workers a fair wage. That includes overtime, rest breaks, and other legally mandated labor standards meant to protect workers from exploitation and the mounting debt that may result. Round and others at the Rutgers SLSE program focus on remedying those types of cases.
"We do a lot of technical assistance, training, webinars, and writing briefs for state and local agencies," Round said. "The whole idea is highlighting best practices, good laws, strong enforcement powers, and looking at what agencies need to do to work well."
Those government workers should also focus on people who may face barriers to approaching government agencies to tell their stories, said Round.
"We're trying to use data to inform enforcement at the same time as identifying enforcement practices on the ground that are making a difference and serving workers who need enforcement the most."
Wage Theft Varies Between Industries
"From 2009 to 2019, low-income workers, the lowest-paid workers, lost about 21% of their income to wage theft," Round said, citing research by Daniel Galvin on the prevalence of wage theft by employers.
However, not everyone is equally at risk of wage theft. It is more prevalent in some geographical areas and industries, and it is more likely to be committed against specific demographics. And those workers may accrue even more debt to make up the difference.
"It happens in specific industries at far greater rates than in other industries," Round said. "And it happens to certain demographics of workers at far greater rates than other demographics of workers. That's happening at a national level, and it's also happening in different states and different cities."
Borrowing a term from David Weil, former administrator of the U.S. Department of Labor's Wage and Hour Division, Round refers to this as fissuring. That means different sectors of the economy undergo changes at different rates.
In terms of wage theft, that includes misclassification of workers as independent contractors — which companies can easily conceal behind the increasing reliance on freelance workers. It also includes high rates of people employed as temporary workers hired through temp firms. Companies use these practices not only to save money but also to reduce their own liability and business debt.
"A company may say these workers were independent contractors," Round said. "But if there is an investigation, and an agency comes in and says, 'Actually these people are not independent contractors,' the entity at the top may not be held liable. It's going to be the subcontractors on the hook unless the agency does the extra work and holds all relevant entities liable."
Subcontractors Drive Down Wages and Protect Culprits
In addition to saving money by paying less than a fair wage, companies are insulated against reputational and often legal fallout since they don't technically employ the workers — the subcontractors do. And the subcontractors must compete to earn contracts with employers, which drives down the wages earned by the workers performing the actual labor.
According to Round, that is especially rampant in construction and janitorial services. Although the subcontractors who directly employ the workers are at fault, the impetus behind the wage theft still sits at the top of the pyramid.
"What we do as part of our enforcement work is look at how you go up the chain," Round said. "If you want to end wage theft, that is not going after these subcontractors — who are also kind of just fighting to stay alive and are sometimes low-wage workers themselves."
Another common site of wage theft is in laundry and nanny services, but the reasons for the phenomena in that area are different. Instead of corporate culpability, the fault lies in individual households and face-to-face employers. Competition among workers bidding for a job is still a crucial factor that drives down labor value, but subcontractors aren't typically participating.
However, direct oversight and regulation are lacking, so solving the problem means taking a different approach. Compliance is not a one-size-fits-all solution; it must be tailored and targeted to situations that arise at different scales and in various sectors of the economy.
A Culture of Compliance Requires Proactive Enforcement
Beyond those scenarios, companies have other motivations for noncompliance with labor laws. The way a corporation violates the minimum wage law may be far different from how a mom-and-pop restaurant may ignore regulations to make ends meet and keep its business afloat. In each case, enforcement will look very different.
"It's looking at why employers violate the law," Round said. "Getting compliance in these two situations is likely going to take different tools. A new project we're starting to study is what kind of resources do small businesses need to comply."
A business may not have the necessary technology — including time-tracking devices or applications — to keep accurate records and ensure minimum fair compensation. In other cases, they may need business development and support services to ensure employees are getting adequate compensation and necessary benefits.
The key, in any case, is discerning the barrier to compliance and then devising a solution. There remains, however, the question of deliberate and malicious noncompliance.
"You have this other side, which is a little bit darker, in which employers are not going to comply even if they have the appropriate support," Round said. "We see this all the time. You have entities that create corporations, and as soon as they get in trouble, they dissolve the corporation and create another one. They're constantly hiding from liability. So what do you do for bad actors? That's a much harder question."
The traditional model has been employee-based enforcement, and workers who file complaints against their employer. But that depends on workers who are willing to approach and engage the government in the enforcement process. And that is not always the case, especially since the process can take multiple years and possibly put them further in debt.
"Agencies need to be enforcing these laws in ways that work for workers who don't have the advantage of coming to the agency, filing a complaint, and feeling comfortable doing that," Round said. "We call that strategic enforcement, and it means having agencies use their limited resources to focus on those industries where violations are the highest and workers are least likely to come to them."
Post-Pandemic Labor Shortage May Boost Compensation
Many workers experiencing wage theft are in debt and fall below the poverty line. In the absence of a living wage, they often require public assistance to make ends meet. Rather than the financial responsibility falling on employers — who keep money in their own pockets — the cost instead falls on the taxpayers.
"A 2017 Economic Policy Institute study looks at the levels of poverty for workers that have experienced wage theft, and, in addition, the public assistance that those families need when they experience wage theft," Round said.
There is hope for a significant shift in compensation practice. As of mid-2021, the labor market is experiencing a shortage in the wake of the COVID-19 pandemic and financial safety nets put in place to help vulnerable workers. Employers are struggling to find workers, and that is driving the price of labor back up.
"The economic rebound we're currently seeing has allowed many workers to be more selective," Round said. "It's not worth it to many workers to work for poverty-level wages while possibly putting themselves or their families at risk and so they're choosing not to elect that option. That tells employers that there needs to be better wages and that they need to be competitive to get these workers."
The only options seem to be for businesses to work with fewer employees or for wages to go up. People are now looking for adequate pay to meet their basic needs.
"The problem is not pandemic-related unemployment assistance," Round said. "The problem is that wages are too low for workers to want to go out and to put themselves in danger for the amount that they would get paid. A living wage, I think, is a human right. At the same time, I understand that small businesses in the U.S. are having a difficult time. But I am hopeful that the economic turn upward is going to help push wages upward for workers."
Advertiser Disclosure
BadCredit.org is a free online resource that offers valuable content and comparison services to users. To keep this resource 100% free for users, we receive advertising compensation from the financial products listed on this page. Along with key review factors, this compensation may impact how and where products appear on the page (including, for example, the order in which they appear). BadCredit.org does not include listings for all financial products.
Our Editorial Review Policy
Our site is committed to publishing independent, accurate content guided by strict editorial guidelines. Before articles and reviews are published on our site, they undergo a thorough review process performed by a team of independent editors and subject-matter experts to ensure the content's accuracy, timeliness, and impartiality. Our editorial team is separate and independent of our site's advertisers, and the opinions they express on our site are their own. To read more about our team members and their editorial backgrounds, please visit our site's About page.