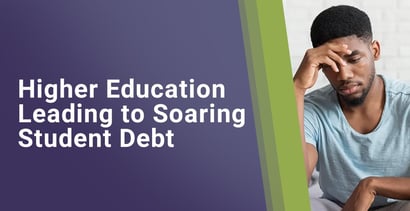 In a Nutshell: Students who want high-paying careers after graduation may need to take on more student debt to earn degrees in desirable fields. Student Loan Planner can help borrowers research majors, refinance debt, and find a payment plan, but problems still exist in the student lending industry. One is that money-saving options often cater to high earners who can easily repay their loans, leaving low earners with fewer options. Ultimately, the rising cost of education set by institutions contributes to soaring federal loan values. While many favor loan simplification or cancellation, those only address symptoms rather than the systemic issues of student debt in the United States.
People who want to enter high-paying careers typically need higher education. Often, the more money students want to earn post-graduation, the more college experience they need. And that education can come at a hefty cost.
Students may take on loans to build a knowledge base for a lucrative career, but when they graduate, that debt follows them. Loan payments can be so burdensome that they prevent young professionals from achieving the life and standard of living they've worked for and borrowed to attain.
Many students pursue college degrees to improve the quality of their life, but student debt can stall that for years — or more.

"People feel trapped," said Travis Hornsby, Founder and CEO at Student Loan Planner. "Would you want to start a family, buy a house, or get married if you felt like you were in prison? The answer is, of course, 'No.'"
Student Loan Planner works with students to refinance their loans and craft custom repayment plans — tasks that are more easily said than done. Student lending is a byzantine industry, especially for the consumer. And while loans may be a means of attaining higher education, they don't promote financial independence.
"They made a complicated system that people have to opt into and navigate. People who have lower education levels, or simply have frustration at the system, feel they've been victimized and don't want to participate in that system," said Hornsby. "And so they can get hurt even more by it."
Loans Favor High-Income Borrowers with Less Need
One example of disparity is in student loan forgiveness programs. Those options are highly beneficial, but they are often disproportionately targeted to those with higher incomes, leaving low earners with fewer resources.
Others are income-driven repayment plans and refinancing options. A professional, like a dentist who owes $500,000 in loans, will be able to make payments without a great deal of difficulty. Someone who took out loans for a bachelor's degree and, due to financial turmoil, found themselves working as a barista at a local coffee shop will incur more hardship.
"These benefits are great benefits, but they are disproportionately going to the people that are the most educated, that have the knowledge and the wherewithal to sort through all their different options," Hornsby said. "And even within the same education levels, there's also bias for people who care about finances the most that are the most financially in debt, versus those that are the least financially adept."
Many policies tend to favor high-earning borrowers over those with a more modest income, even though they may already have a difficult time making ends meet. They find the deck stacked against them when it comes to negotiating the complexities of their debt.
"So we have all these forgiveness programs that are absolutely fantastic that, because of their complexity, have been mostly built to benefit people that have the highest incomes and the highest levels of education," Hornsby said. "If you think about what's been done for people at the bottom of the income spectrum, it's not a lot."
Complex Systems Often Lead to Lost Opportunities
In some cases, student loan repayment plans seem deliberately predatory.
One example is the need to opt into income-based repayment plans. The government can automatically garnish your wages or draw funds from a bank account in the event of non-payment.
"You can pay 10% of your income. You had to opt into that. Nobody's going to opt you into that automatically," Hornsby said. "If you don't make your student loan payments, then the government garnishes your wages or bank accounts at a level of 15% of your income. Still, they don't give the power to the government to automatically sign up a struggling borrower into an income-based plan at a lower percentage of their income."
One of the root causes of the problem is the increasing cost of education itself. Hornsby cited the Grad Plus and Parent Plus federal loans — first offered in the mid-2000s.
Unlike earlier loan programs, they allowed for unlimited borrowing, and schools quickly found ways to take advantage of that situation.
"These plus loans came out from the federal government, where you can borrow the cost of attendance, and then IVR came out in 2009, where you can pay 15% of your income," Hornsby said. "It doesn't take a genius to recognize that schools can charge kids an unlimited amount. Because it's whatever my cost of attendance is, I can just make up a number and raise it way higher, and then the payment is the same if they owe $100,000 or $300,000. The payment is the same, so there's no reason why they wouldn't jack up prices."
Hornsby notes that the cost to attend the University of Washington dental school in 1978 was $1,029 per year. In 2020, it was $70,000 — an increase of nearly seventy-fold. Inflation, on the other hand, accounts for an increase of only about 4%.
"The amount of money somebody is willing to pay for that degree is even higher than it's ever been because of the instability in the economy, I think," Hornsby said. "That's another reason why I think the prices would have risen faster than inflation. Then I think that the fact that you can borrow any amount you want makes it so the schools oblige."
A Return to Normalcy Means More Debt-Related Issues
According to Hornsby, many students aren't more wary of educational loans because no pain is associated with the process until later in life.
"If I apply to school, I'm excited I got into school, and I'm pretty much going to go even if somebody tells me it's not a good financial decision," Hornsby said. "People just sort of make up their own minds and then make their own decisions."
The pain, of course, arises when payments on those loans come due. In 2020, payments on federal loans were suspended as many in the United States struggled with their finances due to the COVID-19 pandemic.
"People are getting ready for post-pandemic life," Hornsby said. "People at the low-income and middle-income spectrum are OK right now, overall. You have the child tax credit, you have enhanced unemployment, you have all these multiple stimulus checks people have received."
As a result, Hornsby sees many people who still have student debt making risky decisions with their money. That includes buying into trendy cryptocurrencies, making questionable trades on the stock market, and purchasing homes above list price — all instead of paying off debt, which will likely come back to bite them as the economy evens out.
"People are dealing with an economy that's on fire right now, and it's not going to be on fire forever," Hornsby said. Your payment obligations that have been put off for so long are about to start. And just being prepared for that is going to separate the people that work their way up to good credit and the people who fall back into that trap of picking the worst credit options."
The Solution to Student Debt: Stop it Before it Begins
All of this leaves the question of what can be done to ease the student debt burden on current and future borrowers. One option is to simplify the system and make it easier for graduates to manage their repayment plans and options.
"The problem is, if you simplify the plans, a lot of people will probably be better off under their old plan," Hornsby said. "And so people will want to stay on their old plan. That continues to make the system more complicated because now you've just created another plan."
Another solution that has gained traction is debt cancellation, or simply wiping the slate clean for borrowers. While cancellation offers an immediate reprieve, it does nothing to fix the cycle of debt for future students.
"Cancellation is something that fixes some people's problems," Hornsby said. "But you're going to be right back in the same situation in five or 10 years or if you don't take any action to rein in the schools because the schools are the problem. If you look at where the costs have exploded, it's the cost of attendance of education."
The biggest challenge, according to Hornsby, is policy focus and future action. Canceling debt, fixing interest rates, or implementing new repayment plans are remedies for symptoms of the larger problem that causes student debt issues.
"We're not talking about the issues. We're beating around the bush," Hornsby said. "So I guess I'm hopeful that policymakers will realize that the burden for mental health for student loans keeps getting worse because debt-to-income ratios keep getting higher and higher. There are no controls on the price at all."
Advertiser Disclosure
BadCredit.org is a free online resource that offers valuable content and comparison services to users. To keep this resource 100% free for users, we receive advertising compensation from the financial products listed on this page. Along with key review factors, this compensation may impact how and where products appear on the page (including, for example, the order in which they appear). BadCredit.org does not include listings for all financial products.
Our Editorial Review Policy
Our site is committed to publishing independent, accurate content guided by strict editorial guidelines. Before articles and reviews are published on our site, they undergo a thorough review process performed by a team of independent editors and subject-matter experts to ensure the content's accuracy, timeliness, and impartiality. Our editorial team is separate and independent of our site's advertisers, and the opinions they express on our site are their own. To read more about our team members and their editorial backgrounds, please visit our site's About page.