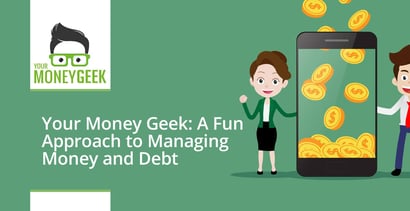 In a Nutshell: Your Money Geek is an informative blog that takes a fresh approach to financial education. It presents money management advice and other related topics alongside posts about comic books, video games, and other areas of pop culture. The blog's founder, Michael Dinich, believes that financial responsibility must be balanced with fun and leisure, and he wants Your Money Geek to showcase both sides. His approach includes one critical piece of financial advice: start a side hustle around something you feel passionate about. That helps people have the best of both worlds without succumbing to the burnout and backslide of debt.
May the 4th is an unofficial holiday for "Star Wars" fans. The date is a spin on the iconic line from the film franchise, "May the Force be with you." Every May the 4th, fans take to social media to post memes and well-wishes to one another.
Michael Dinich is a "Star Wars" fan and a financial blogger. One year, he decided to do a special May the 4th post for his readers. Initially, the post was intended as a one-shot gimmick to drive traffic. But Dinich found that the Force was, in fact, with him.

"The post that I wrote for 'Star Wars' ended up doing so well I said, 'Hey, maybe there's something to this.' And so we just started incorporating a little bit more fun stuff," said Dinich, Founder of Your Money Geek. "Monday through Friday, I would do personal finance content, and then we'd do a fun post on Saturday. We called it a Sci-Fi Saturday, and it's just usually something a little bit silly."
Today, Your Money Geek uses that approach to bring together fandom and finance in a single blog. It covers various media, including books, comics, TV, movies, and video games, alongside financial features and advice on dealing with debt. It aims to bring new people into financial education by adding some fun for those interested in financial matters, and all things nerdy.
"The whole idea behind that was just to provide a little bit of levity around personal finance," Dinich said.
One Geek's Journey from an Office Job to a Finance Blog
A long time ago, in an office far, far away, Dinich worked as a financial advisor. Back then, blogging was the furthest thing from his mind.
"I was talked into launching a blog by a company," Dinich said. "They said, 'We'll launch a blog for you, and it'll help you get clients. People will come in and everything.' And I was like, 'What's a blog?'"
Dinich reluctantly agreed to the proposal, but he wisely stipulated that he would have final approval over what was published under his name.
"They sent me a couple of articles, and even though I'm not a writer by any stretch of the word, I could tell they weren't good. They didn't reflect my values and my opinions," Dinich said. "So I said, 'I think I'm going to try writing my own blog posts. I should be able to do better than this.'"
Dinich's blog began as a side hustle, and it ran as such for about a year. When it started earning revenue, Dinich realized it could replace his day job as his primary source of income if he focused more on the blog. Then, one day, he got the fateful push he needed to finally take that plunge.
"We had a bad day at the office — just a client being miserable," Dinich said. "I just realized, 'I think I have more passion for blogging than I do meeting people face to face and continuing financial planning.' So I walked out of the office and said, 'I'm not coming back,' thinking I could always go back if I needed to. But I never did. We left, and I've been running the blog full time since 2019."
Financial Responsibility Isn't Defined by Rigid Austerity
The free-spirited attitude that inspired Dinich's "Star Wars" post has come to define Your Money Geek's overall character and identity. It also conforms to his ideas and opinions regarding personal finance and money management.
Despite the need to be serious about finance, Dinich said it's still important to have fun.
"Dave Ramsey came out and said if you're in debt, the only time you should step in a restaurant is if you work there. That's something we disagree with," Dinich said. "I think it's counterintuitive because if you overfocus on giving up things, people don't normally stick to the plan."
Extreme rigor in money management can, and does, lead to burnout and backslide, negating initial gains and potentially deepening the problem. Restrictions may even prevent people from attempting better financial responsibility in the first place. Dinich said he believes that no budget or recovery plan should be so draconian that it excludes the possibility of leisure and entertainment.
"Watching movies, playing video games — we feel that's cost-effective entertainment," Dinich said. "An Xbox is a little expensive, but you buy an Xbox, and that lasts three or four years, and you get a couple of games and play those games. If you annualize out your entertainment costs, it's pretty reasonable. You can have a little fun as long as you're doing the other parts. If you're skipping the other parts — skipping savings, skipping the side hustle — to play videogames, that's bad."
According to Dinich, turning a leisure activity around and using it as an earning opportunity is one of the best things someone can do.
Pro Tips for Turning Passions into Profit
Dinich, speaking from experience, offered some advice on running a side hustle. His first tip is simple: Just start one.
"I highly recommend people get a side hustle to diversify their income," Dinich said. "Even if you have a little bit of money coming in from other things, it provides the amount of satisfaction that comes with having a second source of income. It just can't be appreciated until you've experienced it, and it's a cool thing to have."
To get started, you first need to find something you're passionate about. Building an income stream around hobbies won't feel like work — or if it does, it will at least be work people enjoy and give them a sense of accomplishment. Monetizing leisure experiences is also becoming increasingly easy and accessible.
"Do you enjoy playing video games? You can make a part-time or even a full-time income if you're good enough at it," Dinich said. "You can stream video game playthroughs on YouTube. You can stream on Mix. You can coach.
Watch on
That is a new thing that's popping up where people are using Symposium, and they're coaching other video game players how to get through tough levels and different things."
Outdoorsy types who prefer not to plant themselves in front of a TV or computer have options as well. People who enjoy hiking and nature can bring a camera to take photos, upload them to their PC, and license them as stock images on Pixabay or Shutterstock. Likewise, if you're an artist, you can make designs and license them for use on websites, publications, t-shirts, or anywhere else you can find a demand for them.
"Even if you're not creative, but you're good at sales or business, you can do coaching online and teach people how to do things," Dinich said. "Especially now, with everybody locked up at home and everything, people are a lot more receptive to getting coaching sessions and meeting with advisors and consultants online. That's the easiest thing to do. If you're passionate about something, try to turn that passion into a hobby that makes you money."
Your Money Geek: A Less-Stressful Approach to Finance
In addition to advice on side gigs, Dinich also offers other tips for making financial responsibility more fun and less stressful. Financial difficulties are a serious matter and should be treated accordingly, but it's important not to be consumed by gloom and austerity.
"We've all made mistakes, some more than others," Dinich said. "But you're not defined by those mistakes. All that matters is that you start working, even if it's just a little bit, to improve those mistakes and start working forward."
Most importantly, don't try to progress too quickly. Too much rigor is unsustainable — that's why leisure and flexibility are so important. Paying off debt too quickly may drain emergency savings, which will drive debt back up and land consumers right back where they started.
"I'd say don't try to improve your situation too fast and put yourself on a rocky foundation," Dinich said. "Make sure you're building an emergency fund, you're adding to the emergency fund, and don't try to take on debt too aggressively."
Dinich recommends taking baby steps. Instead of measuring yourself against others who you perceive to be more successful or wealthier, use yourself as a yardstick for progress. Try to improve today over yesterday. And tomorrow, try to improve over where you are today.
"Just keep leveraging that growth a little bit every single day until you get where you want to be," Dinich said. "That's my first tip — 'Let the past die' as they say in 'Star Wars,' and start working on making a better future."
Advertiser Disclosure
BadCredit.org is a free online resource that offers valuable content and comparison services to users. To keep this resource 100% free for users, we receive advertising compensation from the financial products listed on this page. Along with key review factors, this compensation may impact how and where products appear on the page (including, for example, the order in which they appear). BadCredit.org does not include listings for all financial products.
Our Editorial Review Policy
Our site is committed to publishing independent, accurate content guided by strict editorial guidelines. Before articles and reviews are published on our site, they undergo a thorough review process performed by a team of independent editors and subject-matter experts to ensure the content's accuracy, timeliness, and impartiality. Our editorial team is separate and independent of our site's advertisers, and the opinions they express on our site are their own. To read more about our team members and their editorial backgrounds, please visit our site's About page.