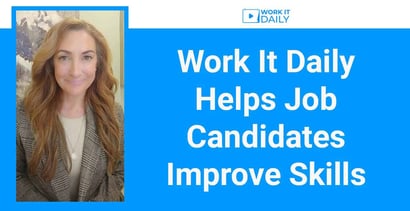 Experts share their tips and advice on BadCredit.org, with the goal of helping subprime consumers. Our articles follow strict
editorial guidelines
.
In a Nutshell: J.T. O'Donnell was frustrated by traditional hiring practices, so she set out to make job coaching more accessible for job seekers, especially those struggling to get hired. O'Donnell launched Work It Daily, a career-focused coaching platform designed to empower people to upskill and find employment. The site offers packages that include courses for all stages of the hiring process, email coaching services, and multiple virtual events each week. 
Two decades ago, J.T. O'Donnell was working in corporate America's staffing and recruiting world. As a recruiter, she saw an unmet need: Many of the candidates she met would have been hirable if they'd just made a few tweaks to their job-search strategy. 
"We only got paid on the people we placed, but there were all these people that we were recruiting, who, had they gotten a little coaching, we could have placed them," O'Donnell said. 
Unfortunately, recruiters didn't offer job-seeking advice for candidates, nor did many candidates realize how beneficial that coaching could be. At the time, the benefits of job coaching were little understood. 

Coaching had not been designed or developed for a broader audience, and many job seekers didn't realize how a few tweaks could make the difference between landing a job and getting rejected. Many even believed that coaching in the career space was a sign of weakness. 
That's why O'Donnell decided to launch Work It Daily and design the resources she thought were missing in the industry. Early on, she started by coaching job seekers who were frustrated because they weren't landing the positions they wanted. Her first goal was to boost their confidence so they could secure those jobs. 
"We started by building a competency-based training that removes the negative self-talk that stands in their way. We do this through micro learning and short videos. A little dopamine gives them opportunities to shift their perspective and move forward," O'Donnell said. 
Once they feel better, clients are more enthusiastic about their potential. O'Donnell's methods have struck a chord with job seekers, and today, more than 1.5 million visitors use Work It Daily each month. 
Bite-Sized Videos and Activities Boost Accessibility 
Job hunters who are potentially interested in joining Work It Daily can start with a low-cost subscription or by perusing the site's extension blog. 
Work It Daily offers a variety of coaching packages to meet client needs. The most affordable is a $9-per-month class pass which lets clients access several live events each week. Users can also watch the recorded videos later. According to O'Donnell, the pass is best for job seekers who are less-than-hopeful about advancing their careers. This affordable and accessible package often helps them be more motivated to make positive changes. 
The next levels of packages focus on Job Search Solutions, all paid for with one-time payments of $49, $149, or $249.
Watch on
All packages give clients access to six premium classes, as well as to live and recorded virtual events. The six classes users can take include The Job Search Plan, The Resumé Plan, The Cover Letter Plan, The LinkedIn Plan, Interview Prep Plan, and Mastering Networking. 
The Pro Package also offers one month of unlimited email coaching, while Elite Package offers three months of email coaching. Coaching support starts immediately after a user completes their payment. 
O'Donnell said she believes email coaching is so effective because weekly or bi-weekly hour-long sessions with a coach simply don't work. 
"They get all hyped up and then they're left alone again. You need a coach to answer your questions at the moment. With unlimited email support, people can send out questions when they want to work on their job search and know they're going to message you back within two business days," O'Donnell told us. 
Shift Your Mindset to Land a New Job 
What do most job seekers who turn to Work It Daily say they struggle with? 
O'Donnell said that many job seekers worry that their resumés are ineffective because they haven't heard back from employers. 
Indeed, one of the reasons candidates aren't hearing back from employers is because of applicant tracking systems (ATS). These automated systems, used by a significant percentage of companies, weed out candidates' resumés before they're even read by a person. 
Companies simplify recruiting to make sure that prospects are matching the experience and skill sets that match their needs. The ATS looks for keyword matches and algorithms to help with data analysis, as well as to integrate applicants with certain job boards and postings.

In response, Work It Daily guides job seekers toward a more proactive job search strategy in which they choose where they want to work and then coaches build a strategy to get candidates in front of hiring managers. 
O'Donnell also teaches clients the G.L.O.W. method that inspired the name of her business. It stands for "Gain perspective, Luminate the goal, Own your actions, and Work it daily." Obviously, the company's name came from the fourth action.
"Together, we can figure out the high-payoff activities, and it's the 'work it daily' that's going to get you results. When we have people get a new job, come out of that funk, and say, oh my gosh, I couldn't have done it without you. And we say, but you did it. You worked it daily and to me, that's just the best feeling in the world because we're teaching people to empower themselves," O'Donnell told us.  
Making Career Coaching More Affordable 
O'Donnell is particularly proud Work It Daily's most expensive job search package is cheaper than traditional coaching. Just like more expensive coaches, the site's coaches will review resumés, cover letters, interview questions, and job hunt strategies, but at a more accessible price. 
What does the future of Work It Daily look like? 
The company's goal is always to find more of what they call "workplace renegades" or people who want to empower themselves to advance to the next level in their careers.  In 2023, O'Donnell wants to bring job seekers and employers together to make strong matches. 

"There is a recession, and there are going to be a lot of layoffs. So, this is the time to help people and give them what they need. I'm proud that we are positioned to help all those people right now in a very affordable and effective way," O'Donnell said. 
This philosophy is in line with what Work It Daily has cared about from the beginning: removing physical and financial boundaries from career coaching to ensure candidates receive the help they need. In recent years, this philosophy has become even more meaningful as more job seekers turn to Work It Daily from around the world. 
"You shouldn't be asking your brother or your uncle or your best friend, these people aren't trained. You should be getting it from trained experts just like we do in every other aspect of our life: doctor, dentist, lawyer, accountant, whatever. We work with experts and I think people need to understand that working with coaches is really really important," O'Donnell said.