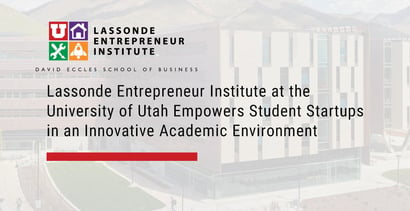 In a Nutshell: The Lassonde Entrepreneur Institute at the University of Utah began as a program to commercialize university technology, but it rapidly expanded into something more visionary. Today, it provides students with access to the technological and professional workspaces they need to develop ideas and launch their own startups. Lassonde offers a Master of Business Creation graduate program that augments the startup experience with academic rigor and institutional support. Its facilities and resources have drawn interest from a wide variety of students, helping to make the Lassonde community diverse, vibrant, and creative.
Entrepreneurship is primarily about identifying and solving problems in every area of society. That's what happened in 2016 when the startup Valence developed data analysis to economize and streamline supply chains, and help companies detect costly shipping errors.
Entrepreneurial innovation isn't limited to businesses, as those in the medical field provide new tools to fight disease. One such disease is eosinophilic esophagitis, a condition characterized by chronic inflammation of the esophagus.
Currently, the only way to diagnose the disease is through endoscopy and biopsy of esophageal tissue. But Etched DNA devised a technique for measuring RNA to diagnose eosinophilic esophagitis, eliminating the need for anesthesia and endoscopy.
The leisure industry has its entrepreneurs as well, including Interwoven, a game design studio that is working on integrating video games with tabletop games to facilitate more inclusive gaming experiences.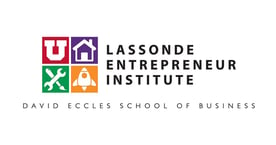 All of these innovations have something else in common. They all emerged from the Lassonde Entrepreneur Institute, an intellectual melting pot located at the University of Utah's David Eccles School of Business in Salt Lake City.
"We really focus on the student entrepreneur," said Troy D'Ambrosio, Executive Director at Lassonde and an Assistant Dean at the Eccles School. "We have tailored both the curriculum and the campus life to that. You can come in as a freshman with an idea, and we can write you a $500 check to try to do some experimentation and marketing, or we can give you an office to work out of."
Lassonde combines local opportunity with an educational playground for innovation that brings diverse students together to tackle market needs and devise solutions. It incorporates entrepreneurship into academic and student life and prepares young innovators to launch and sustain their careers.
Part of that includes combined living facilities, work and build spaces, and open creative environments.
"We want them to go out with a portfolio to show investors and people who are looking to hire," D'Ambrosio said. "It is part of our bigger university mission."
Technology Commercialization Drives Initiative
The Lassonde Institute began in 2001 with a mission to provide entrepreneurial education that traditional business schools did not accommodate. Business schools specialize in preparing students to secure existing jobs in the corporate world. But an entrepreneurship school prepares students to create their own jobs and launch their own enterprises.
"The real goal was a student-focused program that brought science and engineering students together with business school students with an entrepreneurial focus," D'Ambrosio said. "We started using university technology as the focal point of that effort. We got really pretty good at doing that."
So good, in fact, that in 2017 the Milken Institute rated University of Utah's technology commercialization program the best in the nation. And the program's quality shone through in the practical results as the students began launching their own businesses.
Watch on
"We saw the great impact on students," D'Ambrosio said. "It was really tying what they were learning in the classroom — whether it be acting or marketing or engineering or science — into a practical application around a startup company. We started expanding those opportunities for students."
In 2020, U.S. News & World Report ranked the University of Utah's undergraduate and graduate entrepreneurship programs among the top 25 programs nationwide. That is due in no small part to Pierre Lassonde, a key mastermind and namesake behind the institute, who wanted to push the program's possibilities by involving a broader variety of students in the school's entrepreneurial community.
"He wanted to get fine arts students involved and humanities students involved," D'Ambrosio said. "And we figured out how to differentiate ourselves from the pack and offer a unique setting and learning experience for students."
The institute accomplished those goals through Lassonde Studios.
Residences and Workspaces Cater to Young Entrepreneurs
"After a year of exploration with students to find out how they worked and the burdens they had to bear with going to class and trying to work on a startup company, we came up with this idea for a building called Lassonde Studios," D'Ambrosio said.
Lassonde Studios is a combined residential community and professional center. It includes living space for 400 students and a 20,000-square-foot innovation space on the main floor known as Neeleman Hangar, which is home to professional laboratories and workspaces for student innovators.
At Lassonde's facilities, students learn through collaborative work in testing, prototyping products, and launching ventures. Participants have access to high-tech tools like laser cutters and 3D printers as well as dedicated office spaces. The open, communal nature of Lassonde's facilities make it easy for students to connect and network and build their enterprises.
For example, one startup might need a web designer, while another may need someone with expertise in accounting software. Student enterprises have access to the technological and professional tools necessary to launch and run their own ventures through the facilities and opportunities Lassonde hosts.
"We really switched the way the program worked and made it more of an on-demand, self-curated experience for students," D'Ambrosio said. "The year before we opened the building, we had about 100 active startup teams working with us. In 2019, we had more than 500. We all saw this explosion when you put all the resources in together and design it for the student as opposed to an academic calendar — then, to some degree, got out of their way."
MBC Program Supplements the Startup Experience with Academic Resources
Of the 500 startup teams active at the university, D'Ambrosio said about 100 have earned revenue, and 25 or 30 of those were getting big money in the tens of thousands of dollars.
"They need a little bit more runway, but they graduate. That's our goal: get you graduated as a student," D'Ambrosio said. "But then we put graduates out into the world, and their startup companies lose energy and momentum because they don't have the resources. So we designed a new program called the Master of Business Creation degree."
The MBC is an innovative alternative to a traditional MBA. Whereas an MBA's substance is in conducting a detailed case study of how to run an existing business, the MBC is a hands-on case study in starting and running your own business. It supplies knowledge and tools that are in high demand in an era dominated by internet and tech startups.
"This is kind of a combination of YCombinator and an accelerator with some academic rigor, but the academics are all focused on the startup company — it is not a case study program," D'Ambrosio said.
And Lassonde provides a safer environment than what students will find in the tech industry. Their academic and professional activities intermingle rather than compete for their time and attention. And as students, they have institutional backing and support that is lacking when trying to go it alone in unfamiliar territory.
"It's a little less Darwinian here," D'Ambrosio said. "We have a high tolerance for people testing, trying, and if it doesn't succeed, test and try again. It's not so much that we want you to create a billion-dollar business. We want you to have a great educational experience, find a path, pursue it, test things out, and grow as a student."
Community Promotes Creative Engagement and Prepares Students for Professional Life
Valence, Etched DNA, and Interwoven were empowered by the community they found at Lassonde, which has become a big draw for the University of Utah as a whole. Students apply from across the country to participate in this creative entrepreneurial program.
"A lot of really high-quality talents in Utah that may have gone to Berkeley or USC now stay because we have something that's different than any of those schools offer," D'Ambrosio said. "It's changed the profile of our students. But the interesting thing is that we don't want 400 alpha founders of companies. If you have 400 people like me that founded startup companies, we would never talk to each other. We would be working on our own things. You really want a mix."
To stay vibrant, a community like that found at Lassonde must be diverse. It requires motivated entrepreneurial founders to connect with tech-savvy engineers or computer scientists and with other creative types. Lassonde Studios facilitates this by including students from a range of backgrounds. More than 60 majors are represented in the Lassonde 400 in 2019.
"You want some musicians and artists in there. The real magic is in that mix. We think of the residential community and really putting a diverse group of people in there," D'Ambrosio said. "We have atmosphere. Science students and dance students and a Ph.D. in microbiology, and then an undeclared freshman all living together with the idea they want to be in a creative community and build things."
The building and its facilities are also accessible to non-residents. Any student with an idea can come and use the prototyping facilities, secure a company launch space, or just enjoy a cup of coffee at the Miller Café. At Lassonde Studios, they can engage with other motivated individuals, launch their own project, experiment, or just see what all the fuss is about. But the biggest payoff is in participating.
"Even if they don't go on to start a company, when they talk to an employer, they can talk about how they applied the knowledge they got in college, not just that they sat in a class and passed a test," D'Ambrosio said.
Advertiser Disclosure
BadCredit.org is a free online resource that offers valuable content and comparison services to users. To keep this resource 100% free for users, we receive advertising compensation from the financial products listed on this page. Along with key review factors, this compensation may impact how and where products appear on the page (including, for example, the order in which they appear). BadCredit.org does not include listings for all financial products.
Our Editorial Review Policy
Our site is committed to publishing independent, accurate content guided by strict editorial guidelines. Before articles and reviews are published on our site, they undergo a thorough review process performed by a team of independent editors and subject-matter experts to ensure the content's accuracy, timeliness, and impartiality. Our editorial team is separate and independent of our site's advertisers, and the opinions they express on our site are their own. To read more about our team members and their editorial backgrounds, please visit our site's About page.