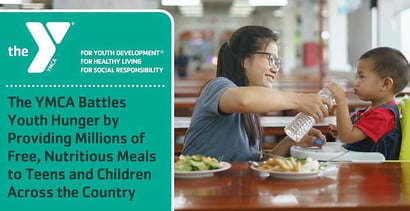 In a Nutshell: Hunger is a very real problem for millions of children across the U.S. Since 2011, the YMCA has stepped up to alleviate this issue through a partnership with the Walmart Foundation — first, with its Summer Food Program, and in 2012, the Afterschool Meal Program. These programs are important for food-insecure communities because hunger can have detrimental effects on a child's development. The Y is able to implement these successful programs with the help of numerous partnerships it has forged with community organizations across the country.
Twelve years ago, pizza delivery drivers would not deliver to the Laurelwood Apartments in Indianapolis because the high-crime area was deemed too unsafe. Children who lived in the low-income Indiana Housing Authority often got in trouble because they had nothing to do and nowhere to go. Oftentimes, those same children were also missing meals or had daily diets that did not meet nutritional standards.
On August 21, the YMCA distributed its 100 millionth free meal to a child in the U.S. who might not have eaten otherwise. It just so happened that the 100 millionth meal was served at Laurelwood as part of the Y's Summer Food Program. Since 2006, through a partnership with the Y and the University of Indiana, the Laurelwood area has seen a huge turnaround and has been touted as a national model for success.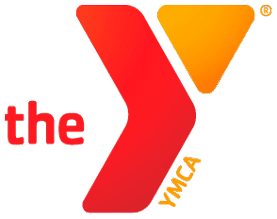 A large part of that success is due to the Y's commitment to bringing not only food but a sense of community to an area that had very little of either. Since 2011, the Y has been able to make great strides in feeding children across the country through its partnerships with the Walmart Foundation and the USDA.
"We know that during the school day, 22 million kids rely on free and reduced lunch through their schools, so when school lets out it leaves a really big gap," said Stacey McDaniel, Specialist and National Spokesperson for Anti-hunger Initiatives at the YMCA. "Out of those 22 million kids, only 3 million have access to summer meals. That comes down to about six out of seven kids who rely on free or reduced lunch who don't have access to summer meals."
Additionally, McDaniel said a recent study from the Food Research & Action Center revealed that during the school year, only about 1 in 18 of those same children have access to after-school meal programs.
The YMCA hopes to change that.
McDaniel said families looking for meal programs in their area can visit The Y Feeds Kids website and search for YMCAs in their area. She said local schools are also a great resource to find information about local meal programs.
The Y Feeds Kids Year-Round with its After-School and Summer Food Programs
One in 6 children in the U.S. do not know where their next meal will come from, and more than 13 million children live in food-insecure households, according to the U.S. Department of Agriculture.
McDaniel said child hunger is a real and significant issue in the U.S., although hunger here looks different than what many people imagine based on television commercials that show the effects of hunger in other countries. Here, children in food-insecure situations may be eating calorie-rich foods that have little-to-no nutritional value.
She said the YMCA has always fought child hunger to some degree simply because children have often received meals through its regular after-school programs and summer camps. But in 2011, the Walmart Foundation gave the Y the opportunity to really scale its efforts and be intentional about anti-hunger and meal access for families.
"We know at the end of the school day the issue of hunger does not go away and we know that a lot of families are really struggling to put food on the table," McDaniel said. "And if you're on a limited budget, it's much harder to provide healthy options for your kids."
Oftentimes, these situations can only get worse during the summer months.
McDaniel said research by the nonprofit, Share Our Strength, shows that the cost for families to feed children when school is out for the summer increases substantially, especially for households with multiple children. And low-income families already struggling to feed their children can't keep up with the costs.
The Y's Summer Food Program focuses on providing meals to those food-insecure children who rely on free or reduced lunch during the school year but have a much less dependable meal schedule in summer.
And McDaniel said through the Summer Food Program and the After School Meal Program combined, in 2017 the Y was able to serve around 22 million healthy meals and snacks to more than 500,000 children at around 5,000 locations across the country.
"We really want to get the message out there to make sure that families who can benefit from these programs are aware that they're out there, and they can access a source of healthy meals during out-of-school time, whether it's after school or during the summer," McDaniel said.
Hunger Can Have Detrimental Impacts on the Development of Children
"The impact of hunger on children is huge," McDaniel said.
She said a 2010 study showed that children who are hungry at least one time in their lives were 2.5 times more likely to have poor overall health 10 to 15 years later compared to those who have never had to go without food.
"Just think of how you felt the last time you had to miss lunch," McDaniel said. "We've all worked through lunch. You can't focus. You're distracted."
She also said the Snickers TV commercials where people get "hangry" (hungry and angry) are no joke.
"We had a child in San Antonio who was in an after-school program that didn't offer food, but she recently joined a YMCA program that offered a full hot dinner after school," McDaniel said. "I asked her what was the biggest difference, and she said that she and her siblings didn't fight anymore."
"When you're hungry, you just don't feel like being nice," the girl told McDaniel.
Feeling grumpy, not being able to focus, and being distracted by hunger can lead to poor performance and behavioral problems in school, McDaniel said. Having regular, nutritional meals can go a long way to solve these problems.
The children at the Laurelwood Apartments who participate in the Summer Food Program are a testament to the positive impacts of dependable meals:
80% of regular participants earned a B or better, or improved their English/Language Arts grade from Fall to Spring
99% of regular participants had one or fewer suspensions during the school year
93% of students had an increased knowledge of dangers associated with alcohol, tobacco, and other drugs
McDaniel said the Y also focuses on making every bite count by serving the most nutritious options possible. The organization adheres to Healthy Eating and Physical Activity standards which go above and beyond USDA recommendations for nutrition, she said.
"Our Ys also do nutrition education with kids, and think about the buy-in you get when kids try a new food with their peers," she said. "It's very different than when your parents introduce it."
McDaniel said the results include children being willing to explore new and nutritious foods, and understanding the importance of nutrition.
"We were visiting a Y in Tacoma recently, and I asked the kids what their favorite food was they had been served at the Y," McDaniel said. "They actually said jicama. It was such a surprise. They were trying a new food each week and would vote, and that was the choice across the board."
The Walmart Foundation, Community Organizations, and Other Partners are Pivotal to the Program's Success
McDaniel said the partnerships the Y has with organizations — both large and small — across the country are crucial to its success in feeding children.
On a large scale, she said all of the food programs stem from the USDA, which provides financial support through reimbursements. The USDA's Child and Adult Care Food Program supports the Y's after-school program, and its Summer Food Service Program supports the Y's summer offerings.
Through the Walmart Foundation, the Y is able to take full advantage of the USDA programs to be much more effective in feeding hungry children, McDaniel said. The Walmart Foundation has invested millions of dollars to help expand nutrition programs nationwide.
"With the help of the Walmart Foundation, we offer grants to local Ys across the country to help them build infrastructure, including kitchens, and purchase vans to transport food — all of those pieces that you really need to effectively provide food to communities," McDaniel said.
She said local community partners are integral in implementing the programs as well.
It's a very humbling thing for a parent to not be able to feed their children and have to grapple with the idea of asking for help, which no one wants to do, McDaniel said. That's where the local community organizations are very helpful, she said, because they can help remove the stigma, and make children and families feel welcome in a warm and comfortable environment.
"Kids can come in and have a meal, and they can enjoy the programming," she said. "You can come in and hang out at the Y and have some time with your friends and family. There are so many ways that families can get involved and be part of these programs, and it goes beyond just meals in these cases."
McDaniel said there are many programs that not only offer meals but offer academic enrichment, access to Y facilities, and generally fun, child-oriented programs.
In many cases, children get to sit around a table and enjoy a meal in a comfortable and safe environment where they can truly be part of a community, she said.
Weekend, Holiday, and Teen Meal Programs Fill Even More Food Gaps
The Laurelwood Apartments in Indiana are a much different place than they were just over a decade ago, thanks in large part to the Y. Children who participate in the Y's Summer Food Program have shown measurable academic and behavioral improvements.
"It's definitely been a big success," McDaniel said. "These big improvements we see coming in are a result of going beyond the Y walls and taking meals directly where there are areas of high need."
To increase its impact, the Y recently piloted weekend and holiday meal programs as well, and hopes to expand its offerings in the near future, said McDaniel. And the Y is currently piloting a meal program specifically for food-insecure teens.
"Teen hunger looks a little different," McDaniel said. "We know that it's a huge area of need, and nationally, when you look at these various meal programs, that age group is typically underrepresented because there are some barriers in how they need to be served."
Advertiser Disclosure
BadCredit.org is a free online resource that offers valuable content and comparison services to users. To keep this resource 100% free for users, we receive advertising compensation from the financial products listed on this page. Along with key review factors, this compensation may impact how and where products appear on the page (including, for example, the order in which they appear). BadCredit.org does not include listings for all financial products.
Our Editorial Review Policy
Our site is committed to publishing independent, accurate content guided by strict editorial guidelines. Before articles and reviews are published on our site, they undergo a thorough review process performed by a team of independent editors and subject-matter experts to ensure the content's accuracy, timeliness, and impartiality. Our editorial team is separate and independent of our site's advertisers, and the opinions they express on our site are their own. To read more about our team members and their editorial backgrounds, please visit our site's About page.