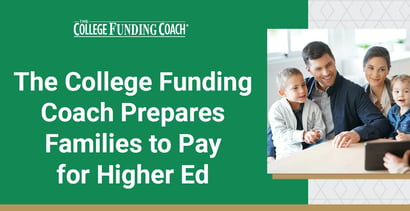 Experts share their tips and advice on BadCredit.org, with the goal of helping subprime consumers. Our articles follow strict
editorial guidelines
.
In a Nutshell: The College Funding Coach® helps families navigate saving for college while creating retirement strategies for parents. The company provides live and virtual workshops that offer advice on strategies to put money away for college. Its website also has valuable tools, including a college finance planner, college saving estimator, and a 529 plan search tool. Parents can see out-of-pocket expenses drop and college savings grow after taking advantage of resources, solutions, and advice from The College Funding Coach.
Many people have received the same advice regarding success: Study hard, get into a good college, get good grades, graduate, and get a good job that sets you up for the rest of your life. But for many students, financial speed bumps can keep them from reaching their full potential.
College is expensive, and isn't getting cheaper. The average annual cost of attendance at a four-year college is $21,365, and that number typically increases by 8% annually. Students with a great GPA and thousands of dollars in scholarships are still being priced out of some of the top universities in the world.
Mistakes are bound to happen along the way because no one knows it all. But some of these mistakes, if avoided, can save parents and students from creating massive amounts of debt that could take decades to pay off.
The College Funding Coach® puts parents on the right track to save for their childrens' college early on. The company holds workshops that advise students and parents on the best ways to save, where to put money, and the right questions to ask when deciding on a college.


Brock Jolly, the company's Founder and Financial Advisor, worked in the financial services industry when the dot-com bubble burst in the early 2000s. Jolly began working with parents who wondered how they would be able to fund their children's education and still retire one day. 
That's when he had the idea to launch The College Funding Coach network. He said he's seeing a similar trend now.
"I think that's really the challenge for families, that college has not gotten any less expensive," Jolly said. "Obviously, we're seeing a lot of the same type of market volatility and financial challenges right now that people had back in 2000."
The College Funding Coach helps families ensure financial success through workshops, digital tools, and access to financial advisors that help build strategies for saving and paying for college.
Physical and Virtual Workshops Provide Guidance
The College Funding Coach's operation continues to grow from its humble roots in Washington, D.C. The company started with Jolly holding workshops in five counties around the district. Its operations have expanded to include trained advisors in 26 states.
While the pandemic made it difficult to attend the physical workshops, The College Funding Coach pivoted by offering digital workshops through Zoom that became a huge success. Advisors put together the Zoom workshops to maintain the company's 400-500 annual workshop average. The College Funding Coach partners primarily with schools, but also provide its services to businesses, churches, synagogues, and community organizations. 
"We go anywhere there's a collection of parents who are concerned about the cost of education, and the impact that it may have on their own financial planning," Jolly said. "Those are good opportunities for us to have conversations."

Parents and students can find online and physical workshops on the company's website. There is even an on-demand webinar library that provides access to digital workshops on anyone's schedule. Workshops are available in English or Spanish.
The College Funding Coach's flagship workshop is the "Little-Known Secrets of Paying for College" webinar. The interactive workshop teaches parents the ins and outs of financial aid, as well as ways to create flexibility — whether by qualifying for need-based aid or by maximizing cash flow and liquidity.
Families are advised throughout the process to make critical financial decisions, and advisors work with families through risk management, investing, estate planning, and tax management. Advisors can help families correct savings mistakes and maximize every dollar they've saved by combing through their finances. The company said its approach helps parents reduce out-of-pocket expenses and balance the challenge and stress of saving for college and retirement simultaneously.
Emphasizing an Early Start to College Savings
The biggest mistake parents can make when it comes to funding their children's college education is that they start too late. The College Funding Coach makes it clear that, if parents want to increase the likelihood that their child goes to the school they want while creating a pathway for retirement, ideally they should start when the child is in elementary school.
Jolly said the best time to start is by the time the child is in fourth grade. Starting within that time frame offers a family flexibility when it comes to deciding where the child will go to college. Starting too late could mean students who are accepted into a private, Ivy League school will have to decline admission because they can't afford it.
Families will have to decide for themselves whether student loans are worth the debt. But student loans come with their own risks. Student loans are usually cosigned by a parent, and can affect credit scores — for both the child and the parent — if they're not paid off correctly.
Watch on
The College Funding Coach takes everything it knows about paying for college and makes it easy to understand for parents. Its goal is to help people figure out how to turn their savings into investments for college and retirement accounts. 
Saving too much money toward college is a good problem to have. Jolly said parents can use that money for retirement if they find they have saved more than they needed for their child's education. 
"It's holding their hands to make sure that they're doing it the right way," Jolly said. "And, probably most importantly, helping families take action on the things that they need to take action on so parents are comfortable."
Planning Resources Accessible to Students and Parents
Outside of its workshops and webinars, The College Funding Coach also has financial tools to help create a better understanding of how much families should be saving. The company utilizes software that simulates the preapproval process for a loan a family might receive when shopping for a mortgage. The tool tells families whether it is feasible for them to get into debt for their child's education.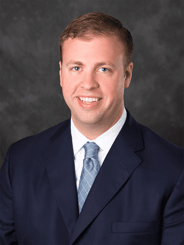 "Ultimately, at the end of the day, it's the family's decision on what they want to do," Jolly said. "But, it helps put their assets and their current savings and cash flow into perspective. Families can then decide what a reasonable amount to spend annually on a child's college education is."
Families can compare and contrast actual cost of attendance figures for every college in the country. Students and their parents can decide which college makes sense based on their financial situation.
The website also has calculators to find a 529 plan, which is a tax-advantaged savings account that encourages saving for education costs. All of these resources are free on The College Funding Coach's website.
Parents and advisors also have access to a Facebook group they can use as a forum to ask and answer questions. Thousands of people, including college counselors, admissions and financial aid officers, parents and students are in the group, and The College Funding Coach supports it.
The College Funding Coach is excited for its future and is always looking for more advisors and ways to grow into more areas. It hopes to expand its reach to more people who have stress about how they will fund their child's expensive college costs.