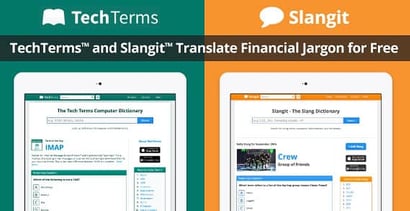 In a Nutshell: Acronyms abound in the contemporary world, from text messaging staples, like BRB and OMG, to more technology-driven shorthand, like CAD and VLAN. However, those who are out of the loop on these abbreviations may feel lost. Those seeking clarity in communication should look no further than TechTerms and sister site, Slangit, to translate the foreign language of acronyms. Free online dictionaries, the former can help shed light on some of the techno-jargon used on personal finance sites, while the latter hosts a section on financial slang, with definitions on terms and acronyms, such as "bullish" and "EFT," that can be used to build better financial literacy.
Thanks to a growing societal obsession with acronyms, modern communication can sometimes feel like you're swimming in alphabet soup. And while the consequences of misunderstanding some common acronyms are mostly innocuous — you'll likely just end up confused if you don't understand a text message that says OMW (on my way) — not knowing financial shorthand, like EPS (earnings per share) and CD (certificate of deposit), or important security terms (yes, "endpoints" are important), can have worse results.
Expanding your vocabulary — in the financial world, or otherwise — educates and empowers you to take ownership of your information. For example, it's important to know that a "secure web gateway" refers to an intermediary between a website and a bank — which helps prevent you from becoming a victim of fraud. And have you ever wondered what "encryption" actually means? It means data is encoded so that only certain people can view the information, which is done to protect users in what could otherwise be a risky transfer.
Terms like these are defined in a free online dictionary called TechTerms launched in 2005 by Minneapolis-based web and software development company, Sharpened Productions, the brainchild of Founder Per Christensson. Other sites under the umbrella include FileInfo.com, a database of file extensions; Slangit, a dictionary of slang terms, acronyms, abbreviations, and emoticons; and PC.net, a resource for personal computing that includes a glossary of computing and online terms, file extension information, and computer technology news.
Per has an academic background in computer science and communications and subsequently worked at several web hosting companies and tech giant, Apple, before realizing his true passion: translating complex terminology into understandable English for the lay audience. The initial platform for TechTerms actually began in 1999, Per's first year of college, when TechTerms was a glossary of computer terms.
"It's been a long road from that, but it's been great to see it grow and be able to hire people," he said. "It's been a fun journey."
The Webster's of Technology: 1,285 Terms and Counting
The TechTerms dictionary currently houses 1,285 terms and definitions, but that number keeps growing. Per has a team working with him on his websites to handle a variety of tasks, but he takes the time to write all the dictionary definitions himself to ensure he's happy with the quality of the content.
"My focus has been to create a technology dictionary with the best definitions possible," Per said as he described the process of adding new terms. "Usually, I add at least one new definition every week."
He also rewrites and improves some existing definitions when he's not satisfied with the older versions on the site. Of the more recently listed terms, Per said the vast majority come from suggestions he receives from site visitors via an online contact form that's available at the bottom of every page of the website.
"I get close to a dozen tech term suggestions per week," he said. "I really have to choose the best ones." Per rattled off several current suggestions: exception handling, higher order programming, reverse engineering.
"Some of them I really do have to research, such as 'exception handling.' I'm a programmer, so I have some knowledge, but I might want to get some corroborating evidence," he said.
Per puts a lot of effort into writing the highest-quality definitions, and like any good dictionary resource, the search browsers on each of his four sites have autocomplete functions, which help people quickly find what they are looking for and correct spelling mistakes.
Slangit: Decoding Relevant Slang to Better Understand Financial Markets
Most people are familiar with acronyms like BFF (best friends forever) and bf (boyfriend), but what about BIL (boss is listening), or BFP (big fat positive)? Both are definitions from The Parents' Checklist section of the Slangit website that lists common terms parents should know. True to its name, the site is dedicated to breaking down slang — both written and iconological (i.e. emoji). The site includes a translator that can decode entire slang phrases, as well as offering trending terms and a list of characters that can substitute letters, known as "leetspeak."
Watch on
Visitors can browse various categories of slang to help put terms in context, such as those used most commonly in text messaging, online chat, and online gaming. The site also features a comprehensive dictionary of financial slang, which includes hundreds of acronyms and abbreviations that can be used to better understand financial markets and news.
Some of the most frequently sought terms include APR (annual percentage rate), USD (United States dollars), and IRS (Internal Revenue Service). There are even more obscure acronyms, such as ISO (incentive stock option), NQO (non-qualified option), and PAT (profit after taxes).
Each term you click on takes you to its individual dictionary entry with the definition, related terms, an example of how it's used, and a measure of its popularity. Slangit can be a particularly helpful resource for people who are struggling with credit issues — or those who simply want to be more engaged with their own personal investments — since the site provides definitions of terms for credit ratings, investments, and loans.
Additionally, becoming familiar with important finance and security terms can help consumers protect themselves while navigating prompts from personal finance websites for personal, sensitive information.
New Features: TechTerms for iOS and Android
TechTerms have evolved a lot since its launch in 2005. As Per puts it, "We've evolved from a dated website layout to a design that is mobile-friendly and responsive." The team also created TechTerms for iOS and Android, both of which are updated every couple of months.
"It's been fun to have that. It's been more of a branding thing," he said, adding that there has been a particularly positive response to the mobile apps, which tend to average between 30 and 40 downloads per day. "If they're waiting around, and have a moment to spare, people enjoy looking terms up."
Daily quizzes are another popular feature on the websites. "I felt like quizzes were something I enjoyed doing — and sure enough, it's been a pretty big success," Per said.
"It was supposed to be just a daily quiz, but we realized people just kept coming back," he continued. "They go to the quiz archive and click on the quizzes and do one at a time and track their progress. One of the things I've learned is that the easiest quizzes are taken a lot more frequently than the difficult ones. Even though they're not being graded, people still want to answer more if they know they will get it right, but not so much if they are getting it wrong."
Through interactive features and special attention paid to each term defined across Per's four websites, he's delivering on a promise to bring clarity to an often misunderstood lexicon.
Advertiser Disclosure
BadCredit.org is a free online resource that offers valuable content and comparison services to users. To keep this resource 100% free for users, we receive advertising compensation from the financial products listed on this page. Along with key review factors, this compensation may impact how and where products appear on the page (including, for example, the order in which they appear). BadCredit.org does not include listings for all financial products.
Our Editorial Review Policy
Our site is committed to publishing independent, accurate content guided by strict editorial guidelines. Before articles and reviews are published on our site, they undergo a thorough review process performed by a team of independent editors and subject-matter experts to ensure the content's accuracy, timeliness, and impartiality. Our editorial team is separate and independent of our site's advertisers, and the opinions they express on our site are their own. To read more about our team members and their editorial backgrounds, please visit our site's About page.