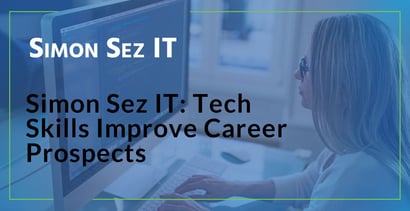 In a Nutshell: Simon Sez IT offers video-based instructional courses that help learners improve proficiency with widely used programs and applications. That includes Quickbooks, Microsoft Excel, and other design and development tools, and programming languages. Through structured learning, professionals can work more efficiently and effectively. Gaining proficiency and taking the initiative to learn will also help job applicants stand out from the crowd and meet or exceed expectations in new roles. Simon Sez IT typically launches a dozen or more courses each year and helps professionals improve their value, enhance their income, and avoid costly debt.
When Chris Calder was a project manager at the Los Angeles County Museum of Art, he was given a massive IT task for which he needed to learn Microsoft Project. Armed with a large textbook, he mastered MS Project only to discover what an unwieldy tool it was, and it was made worse by his uneven learning experience. Calder saw an opportunity to save other people the same hassle and devised his own training course on MS Project, and sold it — first on eBay, then Amazon.
"It grew from there," said Adam Lacey, Operations Director at Simon Sez IT, the training course that grew from Calder's expertise. "He was doing this as a side hustle, and he made enough money from it that he started to do it full time. And that's how it evolved into the company it is today."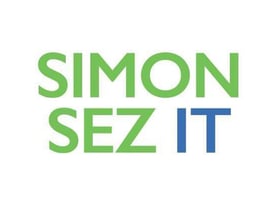 Calder launched Simon Sez IT to provide better technical educational experiences to professionals around the world. The learning platform instantly delivers instructional videos online. Its offerings expanded from MS Project to other widely used programs and applications, helping employees become more proficient with these tools and meet new workplace demands.
A membership grants learners access to a vast library of courses, and individual lessons are available through Stream Skill.
Simon Sez IT programs help learners enhance their competence with crucial applications, build their résumés, and provide them an opportunity for professional advancement, increased income, and the ability to avoid harmful debt.
Video Courses Cover In-Demand Applications
Simon Sez IT offers courses that cover a range of brands and tools. It has training for Microsoft applications, including Access, Excel, Outlook, PowerPoint, Publisher, and Word. It also offers lessons on Adobe Flash, Dreamweaver, InDesign, and Photoshop; QuickBooks; Mac OS. And its courses on web development and design tools cover HTML, CSS, Java, MySQL, PHP, and XML.
"We have a big bank of courses we know work very well," Lacey said. "We spend a lot of time making sure we have the latest versions of all those."
According to Lacey, course popularity varies by season. QuickBooks, for example, peaks when taxes are coming due. But the perennial favorite seems to be Excel, which accounts for 70% of consumption. That is likely due to Excel's ubiquity in business. A significant number of professionals use Excel daily.
The second most popular course is the one that started it all: MS Project. Project is highly specialized, not beginner friendly — as Calder learned the hard way — and requires detailed training to use. But not many course providers produce content for it, perhaps because of its difficulty.
"Microsoft Project is Microsoft. It's not that easy to use. You can't just pick it up," Lacey said. "It's a bit of a common theme in the training community. If Microsoft makes something difficult, which they tend to regularly, that's great. That's why we have jobs."
And if users can master Microsoft, they'll be on solid footing to secure a better job or advance their standing in the one they already have. In either case, more skills can mean more money, which can help workers avoid debt or pay down the debt they're already carrying. But it all starts with a solid educational foundation.
Structured Learning Builds Competence and Efficiency
"You don't know what you don't know, which is why I'm always a big proponent of a course versus self-teaching," Lacey said. "If you want to start learning something, use a course, get so far, move on to self-teaching. And there's a load of free content on the internet. But without that structure, you're going to waste a lot of time, or you're going to end up looking at the wrong stuff."
By avoiding that pitfall and using a formally organized instructional course, people can rapidly learn core content. That can improve their competence and proficiency. Lacey used Excel as a prime example.
"If you want to become better at business, better at analysis, better at understanding numbers, anything like that, if you learn 20 to 50 Excel functions, that's all you need to do the majority of tasks," Lacey said. "You can cut hours off your week, in terms of finding data, and get answers to questions you'd otherwise be guessing at. It's all there in the numbers, and it's all accessible in Excel. You've just got to know a few things, combine those things, and you can do data analysis."
That's just one example of how a little bit of learning goes a long way toward unlocking new professional skills. Not only can learners use the application at its full capacity, but also more efficiently.
"The majority of people are probably using 10% to 20% of what any software tool they have available to them has in terms of its toolbox," Lacey said. "They're scratching the surface. Whereas if you dig a little deeper and invest the time upfront, you'll find further down the line that you can save so much time."
As a result, people can do better work faster, which is a great way to catch the attention of a boss or manager. And with its affordable courses, users can learn just what they need to advance their careers without accruing any student debt or stretching their finances too thin.
Certification Differentiates Motivated Job Seekers
When a learner completes a Simon Sez IT course, they finish with a competence test. If they score 70% or higher, they earn a certificate that attests to their completion of the course and their proficiency with a particular tool. While it is not an official certification, it's a valuable line they can add to their résumé. And the more technical skills people possess, the more desirable they become to a potential employer.
Proficiency with in-demand programs can help job applicants stand out among the crowd of candidates. But just as importantly, taking the initiative and furthering their professional education is the hallmark of a self-motivated learner. And the capacity to continue learning new skills is a solid complement to the ones they already possess.
Taking the initiative to improve and add value as an employee isn't something that most people will spend their nights and weekends doing. Those who engage in learning courses, including those offered by Simon Sez IT, can get their foot in the workplace door. Once they do, they'll also have the knowledge and skills to excel in a new job.
"Being able to pull out meaningful business insight from what effectively is the millions of rows of data that businesses are getting every day — that's the kind of stuff that's going to make you stand out and also make a difference in your career," Lacey said. "That all comes from a little bit of time upfront investing in the products we spend all day on."
Expanding Course Offerings Provide Ongoing Opportunities
"If you're not improving and getting better at the things you're using, then you're limiting your potential," Lacey said. "Software training is low-hanging fruit. It's easy to get courses on it. It's relatively quick to learn, and it can have a big impact quickly."
Simon Sez IT takes that wisdom as gospel on both counts. That's why the platform is continually improving existing courses and adding new content. Upcoming courses, Lacey said, will focus on data analysis. And an ongoing production schedule promises 12 to 20 new classes each year for the foreseeable future.
"We're about to launch an Excel for data analysts course," Lacey said. "We've just released an introduction to Python course, which is a programming language that's good for data analysis, crunching large databases, and stuff like that. We've got a host of other courses on our to-do list. They do change slightly depending on what's selling well and what our students are engaging with."
Overall, Simon Sez IT seeks to anticipate which software and applications will be in demand soon. That way, it will have the necessary courses ready when learners come calling.
"We look for the next big or interesting software," Lacey said. "The challenge is trying to pick the next winners, to work out what people want and what's hot right now."
Simon Sez IT already boasts more than 100 courses with over 600 videos and 700 hours of content. All of that starts at $25 per month, which can be worked into most budgets, even if someone has a low income or significant debt. And the courses offer an opportunity to increase income, pay off that debt, and achieve a better professional and financial future through education.
Advertiser Disclosure
BadCredit.org is a free online resource that offers valuable content and comparison services to users. To keep this resource 100% free for users, we receive advertising compensation from the financial products listed on this page. Along with key review factors, this compensation may impact how and where products appear on the page (including, for example, the order in which they appear). BadCredit.org does not include listings for all financial products.
Our Editorial Review Policy
Our site is committed to publishing independent, accurate content guided by strict editorial guidelines. Before articles and reviews are published on our site, they undergo a thorough review process performed by a team of independent editors and subject-matter experts to ensure the content's accuracy, timeliness, and impartiality. Our editorial team is separate and independent of our site's advertisers, and the opinions they express on our site are their own. To read more about our team members and their editorial backgrounds, please visit our site's About page.