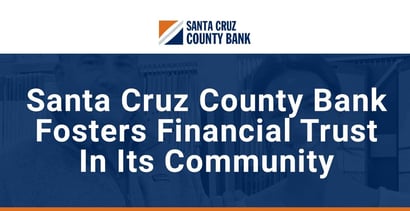 Experts share their tips and advice on BadCredit.org, with the goal of helping subprime consumers. Our articles follow strict
editorial guidelines
.
In a Nutshell: Santa Cruz County Bank earns its place as a trusted community bank with service tailored to the needs of each individual. Its tellers and lenders take time to get to know clients and their situations before making recommendations. Community institutions are few and far between in today's financial landscape, as larger banks acquire them to increase their presence. And Santa Cruz County Bank plans to be an integral part of the California community for years to come. 
Having a bank that knows who you are, understands your situation, and the best way to work with you is invaluable. Money is a sensitive matter for everyone, and consumers today want more than a place to keep their money safe — they want help solving financial problems.
For many Americans, that's becoming more difficult to find. Community banks foster that type of trust with account holders because their employees live in the communities where they work, and community banks reinvest in the communities they serve. But community banks are closing — or being acquired — at an alarming rate.
The number of community banks has dropped significantly over the last two decades. In 2000, there were 8,300 community banks in the US. By the end of 2020, that number had been reduced to 4,277.


In the early 2000s, a group of local business owners in Santa Cruz County, California, decided to take action to open a bank in their community at a time when the last of the local banks had vanished due to a merger. A group of investors came together and raised capital to create Santa Cruz County Bank, which opened in 2004.
Today, the bank operates seven branches across California's Bay Area and Central Coast, with another coming soon. The people the bank serves are all neighbors, friends, and community members. And Santa Cruz County Bank wants to ensure it stays that way.
"We have a motto: Put your money where your life is," Santa Cruz County Executive Vice President and Chief Marketing Officer Mary Anne Carson said. "It's important to us that we meet the needs of and reinvest in the communities we serve."
An Institution That Impacts Local Communities
The pandemic created uncertainty for many aspects of everyday life. Workers everywhere had to make sure their jobs were safe while employers figured out how to continue paying their staff.
For many, that meant turning to the government for Paycheck Protection Program (PPP) loans. These are Small Business Administration-backed loans issued by the government so businesses could keep employees on their payroll during the pandemic.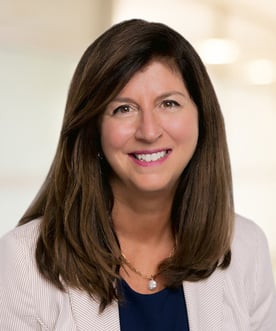 Santa Cruz County Bank played a big part in disbursing the loans. The bank said it saved 50,000 jobs in its market and helped businesses receive $573.7 million in PPP funding in total.
When the pandemic hit, Santa Cruz County Bank was already prepared. The bank seamlessly switched over half of its team to work remotely without an issue. Santa Cruz County Bank also navigated a merger, the launch of the PPP, and shelter-in-place orders all within a three-week period without missing a beat.
"We were still able to, as an essential business, have all operations running on all cylinders," Carson said. "Our branches were still open because banks were designated as providing an essential service."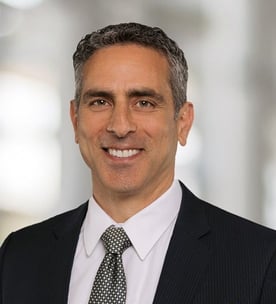 While Santa Cruz County Bank does not offer conventional mortgages or auto lending, it will refer its customers to local credit unions that do offer those products. The credit unions are a part of the community, and Santa Cruz County Bank sees them as partners.
Santa Cruz County Bank also partners with the Santa Cruz Small Business Development Center to offer free courses to help business owners get their finances in order. The courses show users how to write a business plan, how to understand spreadsheets, and how to create a balance sheet.
One of the bank's newest additions is its Asset-Based Lending (ABL) department. It was launched with industry veterans who had created successful ABL departments with other banks in the region. The bank said it receives inquiries from all over the state because of good word-of-mouth on its ABL financing options.
"Today, our team continues to work with businesses in processing PPP forgiveness applications and to ensure every 'i' is dotted and 't' is crossed," said Santa Cruz County Bank Executive Vice President and Chief Lending Officer Angelo DeBernardo, Jr. "This is community banking at its best, caring for and supporting our business community and our neighbors."
Helping People Tackle Financial Challenges
Denying people banking services is something Santa Cruz County Bank strives to avoid at all costs. The bank works to produce a solution to any problem presented by a current or potential new client.
Business owners get the chance to discuss their full business plan with the bank so it understands their application for capital. There are no automated and impersonal processes where borrowers submit applications online and click a few checkboxes. 
Every applicant can have a personalized interview with a bank decision maker. It's one way that Santa Cruz County Bank shows small businesses why it's essential to build a relationship with their banker.
"You have to make sure you know who to call to start to build a relationship there," DeBernardo, Jr. said. "That relationship just starts with opening an account. It doesn't even start with credit. You're creating an ongoing development of trust and understanding of your business."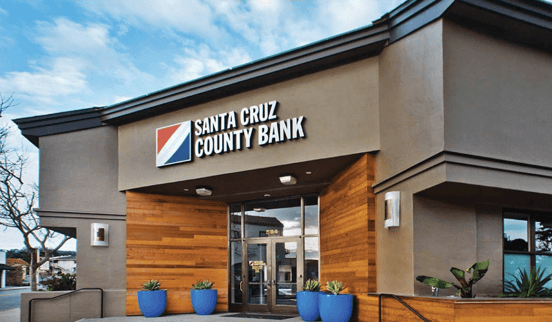 If a borrower is not approved for a loan, the bank works to find solutions. Santa Cruz County Bank said it will look into referrals, work out a home equity line of credit, and also look at personal assets to ensure that all options have been explored.
"We have a hands-on, relationship-based approach to lending. There is not one standardized process, which is what sets community banks apart," DeBernardo, Jr. said. "We listen to the needs of the clients, have a conversation to learn about the business and how to provide them with the best product for their needs. We offer a more personal and tailored approach to the application process than 'one size fits all.'"
Having a well-designed and easy-to-navigate website is critical for banks, especially during the pandemic when people could not visit physical branches. Santa Cruz County Bank said its website has always been great, and it was instrumental in helping them navigate through the COVID-19 pandemic.
The bank's website became an essential tool to assure account holders they still had access to their money and could monitor their finances remotely. It also gave people an opportunity to receive more information on helpful services and resources, including critical programs like the PPP.
Compassionate Service Allows SMBs to Thrive
Small businesses are an important part of Santa Cruz County Bank's operations. Its aim is to always support local mom-and-pop shops everyone knows and loves, and keep them thriving for as long as possible.
Santa Cruz County Bank is able to support these businesses through government-guaranteed lending from the Small Business Administration. These loans are typically for businesses that may not fit conventional loan criteria.
The bank is a preferred SBA lender, which means its expedited decision-making process doesn't need government approval. Businesses can rely on Santa Cruz County Bank to get funds to their bank account quickly.
"We're highly ranked in SBA loans," DeBernardo, Jr. said. "We know what we're doing, we rank well in local, regional, and national SBA lending statistics for approved loans. Our team is well-versed in the SBA process and known in the industry."
The Paycheck Protection Program also helped the bank expand operations within the community. It was so successful in processing loans for customers that it opened applications to non-customers to receive funding as well.
The bank has a branch in Cupertino, which is in the Silicon Valley. The bank received numerous applications from businesses in the Bay Area who had heard how it was supporting smaller businesses in PPP applications and funding. It ended up being a godsend for many companies that were initially denied loans from big banks.
"If they didn't have a borrowing relationship, some of the major banks were turning away their own clients," DeBernardo, Jr. said. "These companies were calling us, and word got out like wildfire. Our phones were ringing off the hook Our phones were ringing off the hook and our team maximized our resources to the fullest capacity to process applications to save jobs."
Santa Cruz County Bank developed relationships with non-customers by helping secure loans during the pandemic, which in turn helped the bank broaden its reach throughout the Bay Area. The pandemic showed the area exactly why community banks are still needed.
"We're relevant, and we continue to gain new business because of everything we did to be a helping hand," DeBernardo, Jr. said. "Many of our clients want both — high tech and high touch. The differences between a community bank and a major bank come down to heart and soul."