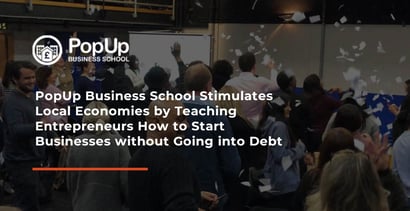 In a Nutshell: Many entrepreneurs believe they have to spend money to make money, but one organization set out to dispel that startup success myth. PopUp Business School provides free workshops around the world that teach entrepreneurs how to start their own businesses without going into debt by leveraging free online services to advertise and convert customers. PopUp Business School also offers online resources with valuable information for those who can't attend in-person workshops. Through those resources, PopUp Business School empowers people around the world to make money working for themselves and secure a brighter financial future.
Andrew Ingle was interested in the business world, and his partner, Katie Falcon-Uff, enjoyed puzzles, games, and creating new things. So it was a natural fit for them to start their own company that designed and operated escape rooms — immersive simulations where teams work together to find clues, solve puzzles, and escape seemingly precarious situations.
Ingle and Falcon-Uff could have borrowed money to acquire a space, furnish it, launch TimeTrap Escape Rooms, and then hope people showed up so they could become profitable. But they took a more innovative approach by setting up in a hotel room for six weeks.
The hotel had a vacant space near its restaurant, and management saw an opportunity for the escape room to attract people who would spend money on food and drink afterward. The hotel allowed Ingle and Falcon-Uff to use the space free of charge, confident the increased revenue in other areas would more than make up for the loss. And the entrepreneurs hoped their earnings would be enough to help them secure a more permanent location.


"They made enough profit in those six weeks to put down the deposit on their permanent venue," said Alan Donegan, Co-Founder of PopUp Business School, where Ingle and Falcon-Uff learned how to get started. "But they traded from profit, not from debt. And I think that's the key to all of this. If you start from sales and start from profit, you don't ever need to go into debt."
Donegan teaches that lesson at PopUp Business School workshops. The courses are free for attendees and funded by large donors, including corporate organizations, local governments, and housing authorities. And participants learn the ins and outs of starting a business without going into debt.
PopUp Business School, which started in the U.K. before expanding around the world, works with sponsors to bring its workshops to locations with economic challenges and weak job markets. Its courses teach people how to start their own businesses quickly so they can begin relying on themselves for income.
Many of the workshops take place in empty storefronts in shopping malls — and for a good reason, according to Donegan.
"The reason is that people can actually start to trade. Imagine you're in the workshop in the back, and you come up with an idea. You ask, 'Will that work?' Well, you can go to the front of the shop and try selling it to the people who are walking past," Donegan said. "And if it works, you've got business. Between 30% and 40% of participants will make their first sale before the workshop ends."
Entrepreneurs Don't Have to Spend Money to Make Money
Many years ago, Donegan approached the British government for support and instruction on starting his own business. The government directed him to attend a series of workshops that taught him how to write a business plan, secure financing, and market his products.
"They did more to put me off building a business than they ever did to help me," Donegan said. "It was like they wanted me to write an extremely long business plan and then borrow money. And I do not want to go into debt, and that whole system is predicated on the belief that it takes money to make money. People believe you need money to be able to get money."
The maxim that "you have to spend money to make money" is attributed to Titus Maccius Plautus, a Roman poet, playwright, and philosopher. Donegan interprets the adage as a bit of comedy that was taken out of context and turned into an ultimately harmful and false truism.
"It was written as a joke, and yet it has become common vernacular and a belief in cultures around the world," Donegan said. "I don't care whether you're in New Zealand, Namibia, the U.S, or England. Everyone believes you need money to start a business. And it's bull."
That's why PopUp Business School offers Its workshops for free. And the most critical lesson attendees learn is how to start their business without taking out loans to pay for startup costs.
Free Services, Not Startup Capital, Drive Startup Success
Donegan and his Co-Founder Simon Paine initially intended to start a traditional business school. But they immediately ran into roadblocks. First, they would need a large, furnished space, which would require a substantial amount of money upfront.
"We worked out we'd need £250,000 to start," Donegan said. "That's the opposite of what we wanted to do."
Instead, they hit on the idea of using free spaces for short periods — hence the name PopUp Business School. Instead of teaching financing and business writing, the core components of standard business curricula, the school would focus on how to leverage technology to start and run a business.
Watch on
The model shows entrepreneurs how to use free tools to create a website, establish a web presence, and publicize offerings without spending much.
"You can launch a free website within an hour, share it on social media with a PayPal link, and you might get your first order if you've done your job well. You couldn't do that 10 or 12 years ago," Donegan said. "With the way technology has changed, and the way life has changed, entrepreneurs can start promoting and selling their products before they even make them by using services like Kickstarter. There is absolutely no reason to go into debt to build a business."
Resources Help Students Build a Smarter Business
The largest mainstream providers of entrepreneurial education are banks and business schools. Donegan said he believes those institutions can be detrimental to entrepreneurial endeavors.
Banks naturally promote financing, which leads to debt that banks profit from. And business schools lean heavily on business plans, which puts their educational offerings on a solid footing.
"The reason you write business plans in business school is that they need something to grade you on. They need you to present something they can physically mark," Donegan said. "Neither of them are necessary to build a business."
And those educational sources teach people to think they must have a business plan and accumulate debt to start a business. Donegan's mission is to disrupt that way of thinking.
PopUp Business School offers an alternative education that consists mainly of free workshops. The business school also provides The Business Survival Guide as a free online resource for those who aren't near a scheduled workshop location and want to learn more about debt-free entrepreneurship. The blog-style guide has videos, podcasts, and articles to help entrepreneurs navigate the first few difficult months of running a startup.
Additionally, Donegan partnered with ChooseFI to produce the Rebel Entrepreneur podcast, which launched in May 2020. Each episode covers a core topic surrounding building a business with no debt or turning your passion into a profitable enterprise. Each episode also includes interviews and PopUp Business School success stories.
PopUp Business School: Empowering Entrepreneurs to Reclaim Financial Control
Each team member at PopUp Business School is an entrepreneur who operates a small business. Thanks to this firsthand experience, they can provide relevant insight into  the process of starting — and growing — an operation.
"They're a crazy gang of misfits that have come together to help people," Donegan said. "I genuinely believe the best thing we can do is give it away to help people make cash so they can take control of their lives."
That mission stems from Donegan's own personal history with business and debt. His motivation for the crusade against debt grew from his experience of what happens when financial issues throw life out of joint.
"My dad was an entrepreneur. He went bankrupt for £3.6 million," Donegan said. "And the only thing it was secured against was the family home my little brother, me, and my mom lived in. So I spent 10 years in court arguing to keep the family home for my mom. And I never want anyone to have to go through the pain that was caused by that debt."
Advertiser Disclosure
BadCredit.org is a free online resource that offers valuable content and comparison services to users. To keep this resource 100% free for users, we receive advertising compensation from the financial products listed on this page. Along with key review factors, this compensation may impact how and where products appear on the page (including, for example, the order in which they appear). BadCredit.org does not include listings for all financial products.
Our Editorial Review Policy
Our site is committed to publishing independent, accurate content guided by strict editorial guidelines. Before articles and reviews are published on our site, they undergo a thorough review process performed by a team of independent editors and subject-matter experts to ensure the content's accuracy, timeliness, and impartiality. Our editorial team is separate and independent of our site's advertisers, and the opinions they express on our site are their own. To read more about our team members and their editorial backgrounds, please visit our site's About page.