In a Nutshell: When consumers have a dispute regarding service or fees, they are often at the mercy of corporations. But when resolution and customer service channels fail, consumers and businesses often turn to FairShake, a consumer service that automates the formal dispute process for more than 60 organizations. Private arbitration of customer grievances may be weighted in a company's favor, but FairShake handles claims from beginning to end, putting consumers on even ground along the way. FairShake helps customers avoid a bureaucratic quagmire so they receive the fair treatment and compensation they deserve.
Many people have experienced delayed flights and aggravating trips both in the air and on the ground. But Teel Lidow tells a story of an odyssey that shows a colossal airline failure.
What was supposed to be a 14-hour trip from Santiago, Chile, to New York City ended up taking 72 hours with multiple stops and an emergency landing in the process. Altercations broke out, and one passenger was even removed from the plane and arrested during an unscheduled stop in Ecuador.
But the breaking point for Lidow was when airline representatives, on arriving in New York City, offered passengers $300 worth of flight vouchers in compensation for the experience. All they had to do was sign a nondisclosure agreement that prevented them from publicizing the troubles or seeking further remuneration.
"I got this piece of paper, and I read it, and I thought it was absolutely insulting," Lidow said. "It just seemed like the most distilled version of those companies knowing that they can basically just steamroll you. So, I decided I would stand up to it."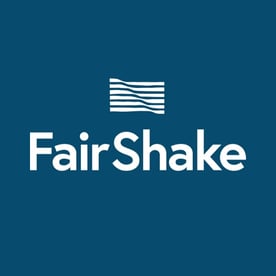 Lidow went through the formal dispute process with the airline, which was unsuccessful, and then filed a legal claim. With the judicial system as a neutral third party holding the airline accountable, the corporation-customer dynamic changed drastically.
Seeing what it took to stand up to the airline, Lidow decided to develop FairShake, a platform that helps ensure fair disputes for all parties.
FairShake is an automated system that handles consumer disputes for over 60 companies and has served more than 15,000 clients. Consumers can leverage the advantages of technology through FairShake and access the legal know-how they need to level the playing field with large corporations and get the treatment they deserve.
"The results are amazing," Lidow said. "As a consumer, you access this system, and companies immediately start taking you seriously. I saw the potential there. I had a background in ecommerce and legal tech, and I knew this was a highly automatable system. I decided to jump in and turn it into a tool for the wider population."
Private Arbitration Clauses May Unfairly Protect Corporations From Legal Action
Lidow's tale is an extreme example of the frustrations people face every day with the large companies they patronize. When people have disputes regarding services or fees, they often feel like they're at the mercy of telecom providers, banks, car rental agencies, or hotels.
"I think everyone's familiar with that sense of banging their head against the brick wall of customer service if they try to fight anything," Lidow said. "If you feel like you've been mistreated, ripped off, or taken advantage of, our initial instinct as American consumers is to eat it. The power dynamic is such that companies can do, more or less, what they want with us."
Lidow said that, before 2010, consumer disputes were typically handled through class-action lawsuits. But around 2011, new legal precedent allowed companies to include clauses in contracts and service agreements that waived the consumer's right to participate in class-action suits. Instead, consumers with claims are now funneled into private consumer arbitration, which is not handled by the judicial system.
"It says you're not allowed to access the public court system," Lidow said. "What it does is channel you into this private process, which is informal, and it gives you fewer rights than a public court system. It was a process that was designed by corporations to fit into corporate structures. It was designed to be highly automatable."
Those processes traditionally stack dispute resolution in the corporation's favor. The resolution process is complicated and tedious for consumers, but automation made it simple for well-resourced companies to handle on their end — should consumers choose to pursue it. But FairShake turns the tables by automating the claims process and putting power back in the consumer's hands.
Automation Empowers Consumers to Resolve Disputes
It only takes about five minutes for a consumer with a grievance against a company to fill out an online dispute form. Then FairShake handles the rest.
"We're the simplicity layer in this private dispute resolution system," said Lidow, who serves as FairShake CEO. "You come onto our website. You select the company from a dropdown list, type in the dispute you're having with them, tell us what you want the company to do about it, and click a button. We automatically generate all that paperwork, mail it to the right address, file it in the right places, and handle all that on the backend."
FairShake notifies the company that the client is raising a dispute, which provides the company with an opportunity to respond and begin negotiations before the problem escalates. A representative from the company often contacts the consumer to resolve the dispute, typically within 30 days.
"They're going to be very motivated to get this thing resolved before it turns into a huge hassle for the company," Lidow said.
Beyond just filing the claim, FairShake also helps consumers through the negotiation process to ensure the company doesn't take advantage of them.
"We're also giving you concierge support in that time to tell you what to expect and what you need to know," said Max Kornblith, FairShake's Co-Founder and Head of Growth
Customer Service Serves as the First Recourse Against Corporate Abuse
FairShake is designed as a fallback after customer service channels fail to resolve a dispute. Lidow recommends that consumers try that route first, then turn to FairShake if they find themselves stuck.
"People go through that channel, and they walk away with basically nothing," Lidow said. "The majority of people walk away pretty unhappy about the outcome of a customer service interaction."
But customer service representatives may not have the authority to settle the matter or fix the problem. They may also work under certain restrictions, including a limit on the number of refunds they can give per month.
"Most of our customers wind up in our process after they've exhausted that channel," Lidow said. "They try to go through the normal customer service representatives. Because companies know if they tell you 'no' on their customer service helpline, you're usually, at worst, going to tweet at them."
Many people contact the credit bureaus directly for problems with credit reporting, including bad debt or incorrect information. But Lidow recommends going to the company first rather than straight to the bureau.
"There are many ways to object to a tradeline on a credit report, but, generally, the company is an underutilized one," Lidow said. "Go directly to the company. That's what we help with, and we do that effectively."
"That company has a legal obligation to follow up with the credit reporting agency and make sure it gets fixed or that it's being looked at," Kornblith added.
FairShake: Protecting Consumer Rights During Difficult Financial Times
Rather than just accepting the flight vouchers, Lidow walked away from his dispute with thousands of dollars in compensation and a formal apology from the airline. When word of his success started circulating, he began providing the same service for friends and family before bringing FairShake to market with Kornblith's help.
Reliable recourse in disputes with corporations has become especially important amid COVID-19 pandemic-induced closures, layoffs, furloughs, and financial strain. Gyms close their doors but automatically charge monthly membership fees. Telecom companies announced they wouldn't shut off service or apply late fees, but then they did. Some travel companies failed to honor refund policies.
"There's been a lot of trouble," Lidow said. "From 'This is complicated, and it's hard for companies to execute on the policies they're rolling out,' to pretty bad-faith money grabs, we've seen the whole spectrum of corporate problems."
But corporate policies aren't the only culprit. Government policies are also poised to exacerbate the mounting financial crisis.
In July, the Consumer Financial Protection Bureau announced what was essentially a gutting of a 2017 policy designed to protect consumers from debt accrued through high-cost lending practices. Without access to credit, low-income individuals often accept predatory loans designed to trap them in a cycle of debt, which the lender profits from.
"You expect companies are just going to be taking advantage of people more," Kornblith said.
That is especially true now that so many people are struggling, along with the economy, to stay afloat. Luckily, FairShake stands ready to ensure consumers have a fighting chance against unethical business practices.
"That's the role we want to play in the economy," Lidow said. "Corporations have become more powerful and consolidated. We're a corporation, but we want to sit between corporations and consumers and level the playing field."
Advertiser Disclosure
BadCredit.org is a free online resource that offers valuable content and comparison services to users. To keep this resource 100% free for users, we receive advertising compensation from the financial products listed on this page. Along with key review factors, this compensation may impact how and where products appear on the page (including, for example, the order in which they appear). BadCredit.org does not include listings for all financial products.
Our Editorial Review Policy
Our site is committed to publishing independent, accurate content guided by strict editorial guidelines. Before articles and reviews are published on our site, they undergo a thorough review process performed by a team of independent editors and subject-matter experts to ensure the content's accuracy, timeliness, and impartiality. Our editorial team is separate and independent of our site's advertisers, and the opinions they express on our site are their own. To read more about our team members and their editorial backgrounds, please visit our site's About page.