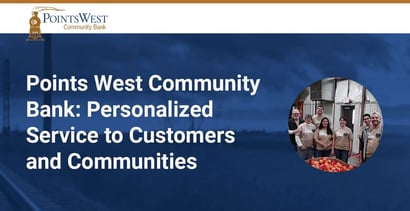 Experts share their tips and advice on BadCredit.org, with the goal of helping subprime consumers. Our articles follow strict
editorial guidelines
.
In a Nutshell: Population thins out dramatically in the open spaces between America's urban areas. And just as their urban counterparts do, rural and small-town Americans need financial services to help them reach their financial goals. In the plains of Nebraska, Wyoming, and Colorado, Points West Community Bank builds on a 115-year legacy to provide customers with financial services, education, and support. Points West meets those challenges and weathers change, exemplifying the grit and determination of the people it serves.
Many Americans live in cities and towns with an abundance of grocery stores. And they may not realize the agricultural-focused 4-H network remains one of the nation's largest and most influential youth development organizations.
More than 6 million active participants count on 4-H to help them develop citizenship, leadership, responsibility, and life skills through experiential learning programs and a values-based approach to education and entrepreneurship.
The mission of 4-H is to offer broad-based community support and assistance. But one of its traditional goals is to train the next generation of farming and ranching professionals. Each year, hundreds of thousands of 4-H members participate in agricultural and livestock projects and exhibit their work at county and state fairs.

Those projects earn young members recognition and prizes and can even result in income when a member's valuable animal finds a buyer. It's a significant career development opportunity, but the key to success is for members to have the funds to get up and running.
In small communities across the agricultural regions of Nebraska, Wyoming, and Colorado, Points West Community Bank helps young people participate in 4-H projects by extending loans to 4-H families. It's one way the bank lives up to a 115-year legacy of helping a predominantly rural customer base address challenges and prepare for the future.
Throughout its history, Points West has remained a true locally owned and managed community bank, committed to ensuring customers come first, according to CEO Mark Brase. Points West operates 21 branches, many of which are in small, rural communities.
"We live and breathe our communities — our children are in the schools, our families are in the churches, and we see everyone come in as customers throughout the weeks and months," Brase said. "So we do all we can."
Connecting People to Financial Services and Education
Longevity is a point of pride at Points West. The bank started in 1906 as Lisco State Bank, founded by rancher Reuben Lisco, who also gave his name to the town of Lisco.
Lisco State Bank was the financial backbone of the community for decades, reflecting the grit and determination of its customers — Ag producers who have faced economic and technological change and pressure to consolidate and do more with less.
Generations of families consider Points West an essential partner. The great-grandfather of the bank's current Marketing Associate, Marin Olson, purchased the bank from Reuben Lisco and later handed it down to his son, Olson's grandfather, who instituted an era of expansion.
"When my grandfather returned from the military, he partnered with his brother-in-law and two local farmers to purchase the Dalton State Bank — that's where we began our growth," Olson said. "Our history is rich and engrained in our blueprint, for sure."
Lisco still has a branch, but the town is losing its population. At last count, only 35 residents lived in Lisco, but Points West stands by the town.

Across its widely dispersed branch network, a loyal customer base benefits from a range of personal, business, and investment services. On the personal credit side, Points West offers real estate, construction, and auto loans in addition to home equity lines of credit.
And to keep customers connected when branches are distant, Points West deploys industry-leading web and mobile technology to keep consumer and business customers connected, with anytime/anywhere access to account details, alerts, and functionality that would otherwise only be available at branches.
Bank customers and the public at large can also take advantage of Points West's extensive education center, which is stocked with video tutorials on important topics such as identity theft.
Those resources are important for people in Points West service areas, as many have had to make the switch to digital banking tools.
"We've definitely seen a shift toward online and mobile banking channels, and we continue to invest in technology that adds value for our customers," said Lyndsay McClung, Points West Community Bank Chief Experience Officer.
Points West Cares Spearheads Community Commitment
Through Points West Cares, the bank and its employees partner with local, state, and national nonprofits to boost schools and address community cultural and economic health. The bank's financial support, reinvestment, and active volunteer participation assist communities in accessing the quality-of-life and self-improvement tools and resources they need.
In the name Points West Cares, "cares" is an acronym that stands for community, advancement, resources, environment, and science. The acronym aptly summarizes the bank's giving strategy, with a news section on the website keeping community residents updated regarding its charitable activities.
The news section also keeps customers and the public informed about bank activities, provides useful educational material, and presents stories of grit, including profiles of prominent bank officials and community members.

Digital and mobile banking are more critical than ever when it comes to consumer financial services. Banks are closing branches, with many customers turning to branchless providers. That's why it's heartening to know Points West branches often serve as blood drive locations. One recent blood drive at the bank's Windsor, CO, location resulted in a 13-liter donation that has the potential to save the lives of more than 26 individuals.
Another area of community need is food insecurity. During a recent holiday season, for example, three Points West branches in Colorado — and their customers — teamed up to donate 170 pounds of nutritious, non-perishable foods to their county food bank.
And because volunteering is a vital team-building activity at Points West, employees banded together to bundle grapefruit into family-sized packages for the food bank to distribute.
"We believe in the importance of building a better community," the bank reported on its website. "Through a great relationship with the public, we are able to give back to the people who need it most."
Dedicated to Change and Growth Over the Long Haul
Participation in the volunteer and charitable communities enables Points West to partner with hundreds of programs to fight hunger. These partnerships allow Points West Community Bank to distribute millions of pounds of food, prepare and deliver hundreds of thousands of meals and snacks to children and seniors, and provide food pantry service to thousands
Points West steps up on behalf of the communities that make its success possible in other ways as well, including by supporting schools, sponsoring cultural events, and participating in blood drives and charitable walks and runs.
Exposure to the financial nuts and bolts of success plays a primary role as well, of course. Generations of 4-H loan recipients go on to careers in agriculture. And they bring their sons and daughters to the bank, and the cycle continues to the next generation.
Points West is there when those residents need auto financing for new 16-year-old drivers. And it's there to handle college expenses, homebuying, family responsibilities, and planning for the future.
In a blog post, Points West explained that, although its primary responsibility is to provide communities with financial products for success, the bank is part of the community too.
"We take pride in knowing that the money that our members invest in our banks goes into the betterment of the communities we live in," the post read. "Our team lives here, works here, and banks here, and your money stays here in our community when you bank with us."
It's a personalized service that extends to every customer interaction in a branch and every action a team member takes. Brase said customers count on Points West to deliver when the chips are down to ensure everyone eventually receives their chance to contribute.
"Whether it's a young person starting out or someone who needs to build or rebuild, we help them take any and all necessary steps," he said. "And if someone is struggling financially, we go above and beyond to help them repair their credit."