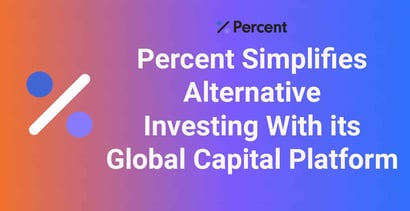 Experts share their tips and advice on BadCredit.org, with the goal of helping subprime consumers. Our articles follow strict
editorial guidelines
.
In a Nutshell: Percent takes a straightforward diversified approach to alternative investing with its global capital platform. Investors can put their money into accounts that lenders use to fund startups and small businesses. Investors choose where their money goes and are not locked into the investment for years. The minimum investment requirement can be as low as $500, with terms that allow investors to retrieve their money in nine months or less. Percent's platform also allows users to get involved in emerging markets around the world, helping underbanked nations receive financial support. Only accredited investors can use Percent, but the company is looking into how it can expand its reach to others.
Investing in the future is a critical part of securing financial stability after retirement. That's why I try to put any amount that I can into my retirement accounts each month, so I don't have to work for longer than I want to.
But there are investment opportunities outside of traditional accounts — including a 401(k) or Roth IRA. These investments, commonly referred to as alternative investments, allow investors to put their money into nontraditional assets. These assets include physical products, such as wine or collectibles, or private debt and equity.
Everyday investors often cannot invest in alternative assets without qualifying as an accredited investor first. Accredited investors have a special status that allows them to invest outside of traditional accounts.
To qualify as an accredited investor, you must have an income of $200,000 a year by yourself or $300,000 a year with a spouse in each of the prior two years. You can also qualify by having a net worth of over $1 million, excluding the value of your primary residence.
There are other ways to earn accreditation that have nothing to do with earnings or net worth. Professionals who hold specific securities licenses can invest in alternative platforms. Interested investors can receive those licenses after taking a course and passing an exam.
Percent is a private credit investment platform that is working to expand its footprint to allow all types of investors.

The platform provides capital to people and companies who make loans to small businesses, startups, and businesses in emerging markets. When these businesses and individuals cannot access public credit markets, they turn to private credit to fund their operations.
Accredited investors on Percent's platform can pick and choose exactly where their money goes. They can fund small businesses, startups, litigation finance, and many other loans. Because Percent is providing private debt, investors make money on the interest the debt earns.
Two attributes that make Percent so enticing are its shorter terms and lower minimum investment requirement. Some investment offerings mature in just a few months, and investors can put as little as $500 into the offering.
The platform also provides transparency into its offerings, and has products on the site that educates investors so they can make an informed decision with their money.
"One of our overarching missions has been to create a platform that has investors' best interests in mind, which can lead to shorter durations and lower minimum investments for transactions — and overall, set investors up for success," said Nelson Chu, Percent Founder and CEO.
Offering Short-Term and Lower Minimum Investments
Percent has been in business since 2018 as a way for investors to bolster their portfolio. The company's founder saw a revolution start from the popularity of alternative investments such as cryptocurrencies.
For the most part, however, alternative asset investing was neither accessible nor approachable. Investments can take years to mature, and alternative assets usually require a higher minimum investment.
Percent solves the accessibility and approachability issues with its private credit platform. Investors can try the platform with only $500. Percent's investment terms are also short term, and many of them are for terms of less than a year.
Percent says its platform is a private version of public credit, or debt. The company is a capital markets provider solution for the people and companies who make the loans. Small business lenders who have businesses they lend to raise capital from companies such as Percent.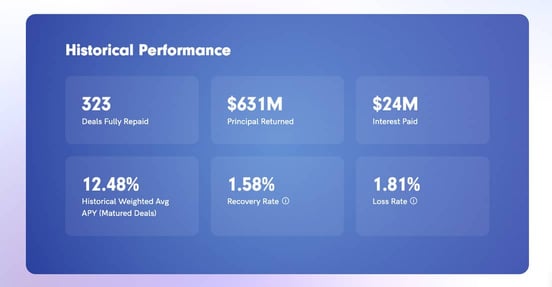 Investors indirectly provide capital to small businesses, consumers, factories, manufacturers, and many other industries. Instead of going one-by-one and creating a loan for each instance, investors put their money into a basket of thousands of loans.
Percent specifically provides the capital or supports the finding of the capital for companies who operate and provide loans to consumers and small businesses. As long as the assets are performing, investors earn the interest on the loan.
People on the platform can also invest in Latin America, Europe, and other emerging markets that are embracing more technology. Investors can directly make a difference in underbanked populations by funding their businesses.
"Making global funding available makes for really interesting opportunities where we can support the evolution of capital markets in those countries," Chu said. "Our products help create impacts to consumers and small businesses, which is fantastic."
Providing Information and Emphasizing Transparency
Percent said its users typically start out by investing $500 or $1,000 in short-term investments. After getting familiar with the platform, they start putting in more.
Getting investors comfortable with the platform is one of Percent's missions. Short-term, low minimum investments help investors learn more about the platform and how they can use it to make money.
According to Percent, investors tend to add more money into their account as they get more comfortable and understand the platform better. The site's average portfolio is in the tens of thousands.

Percent works to be as transparent as possible to earn the trust of investors. The company said it is one of, if not the only, investment platforms that provides post-close monitoring of investments.
"Our ability to provide that information is a novel concept in private markets that we've tried to make the standard," Chu said. "Investors can have comfort in knowing how their accounts are performing."
Percent helps educate investors on what private credit is and how to develop their own sector theses. Using the site's information, investors can find investment offerings that are suitable for their level of risk.
Percent offers a number of tools and resources to help users make informed investment decisions, including educational materials and market insights. The platform also has a team of investment professionals available to answer questions and offer guidance.
"We try to guide users to make them as comfortable as possible and give them as much information as possible," Chu said. "We work on various campaigns to keep feeding them more and more information."
Educating Investors and Optimizing Products 
Percent's main goal is to make its investment platform available to as many people as possible. Unfortunately, regulatory hurdles make it difficult for everyday investors to get involved with alternative investments.
To go around income and net worth requirements, Percent recommends interested investors take the class and test to earn a license to earn accreditation. Over time, however, Percent does expect the definition of accreditation to loosen.
Alternative investing does create additional risk factors to look into, but Percent said its diversified products can mitigate some of the risk. With a potential recession looming, Percent is staying ahead of any financial downturns.
Structuring its products as short-term investments makes it easy to feel more confident in Percent's platform. The company also just successfully launched a new asset class in venture debt.
Percent is in the process of essentially redesigning the entire investor experience so users have more information at their fingertips. The redesign will allow investors to see when it's the right time to invest, and also how much demand a deal has.
Percent said it will continue to provide information that is more interactive and more detailed than has ever been done in private credit.
"We want to get to a point where it is as easy as investing in a stock," Chu said. "That is the ultimate level of accessibility. Now, we are looking into how we open it up to a broader audience. We'll continue to offer unique products on that front."