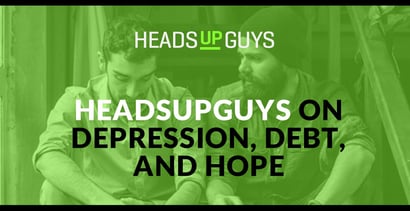 In a Nutshell: Men account for 75% of all suicides, according to HeadsUpGuys, a website dedicated to addressing depression among men. And it's no secret that financial issues, including debt, are closely tied to depression. We spoke with the Founder of HeadsUpGuys to learn more about identifying depression and the resources offered by the website. In addition to a Self Check depression screening tool, HeadsUpGuys provides guidance on how men can seek help. The site includes recovery stories to let men struggling with depression know they aren't alone, and a section dedicated to friends and families of depressed men.
Josh Beharry was just 22 years old when he approached the bridge and prepared to jump.
"As my feet leave the ground, I close my eyes. The river rushes towards me. The sound of the wind whirling past is the last voice I will ever hear. I hit the water, but I do not die," Beharry writes of his harrowing experience.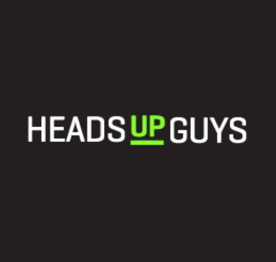 Beharry was deep in the grips of depression, and when things felt like they would never change, the young man decided he wanted to end the pain.
Thankfully, Beharry survived and during the aftermath, he said he felt emotions that he hadn't felt in ages, including gratitude for being alive. While Beharry survived his brush with death, many men don't, accounting for 75% of all suicides, according to HeadsUpGuys.
Beharry is now a mental health advocate and Project Coordinator for HeadsUpGuys, a website dedicated to raising awareness about depression among men and providing resources to help them in their battles.
This topic is poignant here at BadCredit because — as you may know — debt can be a major contributing factor to depression.
We recently spoke with the Founder and Director of HeadsUpGuys, Dr. John Ogrodniczuk to learn more about this topic and the struggles with depression that many men face. An important step in addressing depression is to destigmatize mental health issues, said Ogrodniczuk, who is also a professor and the Director of the Psychotherapy Program in the Department of Psychiatry at the University of British Columbia.
And HeadsUpGuys attempts to do just that. The organization provides men struggling with depression with tips, tools, and information about professional services, and shares powerful success stories like Beharry's.
Financial Problems are Among Key Stressors in Men's Lives
Ogrodniczuk discussed why he chose to focus on men in particular and how financial issues, such as debt, can lead to serious depression.
"I've been doing work with men clinically and in research for a long, long time," he said. "And one of the things that we've noticed over the years is that men have persistently high rates of suicide relative to women. Seriously, in the neighborhood of three to four times the rate."
Ogrodniczuk said depression and suicide among men is a big public health issue that should be getting more attention.
"But it's kind of fallen by the wayside — it's just not really acknowledged for how serious it is — so we wanted to do something about that," he said.
Debt has been connected to depression by multiple experts, including in HeadsUpGuys' own research, which shows men self-reporting financial issues as key stressors in their lives, Ogrodniczuk said.
"The stress that debt puts on us psychologically is this sense of entrapment and helplessness. It also robs people of their sense of autonomy," he said. "And with a mountain of debt on our back, it feels like our lives aren't truly our own because we are literally indebted to somebody else."
Ogrodniczuk said that when he launched HeadsUpGuys five years ago, there weren't many other resources available focused specifically on addressing depression and suicide among men.
"We know from research that poorly treated or untreated depression is one of the major risk factors for suicide," the professor said. "So, we thought one of the upstream ways of potentially addressing suicide among men is developing resources that address depression."
And developing a website packed with resources seemed like a natural way to enter the conversation.
"We know that men turn to the internet for a lot of help-seeking. It's kind of their way of being self-sufficient and self-reliant," Ogrodniczuk said. "So we thought a website was a good access point to connect with them and to connect them with their health as well."
How to Recognize Depression
One of the most important factors in combating depression is being able to actually recognize when you are depressed, Ogrodniczuk said.
"You have to think about patterns of consistency. We may, on some days, just feel like crap but the next day is fine," he said. "We do experience these variations in mood but it doesn't really interfere with our lives, and it's not consistent or persistent."
Actual depression, however, is a different story.
"When you're truly depressed there's a chronic aspect to it. It's day after day or most days of the week not enjoying the things that you used to," Ogrodniczuk said. "You hear guys talk about how they just don't feel anything, don't react to anything — good, bad, or ugly."
These are red flags that there may be more going on than normal changes in mood. Depression can also interfere with interpersonal relationships, jobs, and living a quality life in general, he said.
"It interferes with your capacity to live adaptively," Ogrodniczuk said. "When it's interfering with your capacity to fulfill work roles, social roles, familial roles, then you know we've got a problem."
The HeadsUpGuys website includes a section devoted to helping men identify when sadness or other struggles may have tipped into depression. It also dispels myths surrounding depression such as the notion that men must suffer in silence.
"Sadness is an emotion all humans feel, including men. 'Real strength' is facing whatever challenges arise," according to the website. "Depression isn't overcome with willpower alone, you have to learn and acquire new skills and tools to beat it."
Resources for Men Grappling with Depression
Ogrodniczuk also discussed the wide array of resources available to men struggling with depression on the HeadsUpGuys website. About 65,000 people visit HeadsUpGuys per month, he said. The hits come from all over the world, but Ogrodniczuk said the majority of traffic comes from the U.S., the UK, and Canada.
"A lot of the material we have is different kinds of self-help strategies, including how to connect with friends and families, how to utilize helplines," he said. "What are the different health professionals that you can connect with? And what are their roles in your journey toward recovery? And, what are the things that you can do yourself to get better?"
The website also offers a Self Check depression screening tool and tons of recovery stories to help men know they are not alone in their challenges. For many men, using the Self Check tool is the first time they realize they may be dealing with depression, according to the HeadsUpGuys website.
Watch on
Once it's determined that a man may be struggling with depression, the website recommends connecting with a health care professional and provides guidance on ways to do this.
"Talking with a doctor is a critical next step," according to the website. "A doctor can evaluate symptoms and rule out other possible causes. Depending on your symptoms, a doctor can help connect you with other local resources and treatment options, like talk therapy, support groups, or if appropriate, medication."
Acting early and decisively is crucial, according to HeadsUpGuys.
"We also have a section for supporters of men with depression, recognizing that they play a really important role in these guys' lives," Ogrodniczuk said.
Gearing Up to Offer an Interactive Toolbox
The HeadsUpGuys website continues to evolve to help men address their struggles in the best ways possible.
"Currently, we're developing a therapist directory. So when a guy says, 'Okay, I'm ready to connect with help,' they can go to a therapist directory and find a therapist in their region," Ogrodniczuk said. "At this very moment we're working on populating that directory for launch, hopefully sometime early in the new year."
Additionally, Ogrodniczuk said HeadsUpGuys plans to launch an in-depth, interactive toolbox in the future.
"We'll bring together a bunch of self-check tools and self-help modules in one place," he said. "So there will be more of that action and interactivity aspect to it as well."
Advertiser Disclosure
BadCredit.org is a free online resource that offers valuable content and comparison services to users. To keep this resource 100% free for users, we receive advertising compensation from the financial products listed on this page. Along with key review factors, this compensation may impact how and where products appear on the page (including, for example, the order in which they appear). BadCredit.org does not include listings for all financial products.
Our Editorial Review Policy
Our site is committed to publishing independent, accurate content guided by strict editorial guidelines. Before articles and reviews are published on our site, they undergo a thorough review process performed by a team of independent editors and subject-matter experts to ensure the content's accuracy, timeliness, and impartiality. Our editorial team is separate and independent of our site's advertisers, and the opinions they express on our site are their own. To read more about our team members and their editorial backgrounds, please visit our site's About page.