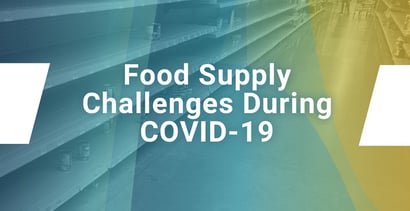 In a Nutshell: The food supply chain is among the many components of our everyday lives that the COVID-19 pandemic has impacted. With restaurants and schools closing almost overnight, and people rushing to grocery stores for food and supplies, the supply-and-demand dynamic was thrown off balance. We spoke with UC Davis agricultural economist Daniel Sumner about this issue to learn more about the supply chain and how the pandemic impacted it. Beyond the inconvenience to consumers and some lost profits for farms, the pandemic highlighted inequities in the system — with many workers in the supply chain who were already in poverty feeling the brunt of the impact. Fortunately, the food supply chain is resilient and will continue to meet the demands put in front of it.
The COVID-19 pandemic has brought so many important issues to the fore that it can be hard to keep track of them all. Whether it's the need for firm leadership, properly funded healthcare facilities, or shelves fully stocked with toilet paper, the novel coronavirus has shown us how all these things are important.
Another crucial issue that has been brought into the light is the food supply chain. The food supply chain is an incredibly complex, important, and, in some ways fragile component in our modern way of life.
Many consumers don't even think about all the work and planning that goes on behind the scenes for meat, produce, and other goods to always be readily available in supermarkets. But the pandemic has forced us to consider it by threatening its existence as we know it.
We recently spoke with Daniel Sumner, Frank H. Buck, Jr., Professor in the Department of Agricultural and Resource Economics at the University of California, Davis, to learn more about the food supply chain, how the pandemic is impacting the chain, and ways to move forward.
"Agriculture (is) defined as everything before the farm through the consumption process, and actually through nutrition, which goes past consumption," Sumner said. "And so, when somebody says the supply chain, I start by thinking of the inputs to the farm, and I carry that through to the satisfaction and nutrition that people get from the characteristics of the food that they eat."
How COVID-19 Presents New Issues in the Food Supply Chain
The modern supply chain is an impressive and historical feat. The fact that an abundance of food is efficiently and safely delivered to restaurants and stores across the country is a modern marvel.
Sumner said people today take food safety for granted, but it wasn't that long ago that it was a major concern.
"My grandmother would be aware of the fact that canning at home was dangerous. Botulism was not uncommon. It was a pretty elaborate process that you went through to keep people safe," he said. "The idea that you can open a jar of tomatoes and put them into your spaghetti sauce and never give it a second thought is a recent phenomenon."
Sumner was among the UC Davis researchers who weighed in on the July article, "Is the food supply strong enough to weather COVID-19?" for the university's website.
The article explains how food distribution relies on industry and consumer supply chains, and how the COVID-19 pandemic significantly disrupted both.
In the early months of the pandemic, many restaurants and schools closed down abruptly, which halted the steady supply of food that normally flows into those markets. The demand for crops and other foods for these industries dropped sharply.
Sumner said this severe drop in demand is unusual in the supply chain. Generally, major disruptions occur on the supply side due to failing crops or other unanticipated factors.
Meanwhile, on the consumer side, customers were clearing the shelves in grocery stores while the stores, trucking companies, and other stakeholders struggled to meet the increasing demand.
"I found it remarkable that the governor of California, or Ohio or anywhere else, could say on a Thursday that all the restaurants and schools were going to close," Sumner said. "So, that meant institutions from which you got roughly half your food on Wednesday, you won't be able to access those starting on Monday."
Sumner said he marveled that these leaders didn't seem to consider the food supply impact of these kinds of decisions.
"What made you think that that food would be in a supermarket when the supermarket now has to have something like twice as much food than they had a few days before?" Sumner asked. "But people in the food system scrambled like hell and made it happen."
Then, there is the safety of the workers to consider. Meat prices were among the first to increase, but Sumner said it wasn't a surprise. Meatpacking plants, which are incredibly crowded, had to slow down their process and space people out to continue working safely.
Food Security and Social Inequity
Fluctuations in supply, demand, and prices have caused numerous ripples running up and down the food supply chain in recent months. But customers having to pay more for meat or being allowed to only buy a limited amount of produce in one shopping trip were not among the most dire effects on the supply chain.
"A very big issue in the whole pandemic situation is the poverty that's been made worse," Sumner said. "It's a cliché to say, but whatever happens, the poor are hurt worse, and in this case, it certainly is true."
He said this is evident in death rates, unemployment rates, in cases of people falling through the cracks in social safety nets, and certainly in the food system.
"A very high proportion of people who work in the back of restaurants at low-wage jobs or people who work in the fields are immigrants, often without full and complete documentation," Sumner said. "They may not have gotten the stimulus check in the mail. They may be uneasy about applying for food stamps."
Others may have trouble obtaining unemployment benefits.
"All of those complications are troublesome among the poorest people in the country, and they are a part of the food system," Sumner said. "And some of them live in places that either for themselves or for other people are where it's more costly to get nutritious foods."
Sumner said this may be the case for people living in low socioeconomic urban areas, but it's also true for families living in rural settings who may not have reliable transportation to easily go to the grocery store any time they need something.
It's important for people to understand the importance of being aware of and addressing poverty in this situation, he explained.
Addressing Challenges and Establishing a Path Forward
Although the food supply chain suffered some blows due to the pandemic, Sumner said the food system is incredibly good at bouncing back from adversity.
"There's plenty of food out there, and that's a remarkable statement," Sumner said in the UC Davis article. "A lack of income is the biggest pressure right now on families in terms of a food system. We're getting used to these (disruptions), and we'll be even more resilient next time."
Sumner related a story about a cow farmer who found a way to navigate the challenges put in front of him in the pandemic.
"A friend of mine is a cowboy who has a very fancy cattle herd in Northern California, where he humanely slaughters his own steers," Sumner said. "Half of what he sold was going to the cafeterias at Google and Facebook. It's expensive, but it's well cared for and he has a great reputation."
The farmer got word on a Friday not to deliver meat beginning the next Monday because the companies were closing their physical locations, and everyone was going to be working from home.
"'What do I do with this beef that I'm getting ready to haul somewhere like the Facebook campus,'" Sumner recalls his friend asked. "Fortunately for him, he has such a great reputation that he could call people who had been asking for his beef and say, 'Okay, now I have an opportunity to sell to you.'"
Sumner said the farmer may have lost thousands of dollars, but it certainly could have been worse. Sometimes it's a matter of shifting expectations and finding where the demand is.
He said that, in many cases, suppliers have been able to shift their businesses to keep the supply chain moving.
"There were fields of specialized vegetables that were designed for a particular customer that were plowed under," Sumner said. "Let's say I had organic kale, and there's a supermarket or an organic restaurant chain that I planted these for, and I had a contract with."
If the demand dwindles, the farmer may plow the organic kale under and plant something else.
"Let's say I planted it two weeks ago, I immediately replant with something else, and I've only lost a couple of weeks, fortunately," Sumner said. "Of course, for annual crops, if I didn't have a market for peaches, it's a year until I get more peaches. Fortunately, we haven't had much of that."
Sumner said that, among all these challenges, it's important to go beyond the surface issues and raise awareness about the poverty that results in food supply chain issues. Fortunately, the supply chain is resilient and, as with many other challenges, should normalize with only some minor hiccups.
Advertiser Disclosure
BadCredit.org is a free online resource that offers valuable content and comparison services to users. To keep this resource 100% free for users, we receive advertising compensation from the financial products listed on this page. Along with key review factors, this compensation may impact how and where products appear on the page (including, for example, the order in which they appear). BadCredit.org does not include listings for all financial products.
Our Editorial Review Policy
Our site is committed to publishing independent, accurate content guided by strict editorial guidelines. Before articles and reviews are published on our site, they undergo a thorough review process performed by a team of independent editors and subject-matter experts to ensure the content's accuracy, timeliness, and impartiality. Our editorial team is separate and independent of our site's advertisers, and the opinions they express on our site are their own. To read more about our team members and their editorial backgrounds, please visit our site's About page.