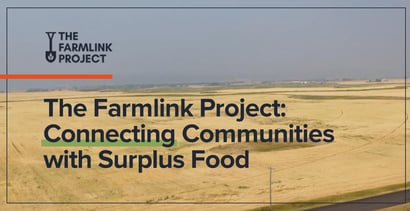 In a Nutshell: The Farmlink Project aims to solve two significant problems in the United States: food insecurity and food waste. Those issues are intertwined, and The Farmlink Project helps by distributing excess food to those who need it. The organization also supports farmers by mitigating disposal costs and assisting with paperwork for tax write-offs. The Farmlink Project began as an emergency support organization during the COVID-19 pandemic, but the team now plans to continue its efforts for as long as food scarcity and surplus are problems in the U.S.
In early 2020, Aidan Reilly was sent home from Brown University, where he studied political science, as the United States struggled to manage the COVID-19 pandemic. The virus placed students, workers, and all area residents at risk of illness.
Reilly had nothing but time on his hands, and the headlines all focused on the same thing. So he spent a lot of time following news about the COVID-19 pandemic and its wide-ranging effects. He saw his local food bank — where he was a long-time volunteer — struggle to keep up with an unprecedented demand. Scores of area residents trying to care for their families amid unemployment, reduced income, and consumer debt turned to the food bank to help keep their families fed.
At the same time, supply-chain breakdowns meant that good food was wasted because companies couldn't transport it to those in need. Reilly realized food surplus and insecurity were not two separate problems but mutual solutions — and he set out to fix both.

"Good food was being thrown away while people were going hungry," said Reilly. "We thought those two problems could help solve each other."
Reilly co-founded The Farmlink Project to collect excess produce from farmers and deliver it to organizations, including food banks, and get it to those in need. That meant people wouldn't have to endure financial hardship to put food on the table. The project's efforts can ease the burden on farmers and their workers and help them avoid accruing debt to make ends meet during challenging times.
"We have now moved more than 1 million pounds of food every week since May," Reilly said.
The Farmlink Project has also seen an outpouring of support from people of all ages and backgrounds who want to help.
"We have a network of hundreds of students from across the United States. We now have this incredible community of young people with this shared mission, each of us volunteering up to 50-plus hours a week to achieve that mission," Reilly said.
Promoting Food Accessibility and Education in At-Risk Areas
Sudden income causes havoc on personal finances and loss can result in families going hungry or going into debt to put food on the table. The Farmlink Project tries to ease this stress by targeting communities that have a rising need for food but fall outside the range of other support organizations. It bases its efforts on employment statistics and demand reported by local food banks.
"We have a team called the Food Insecurity Team," Reilly said. "The team updates our data daily on where food insecurities are popping up and how it's affecting people. We have a big map where we can see live updates of the situation around the country. That's how we plan our deliveries, and that's just one example of how we are thoughtful about when and who to deliver to."
The Farmlink Project's mission is to provide people with access to high-quality food. The organization has partnered with Food Finders, a food rescue group that connects donated perishable food to hundreds of nonprofit pantries and shelters, and with Uber Freight to coordinate and transport food to those who need it most.
The other component of The Farmlink Project's mission is to provide recipients with information. It's not enough to get quality food to people; those people need to understand how to put that food to the best possible use.
"We don't want to give you a bushel of kale and think that's going to fix your issues," Reilly said. "Rather, we are working on distributing recipes, and will likely see this roll out soon."
The Farmlink Project recognizes that the issue is not just people getting enough food, but also getting the right food.
Supporting Farmers and Workers Amid Breakdowns in the Supply Chain
Many consumers plan their grocery shopping every week. They can do that because farmers plan a full season ahead of time in anticipation of the amount of food they expect to sell.
As restaurants shut down in March, April, and May of 2020 due to pandemic restrictions, farmers were left in dire situations. Less demand for the food they produced meant fresh crops left rotting in the fields.
"When the restaurants closed, in some cases, it all went to zero," Reilly said. "We saw farmers with mountains of potatoes, cucumbers, and squash in their fields. In many cases, they couldn't pay their bills for the month and had to fire workers."
The Farmlink Project collects excess food and distributes it to people in need, but the hungry aren't the only beneficiaries. Farmers can count the food as charitable donations for tax purposes, and they don't have to go through any of the financial hassles. The Farmlink Project calculates the food's worth at market value and prepares all the paperwork. Beyond the tax benefits, farmers also save the cost of disposal.
Many sources of produce, including large farms, warehouses, and distribution centers, actually incur a negative cost in paying to dispose of their food.
"They have to hire workers to, if it's packaged, to tear open those packages," Reilly said. "They have to hire freight to take it to the landfill and pay fees. We talk to farmers, and they're spending considerable amounts of money to throw out this product that is identical to what goes on supermarket shelves."
Thanks to The Farmlink Project, many farmers can recoup some of their losses and keep their workers on the payroll. Those agricultural workers can then feed their families without going into debt to pay for necessities.
Destigmatizing Food Insecurity in Times of Increased Need
Amid the economic fallout of the COVID-19 pandemic, a rising number of people across the nation are turning to food banks and other charities for nutritional support. But food scarcity has been a high-profile problem for a long time — the pandemic just intensified the need.
"The Pandemic exacerbated food waste and food insecurity, but they did not start with the pandemic," Reilly said. "Those issues are systemic in the United States. We waste 100 billion pounds of food every year. At the same time, we see numbers like 1 in 9 Americans not knowing where their next meal will come from. That's now changed to 40% of Americans, and we've seen it firsthand."
Watch on
Despite the growing prevalence of food insecurity, many people refuse to reach out for help and available supplies of free food. These people may be resistant to accepting charity or, in their minds, labeling themselves as someone who needs a handout. That is yet another problem The Farmlink Project seeks to solve.
"It's a demoralizing thing to have to do that," Reilly said. "We're trying to think about the best way to get people access to free nutritious produce. We can make it more humanizing."
The Farmlink Project: Transforming Surplus and Scarcity into Complementary Solutions
The Farmlink Project began when Reilly and his co-founders started cold-calling farmers across California to ask if they had excess food. Then, they offered to pick it up and distribute it.
"Most of them hung up," Reilly said. "But the ones that didn't, we rented trucks, and we drove to those farms. I got a 26-foot box truck from Penske and loaded thousands of eggs in the back, and then I would drive it to the food banks."
Over the ensuing months, the project's scope and plans changed. Reilly and his co-founders initially intended to operate the project during the pandemic and then stand by as an emergency relief organization. As they collected and distributed food, the team has discovered the deep roots of food insecurity and the systemic problems that result in food waste and people going hungry.
"Although we started small, our grassroots efforts over the last nine months have helped us realize how much impact this solution can actually have —not just during these emergency circumstances, but for years to come," Reilly said.
The Farmlink Project has evolved from an emergency stopgap measure into an ongoing effort to combat food waste and insecurity. By using those problems to erase each other, The Farmlink Project keeps food from going to waste and consumers from going hungry — or going into debt to keep food on the table.
Advertiser Disclosure
BadCredit.org is a free online resource that offers valuable content and comparison services to users. To keep this resource 100% free for users, we receive advertising compensation from the financial products listed on this page. Along with key review factors, this compensation may impact how and where products appear on the page (including, for example, the order in which they appear). BadCredit.org does not include listings for all financial products.
Our Editorial Review Policy
Our site is committed to publishing independent, accurate content guided by strict editorial guidelines. Before articles and reviews are published on our site, they undergo a thorough review process performed by a team of independent editors and subject-matter experts to ensure the content's accuracy, timeliness, and impartiality. Our editorial team is separate and independent of our site's advertisers, and the opinions they express on our site are their own. To read more about our team members and their editorial backgrounds, please visit our site's About page.