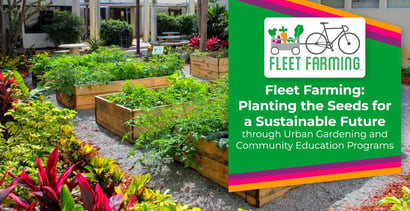 In a Nutshell: Many people maintain a small garden plot in which they grow fruits and vegetables for themselves and their families. But Fleet Farming is taking food production to a new level by helping people convert their lawns into gardens so urban spaces benefit entire communities. The Orlando-based organization produces an abundance of wholesome food, teaches sustainable farming practices to minimize the impact of pesticides and fertilizers, and offers a variety of ways for community members to get involved with urban agriculture.
Educational institutions are often sources of innovation as researchers continue to study issues in their fields while passing their knowledge along to students. At the University of Central Florida, one area of focus is ecology and agricultural sustainability. Students can view ecological concerns firsthand at on-campus gardens and gain valuable experience with urban farming as a local solution to pressing global problems.
And students can gain that knowledge and insight thanks to UCF's partnership with Fleet Farming, a nonprofit urban agriculture program. The organization raises awareness about sustainable agriculture. And it helps people understand that growing food can help them save both money and the environment.
Fleet Farming is the brainchild of IDEAS For Us, an environmental solutions group based in Orlando. The need for action in the area of urban agriculture arose after the city fined a local couple for using their front yard as a garden. That conflict began a movement to make people aware of their ability to grow their own food.
Watch on
As a result, local ordinances now allow 60% of residential yards to be used for agricultural production. Fleet Farming was started in 2014 to advance the goal of establishing sustainable, localized agriculture in both urban and suburban communities.
"This is a right that we have — to use our land to grow food for us, just as many Americans have in the past," said Caroline Chomanics, Fleet Farming Program Manager. "We live in the Sunshine State. We should be having all of our food grown here."
Fleet Farming maintains and promotes community farming initiatives by helping people learn about agriculture and establish gardens. This practice ensures there's plenty of healthy food readily available in communities, and it contributes to ecological wellness in the heart of Florida.
IDEAS For Us: Finding Solutions to Sustainability Challenges
IDEAS For Us, Fleet Farming's parent organization, is a UN-accredited 501(c)(3) nonprofit. The concept for Fleet Farming arose from the IDEAS Hive, a think/do-tank that pursues issues in sustainability. The organization focuses on the five pillars of sustainability: food, water, waste, energy, and ecology. Fleet Farming is one of the most successful programs to emerge from the IDEAS Hive, as it advances sustainability in local communities and empowers neighborhoods to contribute to the area's ecological well-being.
One of the biggest threats to sustainability on a local scale is something we often overlook: lawns. Some 40 million acres of land in the U.S. is taken up by lawns, which also use 30-60% of urban freshwater. The process of maintaining a lawn contributes to the culture of fertilizing with heavy nitrogen and phosphorous; although these keep our yards looking green and healthy, they have a detrimental effect on the surrounding environment.
As Agro Services International's website explains, nitrogen converts into nitrites, which leach into the water supply and can have harmful effects on humans. Phosphorous, meanwhile, washes into large bodies of water, promoting the growth of algae, which in turn leads to large-scale die-offs of fish. Additionally, many homeowners use pesticides on their lawns, which kill insects that serve essential roles in the local ecological web.
Fleet Farming's solution to these problems is to convert lawn space into gardens of edible plants. The agricultural methods it employs helps minimize the need for fertilizers and pesticides, requires less work than maintaining a lawn, and provides delicious and nutritious food for property owners and their communities.
Urban Gardening Provides Food and Financial Security
Fleet Farming's approach was inspired by Curtis Stone, author of "The Urban Farmer." Stone himself follows a market gardening model, under which he advocates selling fresh produce at farmers markets and to small restaurants. Fleet Farming first adopted this approach in Orlando's Audubon Park Neighborhood.
The initiative expanded to 30 micro-farms in front and back yards of different neighborhoods, including Winter Park, Parramore, and Holden Heights.
Food produced in these micro farms is sold at SNAP-certified farmer's markets and to local Orlando restaurants. But Fleet Farming is less concerned with gardening as a means of generating revenue, focusing instead on agriculture as a form of community education.
"It's our mission to empower all generations to grow food," Chomanics said. "We can teach people how to do this at home. If we're going to make a difference, everybody needs to be involved. Everybody needs to be farming their own lawn. That's what we focus on right now."
At local schools, Fleet Farming helps children maintain gardens and harvest food to take home to their families. But the organization's expertise is also available to anyone interested in better understanding and succeeding in gardening. The organization teaches homeowners how to build healthy soil and use water-conserving drip irrigation systems, and how and when to grow specific crops.
For people who prefer a low-maintenance approach, Fleet Farming also teaches about permaculture — permanent, sustainable agricultural installations. These systems use earthworks to move water amongst fruit trees, berry bushes, and other ground-covering plants that enrich the soil.
"It's very low maintenance, usually," Chomanics said. "You can be the type of farmer that has your own manicured annual garden, or maybe your thing is fruit trees. People can come and find out what type of gardener they are."
Program Variety Gives Citizens Many Ways to Get Involved
Maybe you want to get started farming your own lawn, or perhaps you like the idea of urban gardening but can't commit the necessary time and effort. Or perhaps you live in an apartment but still want to get out into the community and improve it through sustainable agriculture.
Whatever your capabilities or goals may be, Fleet Farming can accommodate the needs and interests of everyone who wants to get involved.
Fleet farmlettes are lawns that have been converted from grass to urban farmland. Fleet Farming actively maintains these gardens and splits the food with the property owners. That is the primary model for helping communities learn more about sustainable agriculture.
The organization also offers a paid service called Edible Landscapes, which helps cultivate food-bearing plants in residents' yards. This avenue expands Fleet Farming's reach beyond the gardens it maintains. Workers will build raised beds and plant food forests as well as provide regular maintenance, and, in keeping with its mission, educate property owners on sustainability and urban gardening.
"We give you all of the seeds, all of the knowledge of how to take care of it, and we're always there if people need us," Chomanics said. "It allows us to help a lot more people without the constant pressure of having an active farm."
Those who want to pitch in, but don't have space for a garden, can support Fleet Farming's mission through Swarm Rides. On the second and fourth Sunday of each month, Fleet Farming travels to its farmlettes to harvest, seed, and maintain the gardens. Using bikes to move between plots further underscores important issues surrounding food and agriculture.
"Our food takes an average of 1,500 miles — or more — from farm to plate. That whole process of food production, distribution, transportation creates a lot of CO2," Chomanics said. "About 40% of our food is wasted and our planet is taking on the brunt of all of that."
Aside from easing the carbon burden of maintaining farms, Swarm Rides enables participants to see their neighborhoods in a new way: as sources of wholesome food and tools for mitigating agriculture's impact on the climate.
Seeking Local Solutions to Global Problems
In the space of five years, Fleet Farming has transformed more than 70,000 square feet of lawn space into farmlettes that have produced nearly 4,000 pounds of food and fed thousands of people in the community. But the group's mission is far from finished, and the efforts of IDEAS For Us are not limited to the garden.
The organization's shoreline restoration project targets the 6,000 retention ponds in Orange County. IDEAS For Us is working with ecological experts to transform the land surrounding these ponds into restored lake shores.
"We plant native plants, where people would typically just mow all the way down to the water's edge, to provide habitat for animals," Chomanics said. "We are also working on planting trees."
In addition to cultivating natural spaces, IDEAS For Us also directs its efforts into making urban settlement more sustainable, as well. One example is its solar panel installation pilot program, which provides hands-on, intensive solar workforce job training. Participants learn how to conduct site surveys, energy analyses, and install solar power systems. As of June 2019, it has certified 12 students, four of whom immediately gained employment.
According to the Bureau of Labor Statistics, solar infrastructure installation is one of the fastest-growing occupations in the United States, with expected growth of 105% from 2016 to 2026. The Brighter Futures program ensures not only a prosperous outlook for the environment but workers as well.
Urban agriculture is just one solution to one aspect of the more significant problems that IDEAS For Us seeks to address. Fleet Farming's approach enables people to gain knowledge and practical skills, get involved with manageable solutions to broader issues, and contribute to a healthier and more prosperous future.
Advertiser Disclosure
BadCredit.org is a free online resource that offers valuable content and comparison services to users. To keep this resource 100% free for users, we receive advertising compensation from the financial products listed on this page. Along with key review factors, this compensation may impact how and where products appear on the page (including, for example, the order in which they appear). BadCredit.org does not include listings for all financial products.
Our Editorial Review Policy
Our site is committed to publishing independent, accurate content guided by strict editorial guidelines. Before articles and reviews are published on our site, they undergo a thorough review process performed by a team of independent editors and subject-matter experts to ensure the content's accuracy, timeliness, and impartiality. Our editorial team is separate and independent of our site's advertisers, and the opinions they express on our site are their own. To read more about our team members and their editorial backgrounds, please visit our site's About page.