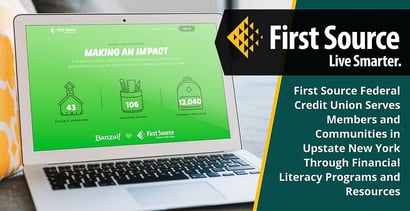 In a Nutshell: Credit unions often have reputations for being member-oriented, and First Source Federal Credit Union in Upstate New York is no exception. But First Source also exemplifies leadership by educating people in the communities it serves. Through its partnerships, First Source supplies financial literacy resources to help students and credit union members establish a solid financial foundation. These efforts are supplemented by a commitment to supporting local charitable causes by donating funds, supplies, and volunteer hours. By addressing local needs and educating the public, First Source does its part to ensure residents of Oneida and Herkimer counties enjoy the benefits of both personal and financial wellness.
Despite nearly two decades of attending school, I didn't receive an adequate financial education. In elementary school, I learned about denominations of coins and currency, and in high school I had economics, but no class addressed personal finance. I was expected to figure it out on my own.
As with many people, my first job out of college wasn't particularly high-paying, and the absence of money management skills strained my financial situation even further. Holidays were particularly rough. As each year came to an end, so did my budget, and meeting basic needs while also carrying on the spirit of the season became difficult — and downright stressful.
It could have been a different story had I had some basic financial literacy and money management training. The same is true for people across America, but states and school districts typically don't incorporate financial education. That means this important task falls to outside organizations that recognize the value of providing people with access to educational resources.
One organization that exemplifies that dedication is First Source Federal Credit Union, a financial institution that's picking up the slack in communities in upstate New York. First Source has a longstanding commitment to education. It was founded in 1938 as Utica Teachers Federal Credit Union to help educators secure credit during the Great Depression. Over the subsequent decade, First Source has never lost sight of that original mission.
"From our humble beginnings, we have grown into the credit union we are today. We serve Oneida and Herkimer counties, and we have over $500 million in assets and 46,000 members," said Katie Ullman, Marketing Manager at First Source. "As we continue to grow and implement new technologies, products, and services, it's important to stay true to our roots: who we are, where we came from, and having that educational mindset."
The heart of First Source's institutional mission is in community education and service to its members in need. To that end, First Source engages in community outreach and develops partnerships that help members and their communities access educational resources, make better financial decisions, and, ultimately, lead better lives.
Partnerships Bring Top-Tier Financial Education to the Public
In an April 2018 report, Forbes painted a grim picture of financial literacy in the United States. According to the article, 66% of Americans can't pass a basic financial literacy test, 44% don't have even $400 saved to cover emergencies, 38% of households are carrying credit card debt, and 33% of people have no money saved for retirement. In sum, financial education in the US is lacking, and that's bad news for everyone.
"The problem is, a lot of these schools are tasked with teaching financial education of some form, but there are no guidelines around it. It's not part of the core curriculum," Ullman said. "They have to figure out how they want to teach it on their own."
To support local educators, First Source has partnered with Banzai, an online financial literacy platform, to provide free educational materials to schools in its service areas. Banzai's age-appropriate modules help instill positive habits in young children, and expand the scope of that education as students get older and their needs become more sophisticated. The program is interactive and incorporates gaming elements, which keep children engaged and attentive to important lessons.
With Banzai's materials, there's no need to develop a curriculum, which saves schools and teachers time and money. The Banzai suite also includes a student roster and grading tool that further ease the teacher's workload. To date, First Source has supplied Banzai to 43 schools and helped educate around 12,000 students.
Watch on
Through its website, First Source provides access to Banzai Direct, a community-facing educational program. Unlike the academic product, Banzai Direct is designed to help adult users and families improve their financial literacy.
"It's so important to ensure that our community has the financial education resources and the basic knowledge they need," Ullman said of Banzai Direct. "It doesn't matter if you're a member. Anyone can visit our site and use it."
These Banzai products are front-facing and proactive as they can help people avoid making detrimental financial decisions. But for someone who has never had the benefit of adequate education, it's easy to stumble into a financial pitfall.
To help members who find themselves in tough financial situations, First Source has also partnered with BALANCE, a debt and budgeting guidance platform. Should First Source members find themselves facing considerable debt or poor credit, this partnership provides tools and information that will help them improve their situation and get back on the right track.
Community Events and Seminars Promote Strong Money Management Skills
First Source's commitment to teachers and students also extends beyond the Banzai curriculum and materials. The credit union supports learning through direct engagement with students in the classroom.
"Any teacher using our Banzai program in the classroom has the opportunity for us to come in and speak to their students," Ullman said. "After they've gone through the module, we'll send one of our financial service reps in to sit with the kids and go over whatever the teacher wants us to elaborate on."
These sessions can cover a variety of topics. Depending on the grade level, Ullman said they typically address the differences between credit unions and banks, how to budget responsibly, managing accounts, balancing checkbooks, the difference between credit and debit cards, and how to understand and maintain a good credit score.
First Source also hosts Financial Friday at the Utica Children's Museum. Inside the museum is a model Main Street with storefronts, one of which is a First Source minibranch.
On Financial Fridays, classes attend a lecture on money management, and, afterward, they're rewarded with a play paycheck that they can "cash" at the First Source minibranch.
Using their money, the students participate in a simulation of real-life financial management. They can choose to buy things at a store, donate to the community, and deposit their money at the minibranch.
"The kids have an absolute ball. When they come back to the branch at the end, if they have chosen to save, they get a chocolate coin which represents the interest they earned. That is the most exciting part for them — they get a bonus on their money," Ullman said.
Although First Source is active in reaching students, it doesn't cater specifically to youth education. One example is its participation in employee wellness days at companies.
"A lot of businesses are now taking that into account when they're thinking about wellness. It's not just physical wellness; it's financial wellness," Ullman said.
By educating the public, First Source helps people recover from financial hardships — and prevent them in the future. But, as with its investment in schools, First Source's concern for its communities goes well beyond financial education and into direct involvement with important issues and causes that affect the lives of members and residents.
Volunteerism and Charitable Giving Support Communities
First Source also recognizes other needs in its communities and works with a large number of nonprofits in its service areas. But the organization also takes a more personal approach to its involvement.
"We're not one to just write a check. If something is going on, we find out what that organization's greatest need is and how we can help," Ullman said.
Given the prominence of charity and philanthropic work in its service area, it's not surprising that First Source prioritizes on-site volunteerism and direct intervention at the community level.
"Even if we give to the American Heart Association or the American Cancer Society — and those are national organizations — we find out what we can do to directly impact our community through that organization," Ullman said.
First Source champions a variety of causes. Among them is the Stevens-Swan Humane Society, to which the credit union donates funds, needed items, and volunteer hours. Another is the National Center for Missing and Exploited Children's annual Ride for Missing Children, which raises awareness of child safety and wellness. And, in cooperation with the American Cancer Society, First Source helped to renovate the Wig Room, which provides a private space for chemotherapy patients to try on wigs.
These efforts benefit society as a whole, and they add to consumer confidence and trust in First Source as a financial institution. Ullman characterized First Source's charitable work as a win-win; the credit union's efforts show its invested in local communities and demonstrate its commitment to improving the lives of the people it serves.
First Source Provides Help When it's Most Needed
Like most Americans, I could have used some personal financial education classes before I got out into the workforce after college. But that education isn't just about learning budgeting skills or how interest rates work, some of it is understanding that borrowing money isn't a sign of instability.
"It's OK to need a little help once in a while, as long as you're educated about how to do it and don't get in over your head," Ullman said.
That is the rationale behind First Source's suite of lifestyle loans. These products can be used to finance personal and pet health expenses, fund travel or a vacation, or support a family during times of hardship. The most popular product in the line, though, is First Source's holiday loan.
"We have some people who just need a little bit to make the holiday season a little bit brighter. Sometimes it's as little as $500," Ullman said. "We do a fixed low-rate, 12-month term only available in November and December. We've had people tell us that we've literally saved Christmas. It's an amazing feeling."
Of course, the best way to ensure a joyful Christmas season is through careful budgeting and saving. In that spirit, First Source's next major educational push will be raising awareness about the importance of saving. This move is an extension of First Source's commitment to the well-being of the members it serves through financial products and community service.
"When they become a member, it is for life. It is a full relationship, and that's the way we look at it," Ullman said. "We tell people, 'Unlike a bank, we're not about Wall Street, we're about Main Street,' and it's important to us that our members can do the things they need to do. We work with them to help make all of those things happen."
Advertiser Disclosure
BadCredit.org is a free online resource that offers valuable content and comparison services to users. To keep this resource 100% free for users, we receive advertising compensation from the financial products listed on this page. Along with key review factors, this compensation may impact how and where products appear on the page (including, for example, the order in which they appear). BadCredit.org does not include listings for all financial products.
Our Editorial Review Policy
Our site is committed to publishing independent, accurate content guided by strict editorial guidelines. Before articles and reviews are published on our site, they undergo a thorough review process performed by a team of independent editors and subject-matter experts to ensure the content's accuracy, timeliness, and impartiality. Our editorial team is separate and independent of our site's advertisers, and the opinions they express on our site are their own. To read more about our team members and their editorial backgrounds, please visit our site's About page.