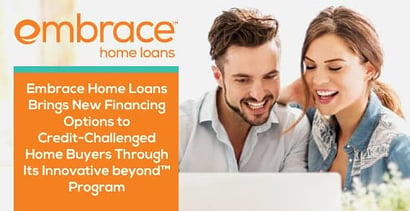 In a Nutshell: US homeownership rates peaked in late 2004 and early 2005, just prior to the 2008 financial crisis. Since that time, the rate of homeownership has fallen steadily until a recent rebound in late 2016 that has created some positive momentum. Embrace Home Loans is one company aiming to help more people achieve the dream of homeownership through its beyond™ mortgage program for borrowers who don't meet the guidelines for a conventional mortgage. Embrace is working to strengthen communities and the US economy by helping credit-challenged consumers struggling to get approved for a mortgage, including millennials and those still recovering from the aftereffects of the financial crisis, buy homes.
If you ask most people to describe their vision of the American Dream, chances are a majority of them would put homeownership near the top of the list. The security and safety of owning a home is certainly a comforting aspiration, and that's not to mention the benefits come tax time.
But perhaps the most measurable advantage to owning a home versus renting is the equity you're building for the long term. In fact, homeownership can be looked at as a built-in savings account; and for many people, it represents the bulk of their retirement savings.
Homeownership in the US peaked in late 2004 and early 2005 at a rate of more than 69%. And, of course, everyone knows what followed soon after that. Since the mortgage crisis and economic meltdown of a decade ago, homeownership rates had been falling steadily to a low of 62.9% in 2016. That's the lowest level since the US Census Bureau began tracking this data in 1965.
While homeownership rates have been recuperating, what this decline in homeownership levels means for the US economy is one of the hottest debates in consumer economics circles at the moment. However, one thing is clear: Large portions of the US population are still being impacted by the crisis.
With many potential homebuyers still facing obstacles to qualify for a mortgage loan, some companies, such as Rhode Island-based Embrace Home Loans, are stepping in to change that. Embrace has been a national leader in the mortgage industry since 1983 and is known for its innovative and non-conventional loan programs.
Parkes Dibble is Director of Mortgage Product Innovation at Embrace, and we recently spoke with him about the company's latest non-traditional loan program called beyond™, designed for borrowers who don't fit the guidelines for conventional mortgages.


"The beyond™ program is designed, in large part, for people who have been challenged by the financial crisis of the past decade," Dibble said. "As a retail lender, we think it's in our best interest to offer loans to folks we can partner with, who are looking to get into a house but otherwise couldn't. We think that will create opportunities for us down the road, as they continue to rehab their credit and get re-established again."
He went on to explain that interest rates tend to be higher for a mortgage in the beyond™ program compared to rates for a conventional loan, but borrowers can refinance at a better rate in a couple of years when their credit is re-established.
"If you look at it as a two- or three-year window where you have this higher rate, I think even there you find that the cost of ownership will significantly offset the higher interest rate on the loan," Dibble said.
How the Mortgage Crisis Still Impacts Today's Market
The mortgage crisis that rocked the US economy and developed into an international banking crisis that led to a global economic downturn known as the Great Recession has had a lasting effect on many American households. Even people who weren't directly impacted — think the millennial generation — suffered from the fallout. Even for those who have never owned a home, the psychological impact of watching housing prices collapse still resonates today.
Embrace believes anyone who wants to buy a home — and is in the financial position to do so — should be given an opportunity to do so. The benefits of homeownership are so rewarding that no one who wants to participate should be left out. Also, with the cost of rent skyrocketing in most parts of the country, owning can lead to substantial financial savings in a very short time.
"We see evidence of millennials starting to look and to buy because they're starting to see and compare the cost of renting versus the cost of homeownership," Dibble said. "It's a pretty compelling case that, if you can afford it, you ought to be owning a home."
Still, even if they can afford a down payment and monthly mortgage bills, many people have credit problems. Some consumers may still be repairing their credit following the recession, and others may be dealing with sudden financial shocks like medical bills or another emergency. These are the folks Embrace is looking to help through its beyond™ program.
The program is meant to help folks with low credit scores, who are self-employed or have complex tax returns, even those who have a foreclosure or bankruptcy in the past, Dibble said. And since Embrace is a non-agency lender, the requirements for private mortgage insurance (PMI) and restrictions on high loan-to-value (LTV) aren't as stringent.
"We're doing lower FICO scores and up to 90% LTV without mortgage insurance, so folks can get into a home with a little less money," Dibble said. "Also, we're going as recently as two years from an event like a foreclosure, a short sale, even a bankruptcy. Fannie Mae is generally at a five-year seasoning, or seven for a bankruptcy."
Giving Potential Homebuyers a Purchasing Advantage
Most people who are looking to buy a home in the near future know that it's a seller's market out there. Competition for houses in desirable areas is fierce, and any advantage a potential homebuyer can get is welcome. In its effort to get more people into homes, Embrace has recognized the competitive nature of the market and has come up with a program to help buyers.
The Approved to Move™ mortgage approval program allows buyers to go through a complete approval process before they select a home. That way, when the time is right and the perfect home presents itself, they'll have an advantage over other buyers. The loan amount is already underwritten, and all that's needed is an address.
"With Approved to Move, we're actually documenting income and assets, which basically says, if nothing changes in your profile, you've been approved and we'll close your loan as is," Dibble said.
Watch on
He elaborated that most purchase contracts have multiple offers, and somebody already approved for a loan has a significant advantage over other buyers. Embrace believes it's a way for borrowers to make an offer with the confidence that they're approved and can get the transaction done. It can add quite a bit of leverage for that offer with the seller.
What's Different This Time Around?
To the skeptics who ask: Wasn't it these very practices of helping credit-challenged individuals qualify for unconventional loans that got the economy into a financial mess in the first place? It's not the same at all, Dibble tells us.
"These are all fully documented loans; there's no such thing as stated loans. All the assets are verified," he said. "We're ensuring that the borrower is qualified and has the ability-to-repay. So these are good loans for the borrowers, good loans for Embrace, and good loans for the investors who are going to hold them for the long term."
He also made the point that prior to the crash, non-agency loans — or mortgages not backed by the federal government, i.e. Fannie Mae, Freddie Mac, FHA, or VA — accounted for 20% to 25% of the housing market. And while one could argue that this was too extended, they're at just 4% to 5% today. Dibble thinks somewhere between where we were then and where we are now is the sweet-spot, both to help the economy and to provide opportunities for borrowers.
"What we've seen in the loan performance since these types of loans have started to be made in the industry has been very good, with almost no delinquency," he said. "That's reason to believe that what we're doing is the right thing, both for helping borrowers and helping the economy."
Advertiser Disclosure
BadCredit.org is a free online resource that offers valuable content and comparison services to users. To keep this resource 100% free for users, we receive advertising compensation from the financial products listed on this page. Along with key review factors, this compensation may impact how and where products appear on the page (including, for example, the order in which they appear). BadCredit.org does not include listings for all financial products.
Our Editorial Review Policy
Our site is committed to publishing independent, accurate content guided by strict editorial guidelines. Before articles and reviews are published on our site, they undergo a thorough review process performed by a team of independent editors and subject-matter experts to ensure the content's accuracy, timeliness, and impartiality. Our editorial team is separate and independent of our site's advertisers, and the opinions they express on our site are their own. To read more about our team members and their editorial backgrounds, please visit our site's About page.