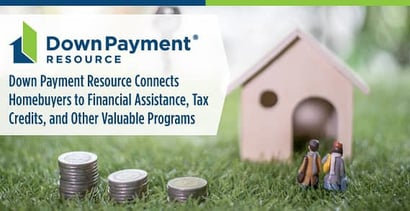 In a Nutshell: For potential homebuyers, saving enough money to make a down payment may seem like a monumental hurdle. Down Payment Resource connects buyers with programs that can help them meet this cost and begin enjoying the benefits of homeownership. Through DPR, first-time and repeat buyers can find programs, like grants and specialized second mortgages, that ease the upfront financial burden of a down payment. Thanks to DPR's simple search function, discovering these offers is as easy as providing a few financial and location details. And because these programs often require applicants to complete financial education classes, DPR helps them get a head start with course information and additional educational resources on its website.
For those interested in becoming homeowners, the thought of saving for a down payment is often a daunting prospect.
That's precisely the hurdle a single mother from Florida was facing; she had a solid income, but her savings didn't cover the required money down. At the same time, home prices were rising, and she was afraid that the longer it took her to save for the down payment, the more home prices would increase — requiring more time to save more money, and so on.
Luckily for this aspiring homeowner, her real estate agent used Down Payment Resource (DPR) to find the Florida Assist Down Payment Assistance program. This provided a $7,500 zero-interest deferred loan to cover the down payment and closing costs. That, along with an FHA loan, got the buyer and her two children into their very first home.
"A lot of buyers have self-selected themselves out of the market because they don't even know to ask about these programs or that they even exist," said Tracey Shell, Vice President and Director of Marketing Communications for DPR, a platform that connects homebuyers to programs that help them meet the initial costs associated with buying a home.
Florida Assist is just one of more than 2,500 programs DPR aggregates from across the nation. The site's team constantly researches and adds programs to the database, providing details, eligibility requirements, and the benefits of each opportunity.


"Before we existed, people had to go to lots of different websites," Shell said. "Our goal is to make that a super-easy process — to put all that information about what you might be able to qualify for in one place."
Like the aforementioned mother from Florida, many renters qualify for loans, but they lack the funds to make a down payment. DPR directs them to programs that may help them by providing down payment assistance. This makes buying a home more affordable and more financially feasible within a shorter time frame.
Owning a home has substantial benefits. Fixed-rate mortgage payments are more predictable (and cheaper) than rent, and certain homeownership expenses are tax deductible. Responsibly managing a loan improves the borrower's credit, and as the home's value appreciates, homeowners build equity they can draw on if needed.
In short, owning a home is typically a smart financial choice. And DPR can help qualified buyers find a program that puts homeownership within their reach faster if they were to tackle the process alone.
Programs Accommodate First-Time and Repeat Homebuyers
As noted, many renters may qualify for down payment assistance. These qualifications include meeting a minimum credit score and cash reserve. Additionally, the house they want to buy must be used as a primary residence and not as an investment property. Specific categories of homebuyers may benefit from other programs available for active military and veterans, firefighters and law enforcement, educators, and people in certain healthcare roles.
Many down payment assistance programs are reserved for first-time homebuyers, defined by the Department of Housing and Urban Development as someone who hasn't owned a home in three or more years.
This means some repeat homebuyers will qualify for these programs. However, 38% of programs listed through DPR don't have a first-time buyer stipulation. Moreover, 87% of homes are eligible for purchase with these assistance programs, meaning there are plenty of options for different types of people and properties.
Of the programs listed on DPR, 69% offer down payment assistance in two major categories. The first category is grants, which provide money to cover costs. Grants don't need to be repaid by the homebuyer as long as certain conditions are met.
Watch on
The other category is second mortgages, of which there are a few different types available. One is the repayable or soft second mortgage; this is a down payment loan delivered at closing, often (but not always) at 0% interest. Another is the deferred or silent second mortgage, which postpones repayment until a certain event occurs, such as refinancing or moving out of the home. Also available are forgivable second mortgages, under which some or all of the original assistance is forgiven, usually incrementally over several years.
DPR offers more information about these and other programs on its website. It also provides details on programs that target specific groups, making it easy for buyers to understand their options.
Intuitive Search Matches Buyers to Best Programs
To search DPR's database, homebuyers can conduct a broad search or enter a specific address to see which programs the property qualifies for.
"You can actually enter a city or a neighborhood or county — just go ahead and start typing in where you're searching for a home or where you'd like to live, and it will start pulling up those areas," Shell said. The more information a user provides, the more targeted their results will be.
Users can also see opportunities for the selected professions mentioned above, which carry varying benefits. "It might be an additional incentive, or it might be something different on the eligibility requirements. Something might be waived if you fit into one of these categories," Shell said.
After setting the search criteria, users will need to enter their name and email address. They will then be able to view their search results, which will also be emailed to them as a report they can share with their real estate agent and lender.
Each listing DPR returns will show the program name, the maximum benefit amount available it offers, and any other benefits the program carries. Users can choose to view more details on each, including the program provider, any mandatory homebuyer education requirements and who offers them, and contact information. It will also tell the user whether the program is currently funded.
"About 86% of the programs in our database currently have funds available for homebuyers," Shell said. "They're all funded at a different schedule. Some are perpetually funded, depending on how that program is structured. We keep all that current every month so you can make sure what you're looking at is available to you."
Search results are categorized and listed by type. Users will be able to see assistance programs, as well as deals on mortgages, tax breaks, like Mortgage Credit Certificates, and other offerings based on their case-specific details. Together, these options provide greater flexibility and help them find the loans and products best suited to their situations.
Education Prepares Homebuyers for Success
Many of the programs you can find on the DPR site require the homebuyer to complete a homebuyer education program. This may involve attending a class in person or completing one online. Specific requirements vary by program, but attendees can expect to learn about topics like budgeting, the buying process, paperwork they'll need to complete, and common concepts and terms unfamiliar to first-time homebuyers.
These courses are required for program applicants because educated buyers typically enjoy greater long-term success than those who do not receive the necessary financial education. This sort of specialized knowledge is best applied when still fresh in someone's mind, so there are time constraints on how recently a buyer must have completed the course when applying to a program.
"In most cases, you can front load that information. You can start working on your application, and you can start doing your education — whether it's online or in person — so you have it ready," Shell said.
Buyers can find approved education providers on each program result. When they click "learn more" under a specific program, they can then find a link to approved homebuyer education providers for that program.
Making Homeownership Easy and Affordable
Consumers take on one of the biggest debts of their lives when they buy a home. And for most people, getting a second loan just to cover the down payment may seem like an uncomfortable amount of debt. But down payments are cheaper than you may expect.
"The average that a first-time homebuyer puts down is 7%," Shell said. The assistance programs listed on DPR are compatible with FHA, VA, USDA, and conventional loans, giving homebuyers even more options for affordable financing.
With the advantages of low down payments and the reasonable rates and conditions of assistance programs, buying a home is a realistic and achievable short-term goal for many people. And buyers can further shorten their time until closing by starting research and educational courses early.
DPR makes it easy to get started on the entire process by matching users to loans that fit their situations and needs, and by providing them with resources to move forward quickly — all of which helps them get into their new homes faster and start enjoying the personal and financial benefits that homeownership provides.
Advertiser Disclosure
BadCredit.org is a free online resource that offers valuable content and comparison services to users. To keep this resource 100% free for users, we receive advertising compensation from the financial products listed on this page. Along with key review factors, this compensation may impact how and where products appear on the page (including, for example, the order in which they appear). BadCredit.org does not include listings for all financial products.
Our Editorial Review Policy
Our site is committed to publishing independent, accurate content guided by strict editorial guidelines. Before articles and reviews are published on our site, they undergo a thorough review process performed by a team of independent editors and subject-matter experts to ensure the content's accuracy, timeliness, and impartiality. Our editorial team is separate and independent of our site's advertisers, and the opinions they express on our site are their own. To read more about our team members and their editorial backgrounds, please visit our site's About page.