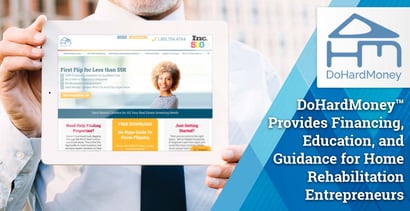 In a Nutshell: DoHardMoney provides funding for people who want to generate income by purchasing, rehabilitating, and selling houses. Home flipping and rehabilitation ventures come with risks, but DoHardMoney loans represent a way to break into the business — even without perfect credit. The loans are based on the value of the property, which makes them more accessible to those without large down payments or perfect credit. DoHardMoney also guides borrowers through the process of finding, funding, fixing, and flipping distressed properties.
DoHardMoney is a lender on a mission to help people improve their financial situations by funding home rehabilitation real estate investments. Its Find-Fund-Flip System provides not only loans but also education for people to rehab and sell houses.
One of its most impactful success stories is that of a man we'll call Fred. He was laid off from his job and was behind on house and loan payments, and facing bankruptcy. But he got a lifeline when a friend in real estate found a prime fix-and-flip property.
Fred had no experience in home selling, but he was pretty handy with home repair. So he went to DoHardMoney and secured a loan based on the after-rehab value (ARV) of the house — rather than on his finances or credit score. With that funding, Fred flipped the house and sold it for a $20,000 profit, which enabled him to pay off his creditors and get current on his mortgage.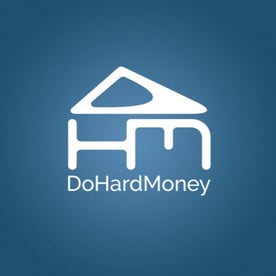 "We will fund up to 100% of the cost of doing the deal, up to 70% of the ARV," said Ryan G. Wright, CEO and Founder of DoHardMoney. "That could include the purchase price and all of the rehab costs. It can also include your origination, payments, interest, and all of the fees. You may not need to bring any cash to closing at all."
It's important to note that these loans aren't free money, and the job of flipping houses requires hard work, dedication, perseverance, and risk tolerance. But for motivated individuals, like Fred, who find themselves in tough financial situations, DoHardMoney can provide the funding necessary to break into the potentially lucrative career of home rehabilitation and sales.
The lender also offers a wide variety of resources — including an informative podcast — to help borrowers understand the industry and make the most of their loans and profits in the long term.
The Reality of Home Rehabilitation You Won't See on TV
Many people have seen fix-and-flip shows on TV that make the process look almost effortless. However, that is primarily due to the magic of film editing. Home rehab can be an intensive task.
"A lot of new investors watch these fix-and-flip shows, which are the bane of our existence here because they're not realistic. They confuse home renovation and home improvement with rehabbing a property to get it ready to sell," Wright said. "Everyone wants to take a sledgehammer to a wall. Who doesn't? It looks fun."
The reality is that fixing and flipping is a serious commitment that entails risk, a lot of hard work, and a high level of professionalism. It is, at its core, a business venture, and anyone undertaking it should treat it as such.
"Just because we're showing a system that works doesn't mean that it's going to be seamless every time," Wright said. "Businesses don't work perfectly every time."
In the home-rehab industry, people need to prepare themselves for the inevitable setbacks. They also need to commit to doing the job right, hiring licensed contractors, using quality materials, and refraining from cutting corners. The goal isn't to just get the job done quickly but instead to do the work necessary to raise the property's value. Additionally, home rehabilitation entrepreneurs may need to fund some of their efforts out of pocket.
"You have to pay for your own advertising, taxes, attorney's fees, and things like that. When we offer 100% financing, that doesn't mean we're covering everything that it takes to run your business," Wright said. "Somebody might do 100% financing of the car you buy, but they're not paying for your gas."
But even with those caveats, home rehabilitation can be a route to financial success and security. And funding through hard money loans makes it an accessible option even for the cash and credit poor.
Hard Money Loans Even for Those with Poor Credit
Hard money loans are short-term loans used primarily in real estate transactions. They are based on the value of the property purchased — a hard asset — rather than on the borrower's finances and credit history.
Equally beneficial is the fact that DoHardMoney borrowers may qualify for low- or no-cash-down loans. That means that they won't have to spend any money out of pocket to purchase the property.
Borrowers also do not need a minimum credit score to qualify, nor do they need to furnish any financial statements. Additionally, DoHardMoney loans require no monthly payments for the five-month terms and have no prepayment penalties. Borrowers can even receive interest back when they pay the loan off ahead of time.
Watch on
Hard money loans do carry risks, including the loss of collateral if the project doesn't work out. But for individuals willing to accept the risks, the loans present an option to earn extra income and improve their financial situation by buying, flipping, and selling homes.
"Last year, our average per borrower who did a deal with us was $38,578 profit. That is after everything's paid," Wright said. "About one in four of our borrowers needed to bring less than $2,000 cash to close. And one in five needed to bring $500 or less."
Wright said that borrowers can even fund those costs with a personal credit card, and DoHardMoney has partners that can extend business lines of credit to cover closing costs, providing home-rehab entrepreneurs with options for satisfying the initial investment.
Find-Fund-Flip System Helps Borrowers Understand the Rehab Process
Despite its potential benefits, the rehab process can seem intimidating, and newcomers certainly face a learning curve. To help them, DoHardMoney offers tools that teach borrowers how to plan and budget projects, market flipped houses, and estimate their profit margins — not to mention how to find investment properties.
The Find-Fund-Flip system targets deeply discounted properties offered by motivated sellers. These include homes facing foreclosure or tax liens, rental properties whose owners have grown tired of managing them, and families who inherit a property in need of more work than they want to put in.
DoHardMoney's team of in-house specialists analyzes those types of properties and determines which ones are worth the attention and effort.
"Once you've found a property, we go over the numbers with you," Wright said. "If the numbers look good, we send out evaluators. And these evaluators will be real estate professionals who live and work in the area. They view the property and look at the comps. They know that market, and they help come up with the ARV."
DoHardMoney will only fund projects that will yield at least $10,000 in value. Once the house is approved and the deal goes through, Do Hard Money provides experienced construction project managers to help keep the project on schedule and on budget.
The company also hosts an informative blog that covers topics related to every step of the Find-Fund-Flip process. These include valuing properties, achieving funding, managing projects, and selling the rehabilitated property. It also includes tips on what to do — and what not to do — at every step to avoid setbacks and realize a return on investments.
DoHardMoney: Helping People Improve their Financial Lives through Real Estate
After Fred fixed and flipped that first property, he found himself in a much more stable financial situation. Motivated by his first success, he secured another DoHardMoney loan for a new property, which he renovated and sold for a $15,000 profit. By pursuing this new line of work in home rehabilitation, Fred has managed to double his annual income.
DoHardMoney helped Fred gain the experience and education he needed to pursue a career in real estate rehab. With that knowledge and his improved financial situation, Fred also qualifies for better terms on his loans, making the fix-and-flip process even more lucrative.
But income is only one component of financial security, as Wright is quick to point out. Earning money by flipping houses is a great prospect, but Wright said that what you do with the money you've earned is equally important.
To help people with that part of the equation, he launched the Income Hacker podcast.
"It's a whole philosophy of how to gain financial independence, earn financial freedom, and the real estate arm is just a portion of that," Wright said. "All these different ways, these hacks, to help yourself. It's not just real estate investing, but how do people learn to make the most of their finances so that they can have the wealth and freedom to do what they want?"
Advertiser Disclosure
BadCredit.org is a free online resource that offers valuable content and comparison services to users. To keep this resource 100% free for users, we receive advertising compensation from the financial products listed on this page. Along with key review factors, this compensation may impact how and where products appear on the page (including, for example, the order in which they appear). BadCredit.org does not include listings for all financial products.
Our Editorial Review Policy
Our site is committed to publishing independent, accurate content guided by strict editorial guidelines. Before articles and reviews are published on our site, they undergo a thorough review process performed by a team of independent editors and subject-matter experts to ensure the content's accuracy, timeliness, and impartiality. Our editorial team is separate and independent of our site's advertisers, and the opinions they express on our site are their own. To read more about our team members and their editorial backgrounds, please visit our site's About page.