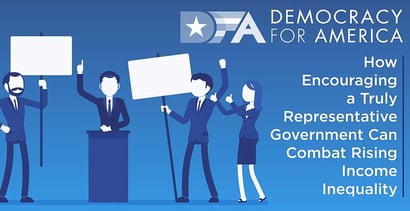 In a Nutshell: Income inequality in America has reached levels unseen since before the Great Depression. Democracy for America is a political action committee working to combat income inequality through a number of tactics, including supporting diverse political candidates. The organization's push for income equality includes such key factors as fighting for a minimum wage of $15 per hour and addressing the student loan debt crisis. We spoke with Democracy for America's Communications Director Neil Sroka to find out more about the organization and its mission to strive toward seeing a truly representative U.S. government.
In his 1821 essay, "A Defence of Poetry," Percy Bysshe Shelley wrote, "The rich have become richer, and the poor have become poorer."
The sentiment captured in that line continues to resonate, and nearly 200 years later it has become the common adage, "the rich get richer and the poor get poorer."
It's human nature to feel a sense of injustice when you think about how hard you work and how much money you bring home — especially when you see celebrities and politicians living a posh life on TV and social media.
But, those feelings are justified, according to Neil Sroka, the Communications Director of Democracy for America, a progressive political action committee.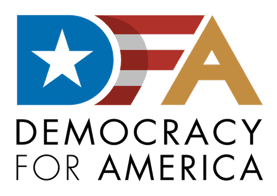 Sroka said the issue of income and wealth inequality is a very real issue in America, and it is crucial for the future of the country to address it now.
"There's no doubt that things are radically out of control when the richest 1% of Americans hold 38% of the wealth in this country and actually own more than the bottom 98% combined," he said.
Sroka said that, 400 of the wealthiest Americans held more wealth than half of all Americans combined in 2011. And it's only gotten worse in recent years, particularly under the Trump administration, he said.
"The truth is we haven't seen these levels of wealth and income inequality rise to levels like this since prior to the Great Depression," he said. "The real challenge is where income inequality and wealth inequality connects with racial inequality."
Sroka said there is a long history of financial segregation in the U.S., in part, because people of color have historically had less access to banking and other financial services.
That's why Democracy for America is fighting to enact change by supporting efforts to elect what it calls the New American Majority — people of color and white progressives — to government positions.
"We're a grassroots organization with about 1 million members across the country," Sroka said. "Our mission is building and empowering a broad coalition of grassroots activists and organizers to elect the New American Majority to fight for inclusive populism at all levels of office in all 50 states."
He said Democracy for America endorses and supports candidates through a variety of means, including efforts to raise funds, making phone calls, and knocking on doors.
Reducing Poverty Levels by Fighting for a Living Wage
For nearly 10 years, the national minimum wage has been $7.25 despite inflation rising by 17.10% during the same period.
"Fighting for an increased minimum wage is probably one of the most important things we can do right now," Sroka said. "Not only because it ensures that the millions of Americans that are working in minimum-wage jobs get an increase, but it sets the stage for wages across the country for workers at all levels."
Democracy for America advocates for a minimum wage of $15 per hour as one of its primary action items in addressing income inequality. The organization strives to build an economy that works for everyone, not just the most wealthy, and this will come from fostering a strong and stable middle class.
Sroka said nobody should have to work 40 hours a week and earn a poverty-level wage, which is currently the case. He said rent prices are soaring in urban communities across the country and in some areas a person earning $12 per hour can't even afford to rent a two-bedroom apartment.
Sroka said many Republicans argue against raising the minimum wage because they claim that only teenagers hold minimum wage jobs when that is simply not the case. Millions of Americans are working one, two, or three minimum wage jobs just to make ends meet.
"That shouldn't be the case," he said. "We're the richest country in the world. Frankly, we're the wealthiest country the world has ever seen, and the idea that anybody should have to work more than 40 hours a week to put a roof over their heads, feed themselves, and make sure their children are healthy and well-educated is appalling."
Access to Affordable Education Will Set Future Generations Up for Success
Another primary focus of Democracy for America's fight for income equality revolves around the pressing student debt issue and access to affordable education.
Forbes reported last year that the $1.5 trillion student loan debt in the U.S. is second only to mortgage debt — even higher than credit card debt and auto loans. Between 2007 and 2017, student loan debt increased by 150%, and consumers, major media outlets, and even U.S. Department of Education Secretary Betsy Devos has declared the situation a crisis.
"Right now, we have a system that is saddling people with unfathomable debt and not setting the country up for success in the future," Sroka said. "If people struggle to go to college and pay student loans, they can't do other things like buy houses, buy vehicles, or get married."
He said many millennials are delaying or altogether forgoing historically big life events, like becoming a homeowner or getting married because of their student loan debts.
Democracy for America takes the stance that everyone should have access to a high quality, pre-K through secondary education that continues with an array of postsecondary opportunities. For some, that might be a college path, and for others, it might be a quality trade school.
"A couple of centuries ago, the concept of free education for children was absurd, but we do that today because we needed to do it to thrive," Sroka said. "Today, we need to do it for postsecondary education so we can continue to thrive in the 21st century."
He said a majority of the industrialized world offers free or very affordable access to postsecondary education, and it's vital for the U.S. to get on board with this concept.
Fostering Government Demographics That are Truly Representative of the People
Attaining a government that's composed of representatives from a diversity of backgrounds and ethnicities is a key tactic Democracy for America advocates to effect change.
"The people that run our country should look like the people who live in our country," Sroka said. "If we don't have people with a range of life experiences in government, it's going to be very hard for them to give us the government that the people need."
He said the 2018 midterm elections were very exciting because the nation saw an unprecedented number of women, people of color, and people from diverse socioeconomic backgrounds joining Congress and other government positions.
"If the government is run by old, white, rich males, then we get policies that are tilted toward old, white, rich males," Sroka said. "We need to make sure everyone has a real chance to be a leader in government."
The current system gives an overwhelmingly large voice to the wealthy and powerful because to run for office, politicians must raise "ungodly sums of money," Sroka said. Supreme Court rulings like Citizens United paved the way for the super wealthy to contribute nearly unlimited amounts of money into elections, which in turn drives election costs up even further, he said.
"The sheer level of money that courses through our elections makes it that much more difficult for people who don't have economic means — people who have historically been excluded from government — to gain access to the process," Sroka said.
Democracy for America Fights for a Host of Other Issues to Enact Change in the U.S.
The fight against income inequality is only one of a number of issues central to Democracy for America's mission.
Racial and social justice is another major issue the organization takes on, and it is closely tied to income inequality in the U.S., according to the group's website. Other major issues for Democracy for America include getting corporate money out of politics, holding Wall Street accountable, and fighting to prevent reckless wars.
All of these goals are more easily reached when the country sees a truly representative government made up of the kinds of people it seeks to represent, Sroka said.
Advertiser Disclosure
BadCredit.org is a free online resource that offers valuable content and comparison services to users. To keep this resource 100% free for users, we receive advertising compensation from the financial products listed on this page. Along with key review factors, this compensation may impact how and where products appear on the page (including, for example, the order in which they appear). BadCredit.org does not include listings for all financial products.
Our Editorial Review Policy
Our site is committed to publishing independent, accurate content guided by strict editorial guidelines. Before articles and reviews are published on our site, they undergo a thorough review process performed by a team of independent editors and subject-matter experts to ensure the content's accuracy, timeliness, and impartiality. Our editorial team is separate and independent of our site's advertisers, and the opinions they express on our site are their own. To read more about our team members and their editorial backgrounds, please visit our site's About page.