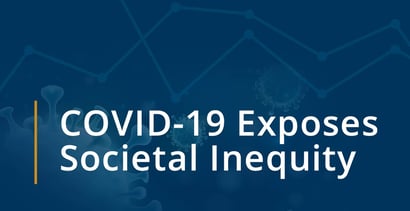 In a Nutshell: The COVID-19 pandemic has caused major upheaval in the U.S. and around the world. Not only have more than 164,000 Americans died from the virus, but the pandemic has also exposed existing inequities in society like never before. To learn more about this issue, we spoke with Tina K. Sacks, Ph.D., an Assistant Professor in UC Berkeley's School of Social Welfare. Sacks discussed how people in lower socioeconomic brackets are more likely to be impacted by the pandemic and how COVID illuminated long-standing cracks in the infrastructure when it comes to social policy, health care, environmental practices, and more.
We're barely halfway through the year, and there's no doubt that 2020 will be one for the history books. The world has spent most of these eight months grappling with the COVID-19 pandemic, and, in the U.S., the future of democracy itself is in question.
In the early days of the pandemic, which was only a few months ago, many called COVID-19 the great equalizer. As the novel coronavirus spread across the U.S., it seemed that no one was safe from its reaches.
Staying at home, social distancing, and wearing a mask became the new normal. For some, anyway. Many Americans had no options to work remotely or, in some cases, to even stay six feet away from their co-workers.
It soon became clear that rather than being an equalizer, COVID-19 was shining a light through the cracks of a broken system. Lower socioeconomic populations were not only disproportionately testing positive for the virus, but their daily lives were impacted in bigger ways.
We recently spoke with Tina K. Sacks, an Assistant Professor at UC Berkeley's School of Social Welfare, to learn more about these pressing issues. Sacks has a Ph.D. in social welfare and social work, and her resumé includes a stint at the Centers for Disease Control and Prevention where she worked at the intersection of public health and social science.
The UC Berkeley School of Social Welfare strives to transform the systems that perpetuate poverty and social disadvantage, according to the school website.
"We essentially are interested in understanding and intervening across a whole range of different kinds of social problems," Sacks said. "From mental health problems to school problems to all of the broader social justice issues. We train people to work in hospital settings to be medical social workers, school social workers, clinical social workers."
Those in Lower Socioeconomic Brackets are More Susceptible to Health and Economic Crises
Of course, it's no secret that people who earn less tend to be at higher risk for a multitude of health issues and even have a lower life expectancy. But the COVID-19 pandemic has helped to underscore this societal imbalance in a big way.
Sacks discussed just how people in lower socioeconomic brackets tend to be at a greater risk for health and economic challenges, particularly in today's climate.
"One of the biggest things that we see with this pandemic is the disproportionality," she said. "We see that many people are absolutely unable to work from home, who we describe as essential."
Many people who hold these essential positions are in low-paying jobs that society tends to look down upon, yet they are responsible for literally keeping our society going. This includes garbage collectors, maintenance workers, child care providers, and service industry employees, she said.
"These people really have enabled us to survive this thing, but many aren't in an industry where they have paid sick leave, for example," Sacks said. "If they get sick they might feel like they had to go to work because they wouldn't be paid otherwise. And missing a day of work can mean the difference in making your rent or not."
This means workers in low-paying jobs would be more likely to go to work, even if they knowingly or unknowingly had COVID-19, and potentially spread it to co-workers.
This plays into the notion of unavoidable proximity, the opposite of social distancing recommended by health care professionals and scientists. For those in lower socioeconomic brackets, that not only means having to go to work, but proximity can be an issue at home as well.
"If you're living in a situation that's very dense — perhaps you don't have your own room or your own bathroom — the likelihood of spread in those conditions are just much greater than if you had a bigger space and you could actually isolate within your own home," Sacks said.
Environmental racism is also at play.
"Low-income people of color — black people, Latinx people, and Native people are much more likely to live in areas with very poor air quality — areas in which they're exposed to more airborne particulate matter — which makes their lungs more susceptible to something like COVID or complications from COVID," Sacks said.
COVID-19 Illuminated Existing Inequities in Society
"It seemed that in the general discourse the idea was, 'It's a pandemic, we're all going to be affected by this; we're all in this together,'" Sacks said. "And then, of course, as it turns out on the ground it ends up being quite different."
Rather than affecting people similarly, COVID-19 exposed many inequalities that already exist, including housing, access to health care, employment, neighborhoods, and housing density or how many people are living in a household, she explained.
"All of those things affect people disproportionately, and so what we see with the pandemic is that it exposes inequalities that are already there," Sacks said.
This includes structural inefficiencies in environmental and social policies, such as sick leave, health insurance, and child care.
"It's a huge challenge," Sacks said. "If we really had a fully functioning health care infrastructure in place, and it was not so deeply tethered to employers and employer-sponsored coverage, we would have had much different outcomes in this pandemic."
The defunding of the public health infrastructure began at the local and state level 20 to 30 years ago, she said, which has caused major problems when it comes to testing capacity and contact tracing capacity.
"We could have gotten ahead of this, but all of that was deeply diminished well before COVID," Sacks said.
She also addressed the digital divide between middle- and upper-class residents, and those in low-income households. Many people don't have access to functioning computers or reliable internet access, which eliminates them from even having an option to work remotely. And the same applies to children who may be able to learn more safely from home.
Sacks said people have and will continue to have their mental health impacted by the pandemic, particularly lower socioeconomic residents.
"The economic aspects dovetail with the mental health aspects," she said. "And you have so many people who are so economically precarious right now. And then you add on top of that social isolation, you have a recipe for disaster for people's well-being."
While short-term loans or credit cards may help some people stay afloat during the pandemic, many people in low-income situations are relegated to subprime borrower status, which makes it even more challenging to secure loans or credit cards.
Learning from Today's Shortcomings Can Help Shape a Better Future
"Obviously, this is a global tragedy. So many people have lost their lives," Sacks said. "To honor those people's lives, I think it's really important to think about how we might be able to grow from this and actually change for the better."
For the U.S., that means developing a rational social policy and to address some of the structural problems that have exacerbated what is happening, she said.
"What I mean by that is, let's actually take this as an opportunity to really think about the way we distribute healthcare resources in this country, both public health resources as well as health insurance," she said. "Thinking about child care policy, sick leave policy, all of these kinds of things. We really need a rational social policy in this country."
Sacks cites author Arundhati Roy who compares the pandemic to a portal.
"If we go through that portal perhaps we could mitigate these kinds of horrible things from happening," she said.
Sacks said that another striking aspect about the whole scenario is the relationship between the pandemic and global climate change.
"I do think that this is a zoonotic disease, this came from animals," she said. "One of the reasons that we see many more zoonotic diseases breaking through now is because of habitat erosion and climate change."
People are living closer to animals which makes it easier for diseases to jump species.
"So now we're living this new normal," Sacks said. "And the relationship between climate change and pandemics has to be talked about more, and I don't see it being talked about very much in the United States."
Advertiser Disclosure
BadCredit.org is a free online resource that offers valuable content and comparison services to users. To keep this resource 100% free for users, we receive advertising compensation from the financial products listed on this page. Along with key review factors, this compensation may impact how and where products appear on the page (including, for example, the order in which they appear). BadCredit.org does not include listings for all financial products.
Our Editorial Review Policy
Our site is committed to publishing independent, accurate content guided by strict editorial guidelines. Before articles and reviews are published on our site, they undergo a thorough review process performed by a team of independent editors and subject-matter experts to ensure the content's accuracy, timeliness, and impartiality. Our editorial team is separate and independent of our site's advertisers, and the opinions they express on our site are their own. To read more about our team members and their editorial backgrounds, please visit our site's About page.