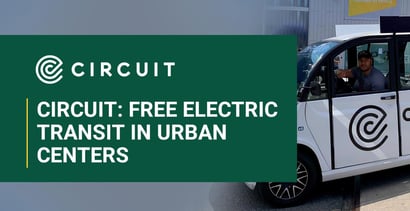 In a Nutshell: Circuit supplements mass transit and offers an alternative to ride-hailing apps, and it does so at no cost to riders or the environment. Its fleet of electric vehicles provides city residents with free shuttle rides, reducing traffic congestion and emissions in urban areas. The service partners with advertisers and local governments, and unlike ride-hailing services, all drivers are hourly-wage Circuit employees — not independent contractors — which ensures a higher level of service and a commitment to rider safety.
As natives of East Hampton, New York, Alexander Esposito and James Mirras were familiar with the difficulties of parking at the beach on weekends — namely, there wasn't enough of it. An underused lot 1.2 miles away was too far to make parking there and walking to the beach convenient.
So, Esposito and Mirras had the bright idea to provide a ride service to and from the lot, which reduced congestion and improved air quality around the beach. But the real stroke of brilliance was figuring out how to do it for free and with zero emissions.
That was the start of a potential transit revolution called Circuit that has applications well beyond East Hampton.


"Our secret sauce is offering a turnkey solution to our transit partners," said Esposito, Co-Founder of Circuit. "There are a lot of companies that either have ride-sharing apps or can manage fleets, vehicles, and teams of drivers. We can do both."
Circuit drivers are paid hourly wages and circumvent fuel costs and reduce maintenance and insurance costs.
And Circuit's value for the environment is obvious. Its electric vans shuttle people short distances within an urban core or neighborhood, which means fewer vehicles on the road and lower emission rates. Circuit's service also provides easy connections to mass transit, which can ease the ecological impact of transportation in the long run.
Circuit currently operates in cities in New York, Florida, Texas, and California, and the results speak for themselves.
"In Hollywood, Florida, in January 2020, we had more than doubled the ridership of the old bus, and our service cost about 30% less than that bus," Esposito said. "And we've created more jobs and reduced all the emissions of the buses there."
Free Rides Help Commuters Cross the Last Mile
Circuit focuses on local travel, specifically trips up to two miles. But according to Esposito, those short trips account for one-third of all transit in the United States. Those brief trips aren't always accommodated by mass transit systems, making Circuit a much-needed supplement to public transportation.
"We don't want to compete with trains and buses," Esposito said. "I think they're the best way to reduce traffic. But you need to make it easy for people to get to them so they don't just drive themselves or use one of the ride-hailing apps."
Circuit offers free rides to nearby destinations, including transit hubs that allow people to make longer trips. Its particular niche is the last mile — the distance from a transportation hub to a destination.
"We found that 0.6 miles is this tipping point that becomes a transit desert where people don't want to walk," Esposito said. "It's that 15-minute walk that people don't want to deal with."
But that is where Circuit thrives, especially because it offers its service free to riders thanks to funding by cities, transit authorities, and by advertisers. The nine-person vans display car-wrap advertisements and sometimes offer free product samples from companies looking for creative ways to connect with consumers.
"They're blending outdoor media or billboard-type marketing with a brand engagement focus where the riders actually receive something from the brand," Esposito said.
Revenue from those partnerships enables Circuit to offer its service free of charge to riders. And for some consumers, it is a welcome alternative to taking out an auto loan and accruing debt to drive a few miles to work or the bus stop.
Ride-Sharing Saves Money and Reduces Congestion
Circuit said it doesn't want to compete with mass transit systems. Instead, it is a supplement to those systems that helps them operate more efficiently. And besides saving on emissions and consumer car loans, Circuit can also help cities.
For example, bus networks require a significant investment in infrastructure: buying vehicles, hiring drivers, and building bus stops, among others. It's more costly to a city to keep operating buses when they're not generating revenue. That expense is calculated in cost per rider, which is the cost of operation minus ad revenue and fares, with the difference divided by the number of riders.
Watch on
"I think, historically, too many people have focused on the numerator — let's either cut costs or raise fares," Esposito said. "We've always looked at the denominator, and if we have a lot of people using our services, we can make it a delightful experience. Then we are achieving the same result without incorporating the fare."
"We use the analogy, 'Why have three caterpillars when you can have 20 ants?' You might think that causes more traffic, but you only have to run all 20 ants if it's busy. Otherwise, we can make more granular adjustments than you would with a bus," he said.
Circuit — available on iOS and Android — uses an algorithm to organize efficient routes that pick up and deliver multiple riders along the way. That is in sharp contrast with ride-hailing services, whose vehicles are empty half the time.
"A ride-share vehicle causes more traffic because that driver was driving an empty car to come get you, and he's going to drive an empty car to go get his next passenger," Esposito said. "So unless those rides are shared, you're creating more traffic."
A Commitment to Safety and Sanitation
All Circuit drivers are W-2 employees, not independent contractors, as they are with other ride-sharing apps. That enables Circuit to exercise greater quality control and ensure better service for its riders.
"We always try to hire locally, so we're creating local jobs in our communities. And there's a very good chance that, if you ride the service numerous times in the same market, you're going to run across the same drivers," Esposito said. "It has a little bit more of a school bus feel in that you know your drivers. We focus on the community, and I think that's been a great way for us to show the value and the flexibility of the service."
With the COVID-19 in the United States, Circuit initially ceased its pooling procedure to minimize contact between riders and stem the spread. But it has since returned to its pooling model but with certain safety precautions in place.
Vehicles are cleaned and sanitized three times each day, and only one party can occupy a single row – vehicles have three. Additionally, all riders have their own doors, which allows them to avoid close contact with other passengers.
Circuit: Reimagining Car Culture to Reduce Emissions
Besides saving people money in transportation costs and expensive auto loans, Circuit is also saving the planet. Its New Rochelle operation, for example, succinctly illustrates the electric fleet's impact on air pollution. In Circuit's first year of operation in the city, emissions dropped by 17 metric tons representing 38,000 vehicle miles. And the company accomplished that with only three vehicles.
The New Rochelle program recently received the Clean Air New York Champions award. It is also a finalist in the Accelicity competition, which recognizes startups that address sustainability issues. But Circuit's efforts are also being recognized by riders.
"I think it's great to see that some of the riders are also waking up to the fact that their behavior can make a difference in the environment, too," Esposito said, drawing an analogy with bans on plastic straws. "Everyone realized you don't need a straw, and by cutting straws out of your life, you can make an impact on the pollution in the ocean. But I've run into a lot more traffic than I have straws in the ocean, personally."
America has had a long love affair with cars. One of Henry Ford's goals was to mass-produce cars so cheaply that his employees could afford to buy them. That made automobiles extremely accessible to Ford workers and the public at large. In the 1950s, the Eisenhower interstate system — although designed as potential wartime infrastructure — enabled Americans to travel the country, making the car a symbol of freedom and American pride. It also heralded the age of car loans and financing.
For nearly a century, people have seen cars as a way of life. But now, many companies realize that the old way is detrimental to the planet. Circuit is finding new solutions.
"I think now people understand that traffic is getting really bad and that if even just a percentage of us can make more conscious decisions, we can make a significant difference in the environment," Esposito said.
Advertiser Disclosure
BadCredit.org is a free online resource that offers valuable content and comparison services to users. To keep this resource 100% free for users, we receive advertising compensation from the financial products listed on this page. Along with key review factors, this compensation may impact how and where products appear on the page (including, for example, the order in which they appear). BadCredit.org does not include listings for all financial products.
Our Editorial Review Policy
Our site is committed to publishing independent, accurate content guided by strict editorial guidelines. Before articles and reviews are published on our site, they undergo a thorough review process performed by a team of independent editors and subject-matter experts to ensure the content's accuracy, timeliness, and impartiality. Our editorial team is separate and independent of our site's advertisers, and the opinions they express on our site are their own. To read more about our team members and their editorial backgrounds, please visit our site's About page.