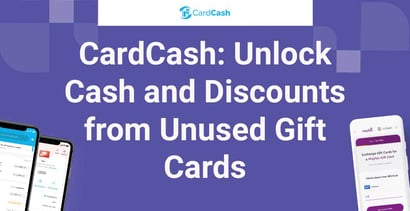 Experts share their tips and advice on BadCredit.org, with the goal of helping subprime consumers. Our articles follow strict
editorial guidelines
.
In a Nutshell: As a pioneer in the gift card buyback marketplace, CardCash draws on almost 15 years of service to bring customers a delightful experience. Users with gift cards they don't want or need can sell or trade them on CardCash for top market value. And bargain hunters turn to CardCash to find the best gift card discounts from hundreds of leading brands. CardCash partners with top names, including Amazon, Walmart, and Target, to bring additional savings to consumers, and its emphasis on value, trust, and transparency makes it a go-to savings partner for millions.
There's a ton of value in gift cards hidden in plain sight. It's easy for well-meaning friends and loved ones to slip a gift card in the mail when they don't know what present to buy. And it's even easier for brands, employers, and just about everyone to send out digital gift cards as incentives and rewards or to say thank you or happy birthday.
The problem is that people don't always use the gift cards they receive. They forget they have them, or they misplace them. Research shows that as much as $3 billion in gift card value goes to waste annually. Instead of spending them, people leave gift cards sitting in sock drawers, in email inboxes, and who knows where else.
An even bigger problem is that for every forgotten gift card, there's probably at least one person who wants to put the value on that card to a different use, if they only could.

That's where CardCash comes in. CardCash is a pioneer in the gift card buyback space, honing its customer service skills for nearly 15 years. It helps people sell gift cards they don't want or can't use. And it helps them purchase cards from hundreds of well-known brands at a discount and save.
Head of Sales and Business Development Tom Ochoa said, in addition to setting up wins for consumers looking to buy and sell gift cards, CardCash helps retailers because unused card value counts as a liability on the balance sheet.
"With CardCash, the person selling the gift card wins by turning it into something of value to them, the buyer wins through savings, and the retailer wins because a buyer acquired merchandise," Ochoa said. "It's not common to create a win-win-win situation in business."
Quick Cash from Digital and Physical Cards
It's easy to get up and running with CardCash — it works the same way on a laptop, desktop, or mobile app.
To sell gift cards, users don't need to enter personal information up front. Instead, they enter the store name and balance amount of the card they want to part with. It's hard to stump CardCash by entering a store name it doesn't know since it works with more than 700 distinct brands.
From there, CardCash takes care of the rest. It generates a quote for the card's fair market value, considering the brand's popularity and availability. The user decides whether to accept the offer, and it's off to the races.
CardCash deposits the sales amount into the customer's bank account via ACH transfer or digital wallet. It can even go old school and send a paper check in the mail.

"Typically, we'll complete an order and initiate a payment within one business day," Ochoa said. "As to how quickly the payment arrives in the customer's account, that depends on the bank, but the average consumer should expect money in their account within two to three business days, if not sooner."
Another option that can be even quicker is trading card value for another card. CardCash partners with 10 leading brands, including Amazon, Walmart, and Target, to bring that option to consumers. Those transactions earn up to 11% more and typically finalize within minutes.
CardCash accepts up to eight physical or digital cards per transaction. Most brands allow digital transmission of physical gift card information to CardCash, speeding up transaction time.
In response to customer demand, CardCash is also developing a tool to allow users to bank card value for future purchases.
"They've been asking, and we've been listening," Ochoa said. "We're excited to launch that feature in the near future."
Stack Value or Use QuickPay at Checkout
Buying gift cards on CardCash is equally straightforward. On CardCash, gift card buyers enter a marketplace of discounts.
Users start by entering the store or brand they want to consider. Depending on market variables such as store popularity, time of year, and whether the store is running a promotion, CardCash sometimes returns dozens of options or more. Savings of 20% or more on card value are not uncommon.
Not surprisingly, the year-end holidays, including Christmas, generate the most gift card activity, so it's common for CardCash to experience a spike in activity soon after that period as consumers sell or trade unwanted cards or go on the site to hunt for bargains.
But every holiday has its fans. Before Valentine's Day, for example, CardCard sees a spike in demand for restaurant, beauty, fashion, and jewelry brands. And after Valentine's Day, many of those cards go up on the site for sale.

Users quickly learn strategies for maximizing savings. For example, many savings hounds develop methods for stacking gift card savings with in-store sales and applicable coupons. Stacking strategies can return up to 80% savings, Ochoa said.
"We have a lot of very, very savvy shoppers — people who are leveraging cash back platforms and coupons to the max," he said. "And we have influencers out on social who explain how to use a coupon code, a discounted gift card, and a sale to win big."
The CardCash app also includes a feature called QuickBuy to enable users to find gift cards even when they're at a retailer's point of purchase.
"You can download the app on your phone and enjoy a meal with your family, and when you see what the bill is going to be, use QuickBuy to enter the amount," Ochoa said. "We'll offer a gift card amount closest to the value of your bill and give you the biggest discount we have."
CardCash: A Trusted Consumer Financial Partner
It only takes a bit of anticipation to generate savings that can come in handy. Especially for consumers looking to fit their financial obligations into a limited budget, CardCash is there to make the goal easier to reach.
Two childhood friends founded CardCash in 2009 in the wake of the economic crisis known as the Great Recession. Since its founding, the company has dedicated itself to making a difference in the lives of its customers.
"We created the business for people who were trying to keep the lights on, who were trying to put groceries on the table, who may have lost their jobs or were transitioning between jobs — and, in essence, were turning their homes upside down to find loose change," Ochoa said.

That value commitment extends to the customer experience on CardCash. Dealing with an anonymous currency such as a gift card, which doesn't carry registration to an individual, requires a high level of trust between the consumer and the business.
CardCash keeps the buying and selling process simple and messaging clear. And it only requires customers to divulge personal information once it's time to redeem card value. 
"We believe transparency is the key to a trusting relationship, and we do our best to educate and inform before the customer conducts the transaction," Ochoa said.
To protect the business and card buyers, CardCash also performs due diligence to ensure sellers and cards are genuine. It keeps customers informed during every stage of the sale or purchasing journey. And it never puts customer data up for resale.
The result is an experience that unlocks gift card value without compromising the customer experience or putting customers at risk — guaranteed.
"There isn't a company that's been around longer than CardCash in the gift card buyback space," Ochoa said. "I think it's a testament to our relationship with our customers."