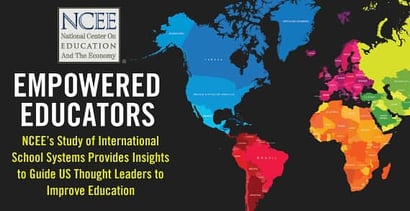 In a Nutshell: The US has some of the world's finest institutions of higher learning, attracting students from all over the world. It also has some wonderful primary and secondary schools, but educational quality throughout the country as a whole can be inconsistent. A Washington, DC-based think tank, the National Center on Education and the Economy (NCEE), watches education systems throughout the world closely in an effort to improve domestic education. Its 2017 study, Empowered Educators, spans education systems across four continents. The findings indicate the most successful educational systems prioritize teaching as a highly respected profession and also put long-term educational goals before short-term ones.
While the US is a leader in many areas, education is not one of them. And if other nations with fewer resources are ahead of us in this crucial area, doesn't it make sense to look at what other countries are doing differently and emulate thriving systems?
The National Center on Education and the Economy (NCEE), a Washington, DC-based think tank, analyzes those differences, then promotes the best practices for adoption in the US. Now in its third decade, the ultimate goal of the organization is to improve American schools for the betterment of our economy.
NCEE produces studies and reports on its findings, as well as policy briefs for those in educational leadership. NCEE's Center on International Education Benchmarking focuses on collecting research and policy solutions from the world's top-performing countries in education. Some of these countries include Singapore, Canada, Germany, Finland, and Japan. Meanwhile, its National Institute for School Leadership provides principals and district teachers in 27 states with information and policy solutions.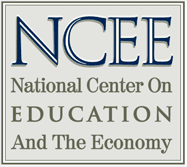 "NCEE is a combination of research institute, think tank, and on-the-ground educational initiatives," said Brendan Williams-Kief, the NCEE's Director of Communications. "Education is critical to the progress of our country. In an increasingly globalized world, we need to raise the level of education for all students, not just elites. We are entering a global labor market, where the skills of American kids are compared to those of kids around the world."
Underlying those comparisons are the education systems that produce these outcomes. One of NCEE's landmark studies, Empowered Educators, is "a multi-year comprehensive study of education systems on four continents," Williams-Kief said.
Launched by Stanford's Linda Darling-Hammond, one of the world's preeminent education researchers, Empowered Educators leveraged a team of global researchers and produced some interesting insights that could provide a road map for the US to increase its foothold in education in the global context.
The US System Has 'Peaks of Excellence,' but Room for Improvement in Other Areas
One of the findings of the study was that "the US is dominated by peaks of excellence," Williams-Kief said. "There are terrific schools in some places; others are not so great."
Interestingly, other countries are profiting more from the things we're doing right than we are in the US, he added.
"They take our good examples and translate them for their entire education system as a whole," Williams-Kief said. "We have not been able to do that. It's no great mystery why they are doing better than us."
One of the things that makes these schools successful is they are working within what Williams-Kief called "true systems."
"In the US, federal, state, and local jurisdictions are often working against each other, instead of in harmony," he said.
There are rare exceptions in the US, such as in NISL's superintendents' academy in Pennsylvania, where the superintendents partner with the local university to actually talk about what districts need to produce the type of teachers the districts need.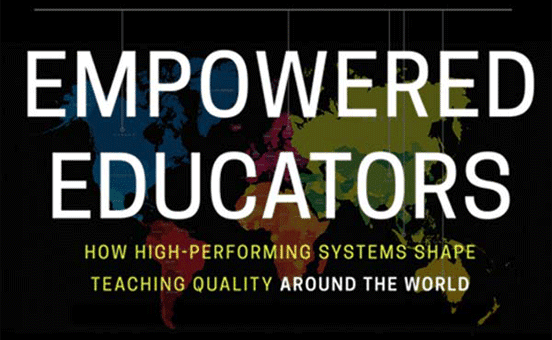 "They are elevating the level of teacher education at that university, based on the needs of the primary customers, which are local school districts," Williams-Kief said, adding that this type of intuitive initiative is often the norm in high-performing countries. "It's not brain surgery. Yet, it's rare in US."
In the end, he continued, the focus on systems of education allows schools to set and reach long-term goals, as opposed to the short-sided, narrowly focused goals that US schools often focus on, such as elevating students' standardized test scores.
Incentivizing the Profession Creates More Effective Teachers
One cornerstone of successful education systems is prioritizing teaching. While that may seem obvious as teachers are at the heart of education, Williams-Kief told us teachers are given a level of respect in other countries that lays the groundwork for solid education systems.
"In the US, teaching is still treated as a blue-collar profession, where the expertise of teachers is not given its due, and teaching colleges are non-selective schools," he said. "In high-performing countries, they recruit high-ability students from high schools to the teaching profession."
In Singapore, for example, teachers are considered "nation builders," Williams-Kief said. "It's considered the profession upon which all other professions rely."
There, as in other countries where teaching is especially esteemed, it has its own career ladder as do other professions. When teachers are incentivized and especially well-trained, it makes the profession especially attractive as a career.
It's well-known that teachers in the US are underpaid and overworked. Plus, their career trajectory is often limited, unless they leave the classroom and go into administrative roles.
"In the US, a teacher's job on Day 1 is often the same as the day they retire," Williams-Kief said. "In other countries, you don't have to leave the classroom in order to be promoted."
High-Quality Assessments Improve Instruction
Another component of successful international education systems is better student testing. In the US, Williams-Kief said, there's a trend of "teaching to the test because that controls funding. … So are kids really learning? Or are they just learning the test?"
All indications say it's the latter, he added.
"We get the cheapest, lowest-quality test that only evaluates the lowest skills of students," he said. "They are only multiple-choice tests, and they don't get at the skills students need to be competitive in the workplace."
Many other countries eschew cheaper multiple-choice tests and instead develop their own testing that's more closely aligned with their curriculum and standards. These tests typically require students to apply their knowledge and use critical thinking skills, with responses that are more essay-based and free response.
"Tests are used to inform instruction in a way that drives learning in real terms," Williams-Kief said. "It tests how students can use and apply knowledge."
Importantly, in other systems, students' results are not used punitively against teachers, he added. Rather, they are used to inform their own professional development, as well as that of students. Higher-quality tests evaluate skills that are potentially important in today's labor market, which is increasingly globalized and interconnected.
How the Study is Influencing Individual States
Although the Empowered Educators research has shown that the US is lagging behind other countries in producing a comprehensively top-notch educational system for all but university and postgraduate education, there are positive signs of change.
The No Child Left Behind Act of 2001 included provisions for disadvantaged students, requiring states to give basic skills assessments, and basing funding on those results. As a reaction to a lack of results and the associated perception of federal overreach from No Child Left Behind, the Every Student Succeeds Act of 2015 aimed to put states back in the driver's seat when it comes to education.
"Now, states are the center of education improvement," Williams-Kief added.
Some states have made changes based on the Empowered Educators study's findings, Williams-Kief said. Maryland recently released its own report from its Commission on Innovation and Excellence in Education, in collaboration with NCEE.
"We've been working with them for a year to build an agenda for the future of education in the state," Williams-Kief said.
The report includes five preliminary recommendations: investing in early childhood education, more support for at-risk students, higher standards and more support for teachers, more rigorous curricula, and the implementation of a governance and accountability system for the implementation of these recommendations.
Through continued work in improving education systems on a state-by-state basis and finding ways to attract and incentivize high-quality teachers, the hope is the US will start to see the type of dramatic improvement that will help the economy innovate and thrive.
Advertiser Disclosure
BadCredit.org is a free online resource that offers valuable content and comparison services to users. To keep this resource 100% free for users, we receive advertising compensation from the financial products listed on this page. Along with key review factors, this compensation may impact how and where products appear on the page (including, for example, the order in which they appear). BadCredit.org does not include listings for all financial products.
Our Editorial Review Policy
Our site is committed to publishing independent, accurate content guided by strict editorial guidelines. Before articles and reviews are published on our site, they undergo a thorough review process performed by a team of independent editors and subject-matter experts to ensure the content's accuracy, timeliness, and impartiality. Our editorial team is separate and independent of our site's advertisers, and the opinions they express on our site are their own. To read more about our team members and their editorial backgrounds, please visit our site's About page.