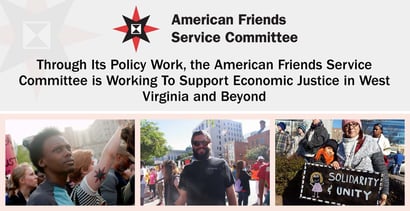 In a Nutshell: The struggle for economic justice is an ongoing challenge, and it's just one of many causes taken up by the American Friends Service Committee (AFSC). The Quaker organization battles for economic justice across the country, and we spoke with Rick Wilson, who is the Director of the organization's West Virginia Economic Justice Project to learn more about the program and AFSC in general. Wilson said the organization often advocates (non-violently) in the legislative and policy arenas to help deliver more economic equality and opportunity to working families. The AFSC is also active in efforts supporting international peacebuilding, creating inclusive communities, and defending immigrant rights.
The Quakers, aka Friends, have been an important part of the United States' story since its early days as an English colony. Members of the group were among the first European settlers to come to America.
And despite overcoming numerous challenges and cases of extreme persecution, the group — which values peace, pacifism, love, and service to others — persisted, to carve out an important place in America's history.


Today, more than 350 years since the Quakers arrived in North America, the group is still practicing its social and equality-minded principles. The American Friends Service Committee (AFSC) promotes justice and peace through an array of initiatives across the world.
One issue that's particularly important to us here at BadCredit.org is economic justice, which happens to be one of the areas the AFSC is extremely active in. While we can't cover the breadth of the AFSC's economic justice actions in just one article, we can illustrate a portion of the group's impact as well as some of its ongoing efforts.
We recently spoke to Rick Wilson, the Director of the AFSC's West Virginia Economic Justice Project (WVEJ), to learn about how the group is advocating for economic justice and addressing other factors that lead to economic inequality.
"Economic justice is this cutting-edge idea that goes back 2,400 years to Aristotle," Wilson said wryly. "The goal of life is happiness because we want certain things to be happy but we also want happiness for its own sake."
Wilson said this is achieved by developing one's potential over the course of a lifetime, and systemic inequalities are things that block people from thriving — and economic injustices are obstacles that need to be removed so people can have the chance to develop their potential (and achieve happiness).
Promoting Equity: Economic Factors are Responsible for More Deaths in the U.S. than War
Wilson laid out the reasons why advocating for economic justice is such an important cause in an article — "Economic Justice 101: What It Is, Why It Matters, and How To Do It" — for the Quaker publication Friends Journal.
In the article, Wilson establishes a baseline for economic justice by citing Jewish author and social theorist Walter Benjamin's work in which he wrote of "a fight for the crude and material things without which no refined and spiritual things could exist."
Wilson also recounts a story from a 1912 labor strike in Lawrence, Massachusetts in which a woman carried a sign reading, "We want bread, but we want roses too."
"The struggle is not just for food, clothing, shelter, and decent working conditions, but for leisure, culture, and education as well," Wilson wrote.
Wilson also underlines the importance of this struggle by emphasizing that Quakers are vehemently against war, yet many deaths are a result of economic policies.
"If you look at the numbers, far more people die due to inequality and poverty than are killed by armed conflict," he told us. "For every one person killed in armed conflict, probably 180 people die prematurely because they lack basic access to resources."
To bring those numbers into a more concrete scenario, Wilson writes that a 2009 Harvard study found that nearly 45,000 Americans die prematurely each year because of a lack of health insurance, and that number is about 10 times more than the number of American military personnel killed in the Iraq War since 2003.
"I write all this not to diminish the evil of armed conflict and the damage it does, or to question the importance of the peace testimony," Wilson wrote. "I only wish that that other, bigger kind of war got more attention."
How the American Friends Service Committee is Striving for Economic Justice in West Virginia
The West Virginia Economic Justice Project takes on a three-pronged approach to seeking economic justice, Wilson said.
The first tactic involves educating working families about what programs and benefits currently exist and how they can access them.
"For example, when welfare reform went into effect we published a guide to welfare changes and went around the state for several years explaining policies, rights, and programs to benefit people who might be eligible for higher education, income tax credits, things like that," Wilson said.
AFSC has also published a guide for working families to help inform residents about labor laws, programs, protections, GED classes, and more, he said.
Watch on
Another component is advocating for and defending the working class — non-violently, Wilson noted. He said the challenges are usually in the policy and legislative arenas on the federal, state, county, or city levels.
"And then the third part is probably just as important — it's building relationships, allies, and coalitions so that you can do more of the first two," he said.
The WVEJ and its allies have successfully advocated for numerous legislative and policy changes over the years, including the creation of the state's Office of Minority Affairs, increased coal mine safety, the expansion of Medicaid coverage, childcare subsidies for working families, reducing prison overcrowding, and much more.
Wilson said some recent successes in the legislature include the restoration of SNAP food assistance to people with drug felonies, an expungement bill to remove some misdemeanor and felony offenses from someone's record, and state-issued photo IDs for people getting out of prison — which Wilson said was a very important win.
Promoting Lasting Peace with Justice through Actions
Striving for economic justice is just one of many causes the American Friends Service Committee supports. The organization's roots go back to 1917 when it was founded with the mission to promote lasting peace with justice, as a practical expression of faith in action.
Wilson said the AFSC was originally a way for Quakers to play supportive, non-violent roles in World War I, such as driving ambulances.
"But immediately after that, they started doing relief work. There were people starving in Europe after the war, so they did a lot of feeding and programs and things like that," he said. "They also helped Jews immigrate from Nazi Germany at one point, and they've done a lot of work with refugees and other humanitarian work."
He said the organization was also very active in the civil rights movement, including working with Dr. Martin Luther King, Jr.
"Drawing on continuing spiritual insights and working with people of many backgrounds, we nurture the seeds of change and respect for human life that transform social relations and systems," according to the AFSC website.
Today, the AFSC's key issues, in addition to economic justice, include international peacebuilding, creating inclusive communities, defending immigrant rights, ending mass incarceration, and seeking justice in Palestine and Israel.
Although the AFSC is a faith-based Quaker organization, the group's work is not limited to Quaker members. The group welcomes partners from all walks of life who share their values.
"Quakers have always believed there's something of God in everybody," Wilson said, who is not a Quaker himself. "So, people who work with the AFSC come from a variety of different backgrounds — Muslims, Jews, Christians, and pagans, all kinds of people."
He said the group encourages its partners to adhere to the Quaker values of respecting other people, working for non-violence, justice, and simplicity.
Advertiser Disclosure
BadCredit.org is a free online resource that offers valuable content and comparison services to users. To keep this resource 100% free for users, we receive advertising compensation from the financial products listed on this page. Along with key review factors, this compensation may impact how and where products appear on the page (including, for example, the order in which they appear). BadCredit.org does not include listings for all financial products.
Our Editorial Review Policy
Our site is committed to publishing independent, accurate content guided by strict editorial guidelines. Before articles and reviews are published on our site, they undergo a thorough review process performed by a team of independent editors and subject-matter experts to ensure the content's accuracy, timeliness, and impartiality. Our editorial team is separate and independent of our site's advertisers, and the opinions they express on our site are their own. To read more about our team members and their editorial backgrounds, please visit our site's About page.