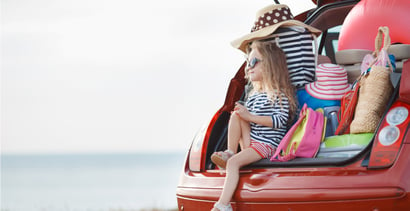 Our popular "How-To" series is for those who seek to improve their subprime credit rating. Our articles follow strict
editorial guidelines
.
Some people believe summer is synonymous with vacation, even as gas prices and other travel costs continue to soar. One recent survey found that 58% of respondents still intend to drive to their destinations this summer, despite gas being more expensive than ever.
While there's no way to avoid rising gas prices as you plan your summer road trip, there are things you can do to lessen the overall cost of hitting the road. Just follow these nine tricks to enjoy a weekend or week-long getaway for less.
1. Track Gas Prices With an App
Use a gas tracking app such as GasBuddy or Gas Guru to find the cheapest gas before you hit the road and travel in unfamiliar areas. These apps direct you to the cheapest fuel options based on your location, which is especially helpful when trying to avoid the pricey gas stations right off a highway or busy city intersection.
2. Maximize Cash Back at the Pump
Cash is king when it comes to getting the best price on fuel at any gas station. Drivers who swipe a card can expect to pay 10 to 15 cents more per gallon. But paying with cash isn't the only way to save.
Tapping into your grocery rewards program can also offer some money off at the pump. Some grocery stores, including Kroger, offer one fuel point for every $1 spent, which can be redeemed at their own gas stations or participating Shell stations. 
Walmart+ members save up to 10 cents per gallon at Exxon, Mobil, Walmart, and Murphy gas stations.

If you don't have any grocery rewards, you can pay with a gas rebate credit card to maximize money back at the pump. 
You can then earn even more rewards by taking pictures of your fuel receipts using the Fetch Rewards app, which gives you points that are good toward gift cards and other rewards.
3. Be Spontaneous to Snag Hotel Deals
Knowing where you're headed on your road trip to avoid driving around aimlessly is important, but a little spontaneity can add to the adventure and help you save on your accommodations.
Download Priceline's app to access their Tonight-Only Deals for major hotel savings at 35% less compared with prices advertised elsewhere. Although Priceline won't reveal the name of the property until after you pay, you can view the location and hotel rating to assure it meets your travel needs and quality standards. 
And the HotelTonight app shows you hotel options based on your location with up to 70% off regular rates.
4. Give Camping a Go
Sleeping in a tent may not have been on your travel wish list this summer, but it's inexpensive, can be surprisingly relaxing, and is a great way to bond with your family. 
While there are plenty of free camping options, they're usually hard to come by during summer because they're on a first-come, first-serve basis. But you can usually find cheap spots to reserve in advance for just $5 to $10 a night through ReserveAmerica.com. 

If you're new to camping, review this essential camping checklist, so you know what to pack in advance beyond just a tent and sleeping bags. To save on gear, ask family and friends if you can borrow the basics or look for gently used options online through Facebook Marketplace or OfferUp.
5. Look For Dining Deals
Families often overlook the total amount they will spend on dining out during their summer travels, so consider how you can enjoy meals out on the cheap. 
Plan ahead and purchase gift cards to restaurants located along your route from warehouse stores to save 20% to 30% off the top. For instance, Costco currently offers $100 worth of gift cards to California Pizza Kitchen for just $80.The restaurant chain has 250 locations in 32 states across the country, so there's a good chance you can use these on your upcoming trip. 
Otherwise, snag discount gift cards through sites like Restaurant.com or look for dining deals through the Coupon Cabin app, which even offers cash back on to-go orders. 
6. Buy Passes Online in Advance
Waiting to book your hotel at the last minute can provide serious savings, but prebooking activities and theme park reservations is recommended for the best rates. That's because many popular attractions offer deals to customers who buy passes online before their visit. 
For example, you can save up to $25 per person at Six Flags by purchasing passes online before heading to the theme park. You can do this from your hotel room the night before if you haven't planned your adventures. 

Some museums, local gardens, and other attractions offer discounted admission on certain days of the week, so check their online calendar to plan your visit accordingly. Otherwise, scope out deals on experiences and adventure activities through sites such as Groupon and LivingSocial ahead of your trip based on the cities you plan to visit.
7. Find Free Things to Do
While there's nothing wrong with enjoying one or two splurge-worthy activities, offset the rest of your road trip costs by taking advantage of free events. You can find a list of free local events on a city's website which may include outdoor festivals and concerts. 
With a quick Google search, you can find plenty of museums that offer free admission, such as the Smithsonian Museum in Washington, D.C., or the Getty Center in Los Angeles. 
Some credit cards offer complimentary passes to major attractions. Bank of America offers card members free admission to museums, zoos, aquariums, and botanical gardens, among other venues, during the first full weekend of the month through its Museums on Us program.
Otherwise, head to the mountains or beaches which offer plenty of free outdoor activities, including hiking, bike riding, or swimming. For those planning to tour a city, access free walking tours through apps like GPSmyCity or Historypin, which share historical and design details of local landmarks based on your location.
8. Stay Close to Home
You don't have to venture far from home and spend a ton on gas to enjoy a memorable road trip. In fact, you can often find plenty of interesting and fun things to do and see within a short distance from your home. 
Not only will this save you money on gas, but it will also save you time in the car so you can spend more of your day exploring. 

If you feel stumped on where to go, review the RoadTrippers app for help planning shorter yet exciting road trips. This tool will pinpoint interesting stops nearby.
9. Skip Souvenirs
Buying the occasional souvenir may seem harmless at the time, but picking up a random toy, tchotchke, or T-shirt in each town you visit can add up fast and blow your budget.
Don't waste your money on souvenirs that will end up in the corner of a closet. Remind everyone that the trip is a memory, so ask your family to take plenty of pictures and pool the best shots to create a digital photo book everyone can enjoy for years to come.
You Don't Have to Can Your Summer Plans
Road trips can be a fun way to travel and sightsee, but they can also be expensive. Following these nine tips will help you navigate to your destination without blowing your vacation budget, even as inflation takes its toll on our wallets.