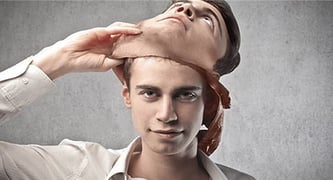 Our popular "How-To" series is for those who seek to improve their subprime credit rating. Our articles follow strict
editorial guidelines
.
When you get a call from someone claiming to be a debt collector, do not automatically assume the caller is telling the truth.
It is a common telemarketing scam for criminals to call up Americans and pretend to be debt collectors. They demand money and some people pay up, not realizing they are not dealing with a real company.
There are a few warning signs you can watch out for that will help you spot a fake debt collector.
By following this advice, you will be on your guard against a scam.
1. Watch out for threatening language, especially threats of jail.
The American government strictly regulates the behaviors of debt collectors to protect consumers. One rule is debt collectors are not allowed to use threatening or intimidating language.
However, many Americans are not aware of these rules and fake debt collectors take advantage of this opportunity.
Fake debt collectors often try to act intimidating on the phone to scare people into paying them. They often tell consumers if they don't pay, they will go to jail.
This is a clear red flag because debt collectors do not have the authority to put you in jail.
Real debt collectors are typically polite when they deal with consumers. If the person calling you is rude and threatening, there is a good chance you are talking with a fake debt collector.
2. Ask for specific information on your debts.
Fake debt collectors do not usually have much information on the people they call. They tend to randomly call people until they find someone with debt problems.
As a result, a fake debt collector probably does not know anything about your specific financial situation.
When someone calls asking for payment on your debts, ask for information, including the amount you owe and the creditor you owe the debt to.
You should also request a written verification of your outstanding debts. Real debt collectors have to provide this information.
"You need to be on your

guard against scams."
3. Listen for a foreign accent.
When a debt collector calls, pay close attention to how the person speaks. Does he or she have a thick, foreign accent? This could be a sign you are dealing with a fake debt collector.
The agencies that run these scams typically have their call centers in a foreign country like in India. This helps them avoid American authorities.
While real debt collectors also hire staff from other countries, this is still one other point to watch out for, as it can help you spot a fraud.
4. Contact your creditors.
After a supposed debt collector has contacted you, call up your creditors and ask if they forwarded your account to a collection agency.
This is an easy move and will immediately help you spot a fake debt collector. If your creditors have not requested the help of a debt collector, there would be no reason for anyone to be calling you.
As a result, you will know immediately if the person who called you was a fake.
Unfortunately, not everyone in the world is honest. You need to be on your guard against scams. Be sure to keep these pointers in mind so you'll never get caught dealing with a fake debt collector.
Photo source: gcn.com.