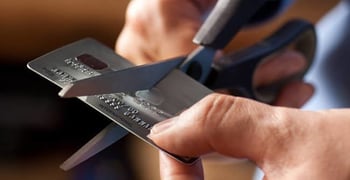 Our popular "How-To" series is for those who seek to improve their subprime credit rating. Our articles follow strict
editorial guidelines
.
Paying off debt is hard enough. This problem is even worse when you have a bad credit score.
When your credit isn't great, you lose access to several useful debt managing techniques.
For example, you also won't be able to qualify for a new credit card with a 0 percent introductory APR, which is a nice way to get a breather from interest payments.
Fortunately, you still have options. Many Americans that had both high debt and poor credit scores got out of trouble and so can you.
Here are some ways to cut down your debt even if you have bad credit.
1. Stop building up debt.
The first move to start paying down debt is stop making the problem worse. Stop paying with your credit cards and building up more high-interest debt.
If the temptation is too high, you may need to cut up your cards or temporarily freeze your credit until your situation improves.
If you keep adding to what you owe, what chance do you have of ever getting debt free?
2. Increase monthly payments as much as possible.
The sooner you can start paying down your debts, the better. This prevents interest building up any more than it has to.
Rather than making the minimum payment on your loans, pay as much as you possibly can per month.
Take a look at your monthly budget and see if you can find areas to cut back on while you are paying down your debt. Any extra money you can put toward your debts makes a difference.
"Rather than making the minimum payment on


loans, pay as much as you possibly can per month."
3. Request an interest rate reduction.
If you can get a lower interest rate on your debts, it will be easier to pay them off. A lower interest means more of your monthly payments go toward paying down your existing balances.
You can use your bad credit score as a negotiation plea with your creditors. Tell them you want to honor your debts in full but are struggling at the current interest rate.
They may be willing to give you a discount because they'd rather receive some interest than have you default on everything.
4. Work with a debt consolidation agency.
Debt consolidation agencies are companies that specialize in helping people get out of debt. If you sign up for this service, the agency will pay off all your existing debts and lump them together in one loan they now manage.
The agency will charge a lower interest rate than you were paying on your existing loans. They also offer counseling services to help you budget your money and plan to get out of debt, services which can be very helpful.
5. Negotiate a debt settlement.
If you are really struggling with your debts and look like you may go bankrupt, you can try negotiating a debt settlement.
Normally this play makes sense if you've missed several payments on your debts, something that likely caused your poor credit score.
With a debt settlement, you offer a lump-sum payment that is a fraction of your outstanding debt. Since creditors would rather receive some money than nothing at all, they'd be open to this settlement.
After receiving your final payment, the creditor will forgive your debt. This doesn't always work, but it's worth trying before declaring bankruptcy.
Too much debt and a bad credit score are a tough challenge, but it's a challenge you can handle. Focus on these strategies and soon both your debts and your credit score will be under control.
Photo source: debtreductionservices.org.