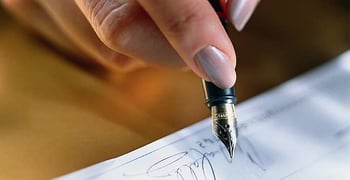 Experts share their tips and advice on BadCredit.org, with the goal of helping subprime consumers. Our articles follow strict
editorial guidelines
.
You are standing at the checkout counter with your items neatly bagged, and now you have a decision to make.
Do you pull out your debit card or your check book? Does it really matter?
How does writing a check differ from making a debit purchase?
Even if they pull money from the same account, using a debit card and writing a check are very different transactions, each with advantages and disadvantages.
Let's take a look at some of the differences here.
1. Convenience
When you consider the time it takes to write a check, pull out your ID for the merchant to copy down your driver's license number, log the amount into your check register and stare down those other shoppers glaring at you from behind you in line, you can't argue that checks are convenient.
(Advantage: debit card)
2. Security
When it comes to security, there are factors to consider with both types of payment. First, a checking account can be hijacked by someone who gets hold of one of your checks and has new ones printed up.
As for debit cards, they can be lost or stolen and occasionally can be used by an unauthorized person. Of course, the same fraud protection applies.
(Advantage: split)
"The bank protects

against this type of fraud."
3. Overdraft protection
Overdraft protection on a checking account is usually tied to an alternate account, such as a savings or brokerage account.
Some checking accounts offer overdraft protection without the use of an alternate account, but these are rare and usually charge a fee anyway.
On the other hand, your debit card can be set up to not use overdraft at all but to simply have the purchase declined. This can prevent inadvertent overdrawn accounts and the fees that go with them.
(Advantage: debit card)
4. Online purchases
If you are buying anything online, you'd better have a piece of plastic in your hand.
Whether you use a debit card or a credit card, they almost always require the purchase to be completed using an active card.
(Advantage: debit card)
5. Account management
Managing your account balances when you use only debit cards is a lot easier than balancing a checkbook and waiting for checks to clear.
With most debit purchases, you can log into your account and see all recent activity.
Even if a transaction hasn't cleared, you can still see an accurate available balance.
(Advantage: debit card)
As you can see, there are significant advantages to using a debit card over writing a check. There are some times when writing a check makes more sense.
If the merchant or an individual doesn't have the ability to take an electronic payment, then they may accept a check instead.
However, overall the acceptance of writing checks as a payment method is declining.
Photo source: najit.org