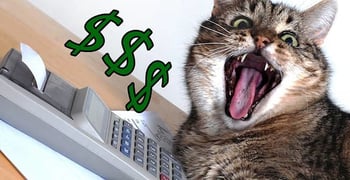 Experts share their tips and advice on BadCredit.org, with the goal of helping subprime consumers. Our articles follow strict
editorial guidelines
.
Whether you're looking to start simple with repayment of your credit card or plan for the big dream of owning your own home, the right calculator can get you informed and on the road to success much quicker than trying to crunch the numbers on your own.
These online tools can help you understand all the factors that go into the most common financial endeavors you'll experience in a lifetime.
Here are some of the most popular tools available for real-time design of your money matters.
1. Debt Repayment
Have you ever wondered just how much your debt is costing you? Perhaps you need to pay it off by a deadline, but you aren't sure how much money to throw at it each month?
This comprehensive calculator from Credit Karma can examine all the possibilities, providing forecasting into how long your current plan will extend the debt and a breakdown of interest paid versus principle owed.
Are you so deep it debt it looks like you'll never escape? Consider contacting a debt relief company to get your finances back on track.
2. Mortgage
The excitement of buying a home often turns to dread for those who fail realize just how much of an undertaking a mortgage is. Before you jump in unprepared, take a moment to calculate just how much that mortgage will cost you over the life of the loan.
This handy calculator from Zillow can show you how extra payments, lower rates and the life of the mortgage can affect your monthly budget – before you buy.
3. Mortgage affordability
Not sure if you're ready to jump into home-ownership just yet? The Mortgage Affordability Calculator from Zillow can show you how much of a house you can actually afford on your current earnings.
Adjust it to account for a bigger down payment, better rates or even a well-deserved raise down the road. It will even break down how much of your payment is house, taxes, PMI and insurance.
Be sure to explore alternative strategies for financing your next home if you have bad credit.
4. Paycheck withholding
Is your employer taking too much (or too little) from your check each week? Before you end up owing income taxes at the end of the year, take action with this calculator from the IRS designed to help you pay just enough.
5. Student federal financial aid
Going to college? Get an idea of how much free money you'll qualify for, as well as how much you'll end up paying, with this one-page tool from the Federal Student Aid Office.
It gives a rough estimate of the official amount you'll be eligible for after completely filling out the FAFSA (Free Application for Federal Student Aid) before the hours of paperwork.
6. Retirement savings
Find out just how much money you'll need to retire with this quick tool from CNN to keep you on track with your savings. It allows you to adjust for your own personal retirement age and even converts today's dollars into the value of the dollar for the year you expect to retire.
7. Federal income taxes owed or to be refunded
If you haven't already filed your taxes, or you want to get a head-start on planning for next year, this calculator from Turbotax can be a lifesaver.
Providing pertinent tax information, such as size of family, income earned, credits, deductions and taxes already paid, can give you a rough snapshot of your tax liability in time to make some adjustments to withholding, which may mean more money in your pocket today.
Many of the most damaging money mistakes can be prevented with a little education, and financial calculators are some of the best free tools to do that. Get calculating and get informed!
Photo credit: petconnection.com,