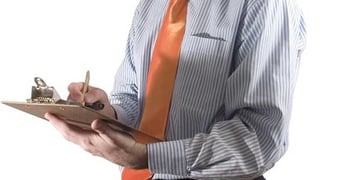 Experts share their tips and advice on BadCredit.org, with the goal of helping subprime consumers. Our articles follow strict
editorial guidelines
.
We all know our credit report and credit score are meant to show our level of financial responsibility to potential lenders.
But did you know there are other reports out there that attempt to answer questions like whether we're a good health risk or if we'd be a good employee?
These so-called specialty data reports contain a lot more information about our lives than many of us realize – and they're available for purchase.
The companies that compile this information are different from the credit reporting agencies Experian, Equifax and TransUnion. These other companies are called specialty consumer reporting agencies, and they know a lot more about us than just our credit history.
Who are they, and what do they know about me?
The companies that gather this data get it from sources like insurance companies, banks, medical providers, the courts and even motor vehicle departments.
In addition, they have access to salary data from past employers, your rental history, property loss claims and other intimate details you might have thought private.
And they're all compiled into specialty data reports with your name on them.
"Many consumers don't even know

this information is being collected."
What kinds of reports are available?
Specialty reporting agencies tend to focus on a particular aspect or category of information about an individual.
Some of the agencies and what they report on are:
CLUE or Comprehensive Loss Underwriting Exchange. As you would imagine, this is a collection of insurance claims or even inquiries about your insurance coverage. It includes dates, amounts and types of losses incurred on insurance policies in your name.
MIB or Medical Information Bureau reports show information on your health insurance, life insurance and even disability or long-term care insurance for the past seven years.
LexisNexis is an employment verification and background screening service that reports on past employers, verifies college transcripts and looks at court and arrest records.
RentBureau is an agency run by Experian that reports on your history as a tenant and rent payer.
ChexSystems uses information from financial institutions to report on banking and check writing activities. Things like overdrafts, insufficient funds, account closures and other things are reported.
What are my rights when it comes to my data?
The federal Fair Credit Reporting Act (FCRA), despite its name, covers a lot more than just credit reporting. Agencies are responsible for gathering only that information which is available publicly and is authorized by law.
It also stipulates that we as consumers have the right to request a copy of each report and to challenge any information that is not accurate or lawful. Unfortunately, many consumers don't even know this information is being collected – let alone how to challenge it.
Hopefully this article will do something to change that. Feel free to share it with others who might be interested.
Photo source: memetics.com